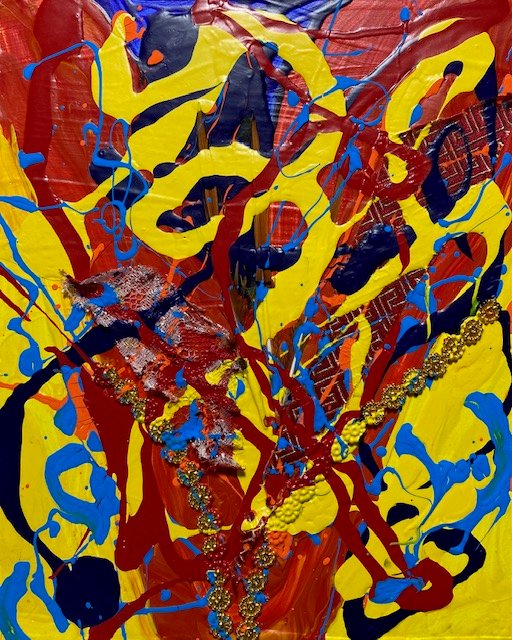 (ENG)
This is my original artwork.
"I Feel Like I'm Going To Pop"
Mixed Media,22x27.3cm,2021
I believe that sometimes we need to be patient with our feelings of bounciness, and sometimes we need to let them bounce around to the fullest. This painting expresses such a bouncy feeling with vivid colors and traces of paint scattered on the screen as if jumping.
Today, the pile of art materials and materials I had ordered from the online shopping site was supposed to come, but I was told that it would be late, so I was painting in agony. It seems to have been raining heavily in the Tokai and Kanto regions, so I wonder if they are behind schedule.I heard that rivers are flooding in the San-in region today. It was raining here too today, though not heavy rain, and there were times when I was depressed. It was difficult to control my mind today, so I'll try again tomorrow.
Exhibition this summer
"Dohjidai Exhibition" https://www.dohjidai.com/gallery/exhibition/dohjidaiten/
"Abstract Exhibition" https://be-lab-gallery.com/gallery/abstract2021/
"Graphic Art exhibition" 2021.August http://www.recto.co.jp/verso/
(JPN)
これは私が創った作品です。
「弾けそうな思い」
ミクストメディア、22x27.3cm、2021
弾けそうな思いは、時には我慢することも必要だし、時には存分に弾けさせることも必要だと思います。この絵はそんな弾む気持ちを、鮮やかな色彩と、飛び跳ねるように画面に散る絵具の跡で表現しました。
今日はネット通販で注文していた画材や素材の山が来るはずだったのですが、遅くなりそうとのことで、悶々としながら絵を描いていました。東海・関東地方が雨がすごかったようなので遅れているのでしょうか。今日は山陰地方で河川氾濫だそうです。こちらも大雨とまではいかなくても雨が降っていて、落ち込んでいた時間帯もありました。今日はなかなか心のコントロールが難しかったので明日仕切り直しです。
この夏参加する展覧会
「同時代展」 https://www.dohjidai.com/gallery/exhibition/dohjidaiten/
「抽象展」 https://be-lab-gallery.com/gallery/abstract2021/
Graphic Art exhibition 2021.August クリエイティブ表現の現在 http://www.recto.co.jp/verso/
My website / 私のウェブサイト
https://ydart.exout.net/
Call for Mail Art! / メールアート募集中!
https://ydart.exout.net/mailart.html