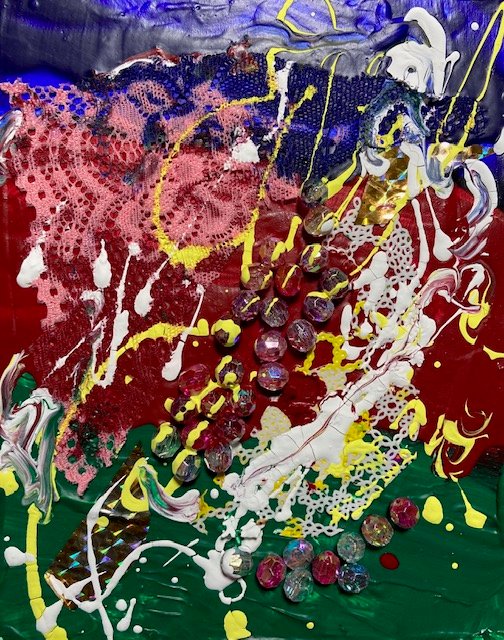 (ENG)
This is my original artwork.
"I Found a Pomegranate"
Mixed Media,14x18cm,2021
I really want to find pomegranates soon in the fall. I haven't eaten a pomegranate in years. When I was in elementary school, there was a pomegranate tree at my relative's house, and I could eat all I wanted.
In Kyoto, there is a pomegranate tree in a park, and when the fruit ripens, I would like to eat it. There is also a pomegranate tree in a botanical garden, but it is forbidden to pick the fruit there. The pomegranate is also a good motif for sketching.
In this painting, I used glittering beads to represent the pomegranate grains.
---
Akiko Yada's solo exhibition "Let your cerebral cortex be your guide
Period: 26(Tue) October - 31(Sun) October, 2021, 11:00 - 20:00
Venue: Room_412
(Room 412, Takagi Building, 15-8 Sakuragaoka-cho, Shibuya-ku, Tokyo)
---
(JPN)
これは私が創った作品です。
「ざくろを見つけた」
ミクストメディア、14x18cm、2021
いやほんと早く秋が深まってざくろを見つけたいです。もう何年もざくろを食べていないです。小学生の頃は親戚の家にざくろの木があって食べ放題でしたが。
京都にも某公園にざくろの木があるので、実が熟したら取って食べたいですが怒られるでしょうか。植物園にもありますがあそこは確実に取るのは禁止です。ざくろはデッサンのモチーフとしてもいいですね。
この絵はざくろの粒々をきらりと光るビーズで表しました。
---
★矢田明子 個展「大脳皮質をあそばせて」
会期:2021年10月26日(火)-10月31日(日)11-20時
会場:Room_412
(東京都渋谷区桜丘町15-8 高木ビル412号室)
---