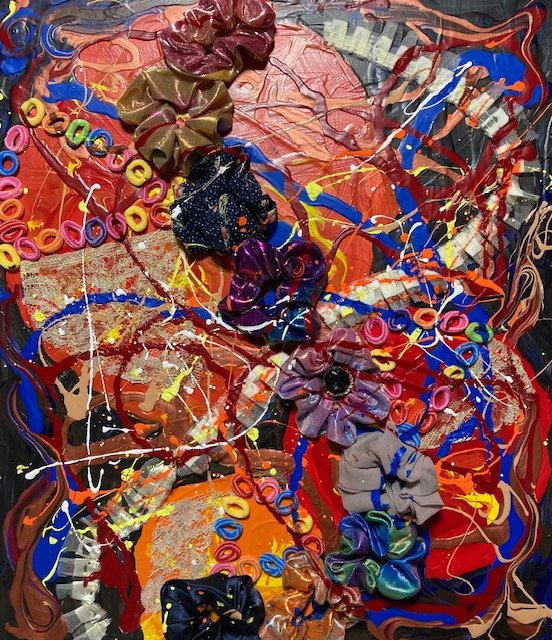 (ENG)
This is my original artwork.
"Incoming Stars"
Mixed Media,45.5x53cm,2021
From a star in a corner of the universe, three red stars appeared to be crowding into the sky. Around the stars, nebulae and clusters of stars were born one after another, and meteors and comets flew around them. I expressed such a dynamic imagination in the picture. I don't have a high-performance telescope or binoculars, so I can only imagine, but there is no limit to the fun I can have imagining such an impossible scene.
Exhibition this summer
"Dohjidai Exhibition" https://www.dohjidai.com/gallery/exhibition/dohjidaiten/
"Abstract Exhibition" https://be-lab-gallery.com/gallery/abstract2021/
"Graphic Art exhibition" 2021.August http://www.recto.co.jp/verso/
(JPN)
これは私が創った作品です。
「押し寄せる星」
ミクストメディア、45.5x53cm、2021
宇宙の片隅のとある星からは、3つの赤い恒星が押し寄せて見えた。またその星の回りには星雲や星団が次々と生まれ、流星や彗星が周囲を飛び回った。そんなダイナミックな想像を絵に表現した。私は高性能の望遠鏡や双眼鏡を持っているわけではないから、想像しかできないけれど、ありえないような光景を想像するのは無限の楽しみがある。
この夏参加する展覧会
「同時代展」 https://www.dohjidai.com/gallery/exhibition/dohjidaiten/
「抽象展」 https://be-lab-gallery.com/gallery/abstract2021/
Graphic Art exhibition 2021.August クリエイティブ表現の現在 http://www.recto.co.jp/verso/
My website / 私のウェブサイト
https://ydart.exout.net/
Call for Mail Art! / メールアート募集中!
https://ydart.exout.net/mailart.html