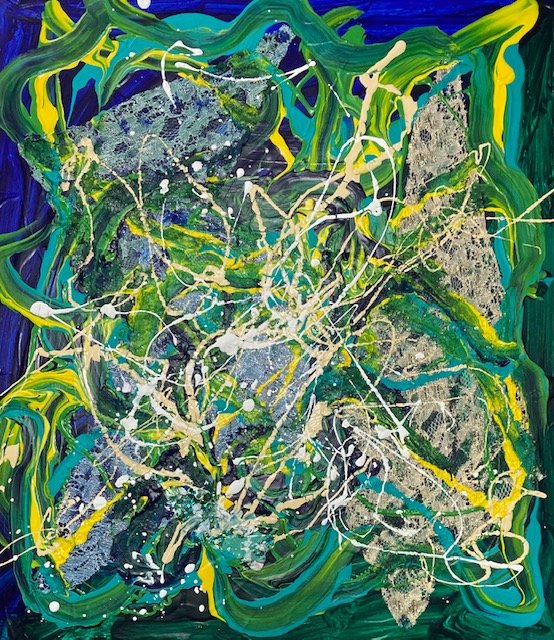 (ENG)
This is my original artwork.
"Intertwined Nebula -Green-"
Mixed Media,45.5x53cm,2021
I still like the existence of the universe. This is a picture I drew because I wanted to draw a picture on the theme of space for the group exhibition after the solo exhibition in May.
I have a strong desire to see the stars from the ground, while I want to fly out of the earth once and drift in outer space. So I want to continue to think about the universe and draw pictures from the earth.
There are only 10 days left until the personal exhibition. I almost finished packing the pictures, but I think I somehow forgot the office supplies for sale ....... There is still time, so I will check my baggage.
(JPN)
これは私が創った作品です。
「絡み合う星雲 ―緑―」
ミクストメディア、45.5x53cm、2021
私はやっぱり宇宙という存在が好きです。これは5月の個展のあとのグループ展に宇宙を題材とした絵を描きたいと思って描いた絵です。
一度は地球を飛び出して宇宙空間を漂ってみたいと思う一方で、どちらかと言うと地上から星を見ていたいと思う気持ちが強い私であります。だからこれからもこの地上から宇宙に思いを巡らせて絵を描きたいと思うのです。
個展まであと10日になりました。絵の梱包はほぼ出来ましたが、販売のための事務用品などを何となく忘れてるんじゃないかと……。まだ時間はありますので、荷物の確認をします。
---
Akiko Yada Solo Exhibition "waxing and waning of mind"
Date: Wednesday, May 12, 2021 - Monday, May 17
11 : 00 - 19 : 00 (Last Day 17: 00)
Venue: Art Gallery Kitano
(439 -4 Ebisu-cho, Kawaramachi Higashi-iru, Sanjo-dori Street, Nakagyo-ku Ward, Kyoto City)
---
矢田明子個展「こころの満ち欠け」
日時:2021年5月12日(水)~5月17日(月)
   11:00~19:00(最終日17:00まで)
会場:アートギャラリー北野
   (京都市中京区三条通河原町東入ル恵比須町439-4 コーカビル)
---
Call for Mail Art! / メールアート募集中!
https://ydart.exout.net/mailart.html