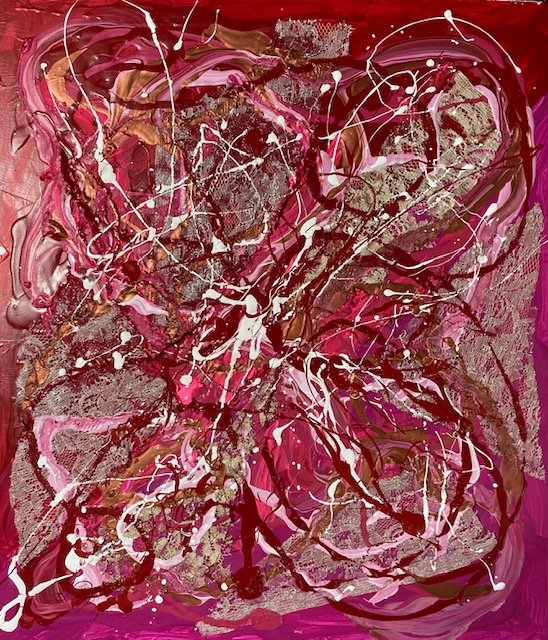 (ENG)
This is my original artwork.
"Intertwined Nebula -Red-"
Mixed Media,45.5x53cm,2021
I also drew pictures about the universe. I often see photos of the universe when I want to sharpen my sense of beauty, but I like the nebula pictures because they are filled with various colors and the texture is fluffy. I can't match the beauty created by the universe, but I want to create as many beautiful things as possible as I draw.
(JPN)
これは私が創った作品です。
「絡み合う星雲―赤―」
ミクストメディア、45.5x53cm、2021
また宇宙に関する絵を描きました。私は美の感覚を研ぎ澄ませたい時に宇宙の写真をよく見ますが、なかでも星雲の写真は様々な色に溢れていて、なおかつ質感がふわっとしていて好きなのです。宇宙が生み出す美しさにはかないませんが、私は絵を描いている以上は1枚でも多く美しいものを創り出したいです。
---
Akiko Yada Solo Exhibition "waxing and waning of mind"
Date: Wednesday, May 12, 2021 - Monday, May 17
11 : 00 - 19 : 00 (Last Day 17: 00)
Venue: Art Gallery Kitano
(439 -4 Ebisu-cho, Kawaramachi Higashi-iru, Sanjo-dori Street, Nakagyo-ku Ward, Kyoto City)
---
矢田明子個展「こころの満ち欠け」
日時:2021年5月12日(水)~5月17日(月)
   11:00~19:00(最終日17:00まで)
会場:アートギャラリー北野
   (京都市中京区三条通河原町東入ル恵比須町439-4 コーカビル)
---
Call for Mail Art! / メールアート募集中!
https://ydart.exout.net/mailart.html