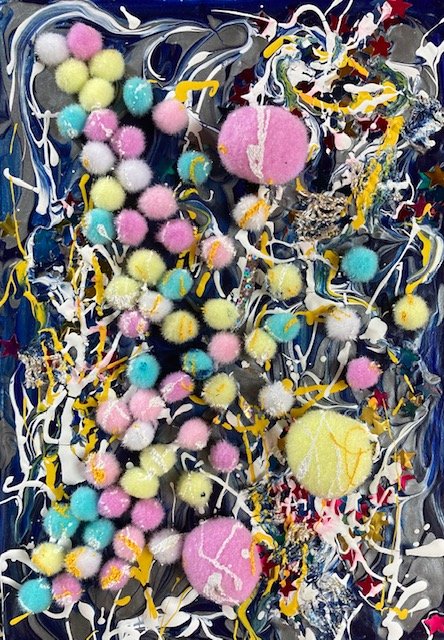 (ENG)
This is my original artwork.
"It's a Perfect Day For Firefly"
Mixed Media,15.8x22.7cm,2021
At first, I wanted to draw a starry sky, but while I was drawing, I thought this fluffy spherical collection looked like a firefly, so I chose this title. I heard that fireflies are usually seen from the middle to the end of June in Kyoto, but this year, various natural events occur early, so you might be able to see fireflies early.
But I'm not sure if I can see it near my house. In the Arisu River that flows nearby, fireflies could be observed in the upper stream, but I heard that the water quality has improved in recent years, so you might be able to see them in the lower stream. But the light around my house is very dark, so it's scary to go out alone.
(JPN)
これは私が創った作品です。
「ほたる日和」
ミクストメディア、15.8x22.7cm、2021
最初は星空を描こうと思ったんですが、描いているうちに、このふわふわした球形の集まりは蛍みたいだなと思ってこのタイトルにしました。蛍は京都では例年では6月の中旬から下旬頃に見られるそうですが、今年は自然の色々な出来事が早いですから蛍も早く見られるかもしれませんね。
ただ自宅の近くでは見られるかどうか微妙です。近くを流れる有栖川では、上流の方では蛍が観察できていましたが、近年は水質が良くなって下流でも見られると聞いたので、ひょっとしたら見られるかもしれません。ただ自宅周辺は明かりがとても暗いので、ひとりで出かけるのは怖いですね。
My website / 私のウェブサイト
https://ydart.exout.net/
Call for Mail Art! / メールアート募集中!
https://ydart.exout.net/mailart.html