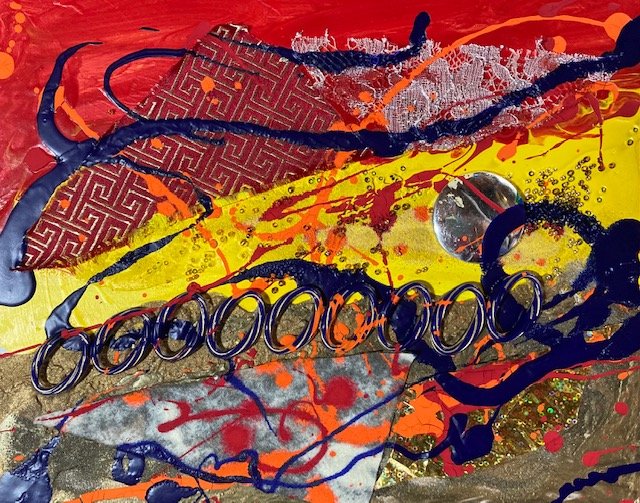 (ENG)
This is my original artwork.
"Musical Scale"
Mixed Media,27.3x22cm,2021
It make a sound, as if ascending or descending stairs. And it can be written down on a sheet of music with certain rules, using several kinds of symbols.
Looking at it, the notes seem to run up and down the stairs, which is interesting. This is a picture I drew thinking about such a thing.
The rainy season ended yesterday and I was drawing pictures while listening to the cicadas in the morning. The cicada's voice was very elegant. I wonder if the cicada's voice has a scale.
While I was thinking, I was absorbed in drawing pictures before I knew it.
---
Exhibition this summer
"Graphic Art exhibition" 2021.August
---
(JPN)
これは私が創った作品です。
「音階」
ミクストメディア、27.3x22cm、2021
階段を昇るように、また降りるように、音がなる。そしてそれはある規則をもって、何種類かの記号を使って、楽譜に書き留められる。
それを見ると、音符も階段を駆け上がったり駆け下りたりしているように見えて、面白い。これはそんなことを考えながら描いた絵です。
こちらは昨日梅雨が明けて、朝は蝉の声を聴きながら絵を描いていました。蝉の声はとても風流でした。蝉の声にも音階があるのかな、
などと考えているうちにいつの間にか絵を描くのに夢中になっていました。
---
この夏参加する展覧会
Graphic Art exhibition 2021.August クリエイティブ表現の現在
---
My website / 私のウェブサイト
https://ydart.exout.net/
抽象画のオーダー承ります。
https://ydart.exout.net/order.html
Call for Mail Art! / メールアート募集中!
https://ydart.exout.net/mailart.html