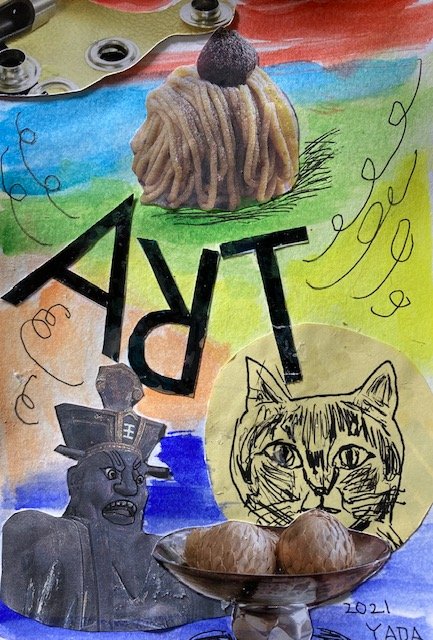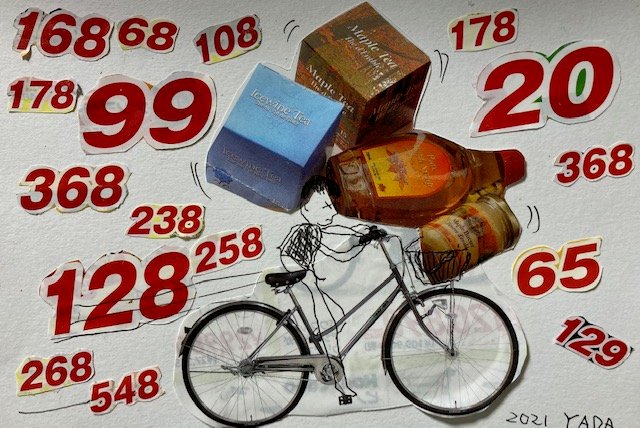 (ENG)
The first two are the email art I made and when I sent them to Canada at the end of February they arrived yesterday and were uploaded on his blog. It took a month. After all, it seems that the decrease of airmail by COVID-19 is affecting. It is mainly a work of collages, and the above is totally meaningless, but please think of it as a scenery with Mont Blanc towering.
And the numbers below are from the supermarket's flyer. In addition, I drew a picture of a person riding a bicycle and a pile of luggage riding a bicycle from a supermarket to a supermarket in order to buy something cheap even for one yen. ).
This was sent to a public invitation called MAILMANIA 6. The organizer's blog is here https://mailmania6.blogspot.com/ . It seems that they are still recruiting, so please send it to them if you are interested.
Also, we are still accepting applications for mail art that I am hosting. The application requirements can be found at https://ydart.exout.net/mailart.html . PLEASE APPLY WHATEVER YOU WANT!
(JPN)
上の2枚は私が作ったメールアートで、これを2月の終わりにカナダに送ったら昨日到着したようでその人のブログにアップされていたようでした。1か月もかかったのですね~。やはりCOVID-19による航空便の減便が影響しているようです。主にコラージュによる作品で、上のはまったく意味不明ですが、モンブランがそびえたっている風景だと思ってください。
そして下の作品の数字はスーパーのチラシのものです。それと自転車に乗る人と山になった荷物とで、1円でも安いものを買うべくスーパーからスーパーへと自転車を走らせる人を描いたという、生活感あふれる(?)作品です。
これはMAILMANIA 6 という公募に送ったものです。主催者のブログはここ https://mailmania6.blogspot.com/ です。まだまだ募集しているようなので興味のある方は送ってみてください。
それから私が主催するメールアートの公募もまだまだ募集中です。募集要項は https://ydart.exout.net/mailart.html にあります。どしどし応募してね♪
---
Akiko Yada Solo Exhibition "waxing and waning of mind"
Date: Wednesday, May 12, 2021 - Monday, May 17
11 : 00 - 19 : 00 (Last Day 17: 00)
Venue: Art Gallery Kitano
(439 -4 Ebisu-cho, Kawaramachi Higashi-iru, Sanjo-dori Street, Nakagyo-ku Ward, Kyoto City)
---
矢田明子個展「こころの満ち欠け」
日時:2021年5月12日(水)~5月17日(月)
   11:00~19:00(最終日17:00まで)
会場:アートギャラリー北野
   (京都市中京区三条通河原町東入ル恵比須町439-4 コーカビル)
---