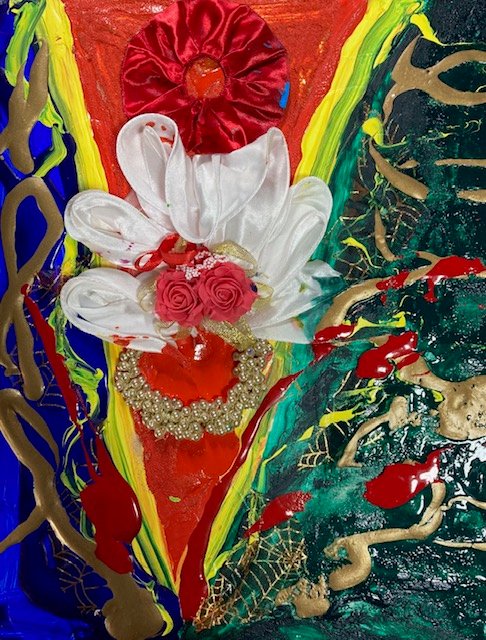 (ENG)
This is my original artwork.
"My Medal of Honor"
Mixed Media,38x45.5cm,2021
Before you say, "I don't need a medal from my country," there is no way my country would give one to someone like me. I don't need a medal from my country. But I painted this picture because I wanted to give myself a medal. I have been denied, abused, ignored, and treated in many other ways. But if I treat myself that way, I'm finished. In order to praise myself at least, I made a medal.
A person who has always been good to me told me to go see an exhibition of a painter and do some research. He also told me to take more time to paint more carefully. I want to continue painting in that way, because I want to make good pictures too. Therefore, I will probably upload my pictures here less frequently, but I hope you will continue to support me.
(JPN)
これは私が創った作品です。
「私の勲章」
ミクストメディア、38x45.5cm、2021
お国からの勲章は要りません、という前に私みたいな者にお国が勲章を出すわけがありません。誰の役にも立っていないのですから。でも、私は私に勲章を出そうと思って、この絵を描きました。私も私を否定されたり、罵られたり、無視されたりと色々つらい仕打ちを受けてきました。でも私が自分にそんな仕打ちをしたらおしまいです。せめて私だけでも私を褒めたたえようと勲章を作りました。
いつもお世話になっている人から、ある画家さんの展覧会を観に行って研究するように言われました。また今までよりももっと時間をかけてじっくり描くように言われました。私だって良い絵を描きたいですから、そのようにして絵を描き続けたいと思います。そのためここに私の絵をアップする頻度は落ちると思いますが、今後ともよろしくお願いいたします。