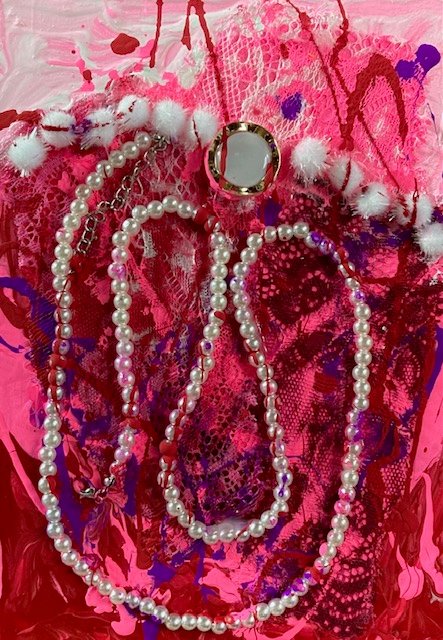 (ENG)
This is my original artwork.
"Nurture"
Mixed Media,15.8x22.7scm,2021
Hagukumu. The word "hagukumu" originally means a parent bird wrapping its chicks in its feathers and raising them, but it is also used to mean "to nurture life" or "to nurture love".
I used felt balls, lace, shiny buttons, pearl-like beads, etc. to express the tenderness and loving feeling of this word.
I had my new corona vaccination last night, and thanks to a good night's sleep, I'm feeling much better. The only thing that remains is the pain at the vaccination site, so today I painted. The only thing is that I use 1-2 liter bottles of paints and mediums, so I had a little trouble lifting them. Still, I'm glad I managed to paint.
---
Exhibition this summer
"Graphic Art exhibition" 2021.August http://www.recto.co.jp/verso/
---
(JPN)
これは私が創った作品です。
「はぐくむ」
ミクストメディア、15.8x22.7cm、2021
はぐくむ。もとは親鳥がひなを羽で包んで育てるという意味だそうですが、「命をはぐくむ」「愛をはぐくむ」などという風に「大切に育てる」という意味で使われる言葉です。
フェルトボールやレース、輝くボタンや真珠風のビーズなどでこの言葉に込められた優しさ、愛おしさなどを表現しました。
昨日新型コロナのワクチン接種をしましたがゆうべよく寝たおかげで疲れはだいぶ取れました。あとは接種部位の痛みが残っているだけなので今日は絵を描きました。ただ私は絵具やメディウム類に1-2Lのボトルを使うのでそれを持ち上げるのに少し苦労しました。それでもなんとか描けてよかったです。
---
この夏参加する展覧会
Graphic Art exhibition 2021.August クリエイティブ表現の現在 http://www.recto.co.jp/verso/
---
My website / 私のウェブサイト
https://ydart.exout.net/
抽象画のオーダー承ります。
https://ydart.exout.net/order.html
Call for Mail Art! / メールアート募集中!
https://ydart.exout.net/mailart.html