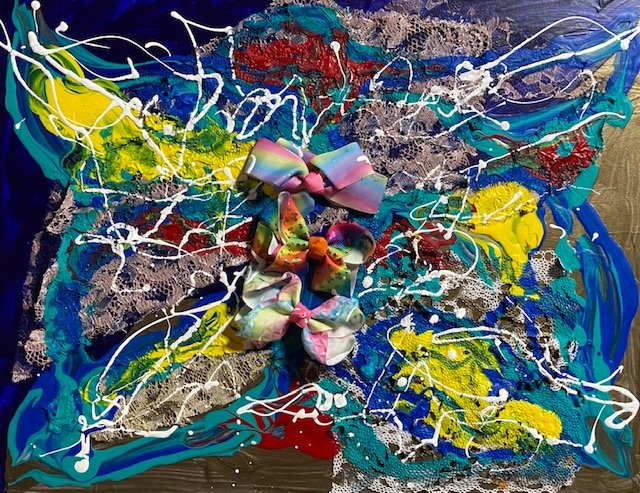 (ENG)
This is my original artwork.
"Out of the Sandy Wind"
Mixed Media,41x31.8cm,2021
Out of the sandy wind
And what's emerging is that
The dream I had when I was a child
it shone dull
I had sealed my dream for a long time.
I opened it again.
You can't do exactly the same thing,
I want to make my dream come true in a slightly different way.
 
///
Come to think of it, I received mail art today too. See https://blurtter.com/art/@yadamaniart/mail-art-from-germany-and-uruguay-20210422-20210422-eng-jpn for details. I am still looking for mail art. The application requirements are at https://ydart.exout.net/mailart.html .
(JPN)
これは私が創った作品です。
「砂まじりの風の中から」
ミクストメディア、41x31.8cm、2021
砂まじりの風の中から
浮かび上がってきたものは
私が小さい頃に見た夢
それは鈍く輝いていた
私は長い間封印していた夢を
もう一度開けた
全く同じことはできなくても
少し違った形で夢を叶えたい
 
///
そういえば今日もメールアートを頂きました。詳細は https://blurtter.com/art/@yadamaniart/mail-art-from-germany-and-uruguay-20210422-20210422-eng-jpn をご覧ください。まだまだメールアートは募集中です。募集要項は https://ydart.exout.net/mailart.html にあります。
---
Akiko Yada Solo Exhibition "waxing and waning of mind"
Date: Wednesday, May 12, 2021 - Monday, May 17
11 : 00 - 19 : 00 (Last Day 17: 00)
Venue: Art Gallery Kitano
(439 -4 Ebisu-cho, Kawaramachi Higashi-iru, Sanjo-dori Street, Nakagyo-ku Ward, Kyoto City)
---
矢田明子個展「こころの満ち欠け」
日時:2021年5月12日(水)~5月17日(月)
   11:00~19:00(最終日17:00まで)
会場:アートギャラリー北野
   (京都市中京区三条通河原町東入ル恵比須町439-4 コーカビル)
---