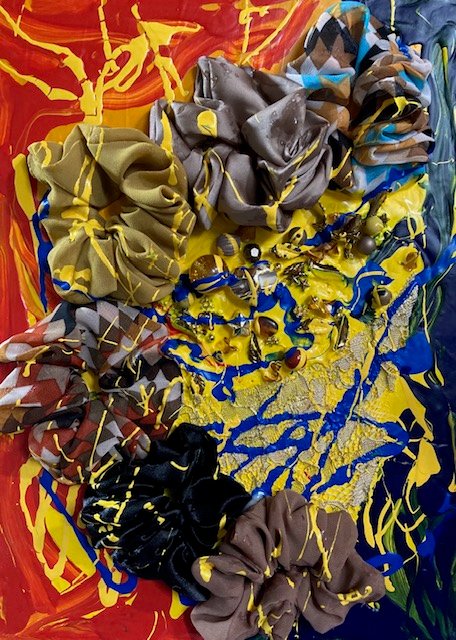 (ENG)
This is my original artwork.
"Pupae Twinkle"
Mixed Media,24.2x33.3cm,2021
I am still like a child in the art world. It's like a puppet that has no talent yet. But in the near future, it will surely become a butterfly. This is a sign of butterfly premonitory, energy-like glow.
My solo exhibition is only two weeks away. For now, we will exhibit the best works at the moment. Please wear a mask to prevent infection and come.
(JPN)
これは私が創った作品です。
「さなぎがキラリ」
ミクストメディア、24.2x33.3cm、2021
私は美術の世界では、まだまだ子供みたいなものです。まだまだ才能が開いていない、さなぎみたいなものです。でも近いうちに、きっと羽化して蝶になります。これは蝶になる前兆の、エネルギーを放出したような、輝きを表したものです。
私の個展まであと2週間となりました。とりあえず現時点でのベストの作品たちを展示します。マスク着用など感染防止対策をして、是非お越しください。
---
Akiko Yada Solo Exhibition "waxing and waning of mind"
Date: Wednesday, May 12, 2021 - Monday, May 17
11 : 00 - 19 : 00 (Last Day 17: 00)
Venue: Art Gallery Kitano
(439 -4 Ebisu-cho, Kawaramachi Higashi-iru, Sanjo-dori Street, Nakagyo-ku Ward, Kyoto City)
---
矢田明子個展「こころの満ち欠け」
日時:2021年5月12日(水)~5月17日(月)
   11:00~19:00(最終日17:00まで)
会場:アートギャラリー北野
   (京都市中京区三条通河原町東入ル恵比須町439-4 コーカビル)
---
Call for Mail Art! / メールアート募集中!
https://ydart.exout.net/mailart.html