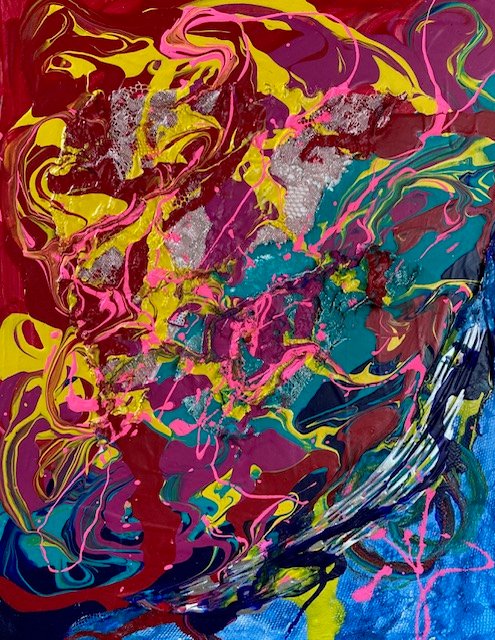 (ENG)
This is my original artwork.
"Rainbow-Colored"
Mixed Media,31.8x41cm,2021
"I think it's interesting that we use the word "pattern" to describe the weather, as in, "It's going to rain tomorrow. When I was thinking about this, I imagined the sky in various weather conditions and ended up with a rainbow-colored sky. That's why I drew a picture of rainbow colors and titled it "Rainbow Patterns". I wonder if tomorrow's sky will be rainbow-colored.
---
⭐Akiko Yada's solo exhibition "Let your cerebral cortex be your guide
Period: 26(Tue) October - 31(Sun) October, 2021, 11:00 - 20:00
Venue: Room_412
(Room 412, Takagi Building, 15-8 Sakuragaoka-cho, Shibuya-ku, Tokyo)
---
(JPN)
これは私が創った作品です。
「虹模様」
ミクストメディア、31.8x41cm、2021
「明日は雨模様」というように、天気の様子に「模様」という言葉を使うのは、面白いなと思います。そんなことをふと考えていたら、色々な天気の空が脳裏に浮かんで、しまいには虹色の空が広がる様子を想像しました。そんなことから虹色の絵を描いて、タイトルを「虹模様」とつけました。明日の空は、虹模様になるでしょうか。
---
★矢田明子 個展「大脳皮質をあそばせて」
会期:2021年10月26日(火)-10月31日(日)11-20時
会場:Room_412
(東京都渋谷区桜丘町15-8 高木ビル412号室)
---