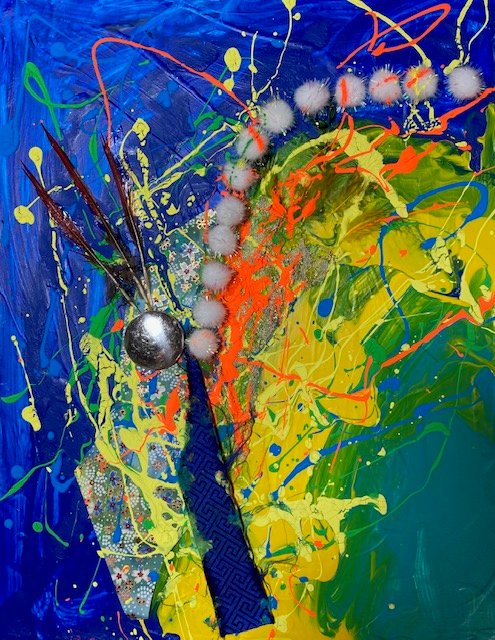 (ENG)
This is my original artwork.
"Solitary One Plays the Sound"
Mixed Media,22x27.3cm,2021
The solitary one plays the sound
They make a sound that you wonder where it comes from.
It's like the sound of a bottle lid being opened
It's like the sound of clapping hands
It's like the sound of rain hitting the roof
It is a strange sound that is different from any of these.
After a long time of such sounds
The lone man whistles and leaves.
Today I spent the day throwing away trash, preparing for the exhibit, going to the convenience store to pay the bill, and then spent the rest of the day cleaning. Tomorrow is finally the first dose of the new coronavirus vaccination. I hope it will go off without a hitch.
Exhibition this summer
"Graphic Art exhibition" 2021.August http://www.recto.co.jp/verso/
(JPN)
これは私が創った作品です。
「孤高の人は音を奏でる」
ミクストメディア、31.8x41cm、2021
孤高の人は音を奏でる
どこから出るのかというような音を奏でる
それは瓶のふたを開ける音のようで
手をたたく音のようで
屋根を叩く雨の音のようで
どれとも違う不思議な音
ひとしきりそんな音を奏でたら
孤高の人は口笛吹いて去っていく
今日はゴミ捨てや出展の準備やコンビニに支払いに行って、あとは掃除に明け暮れておりました。明日はいよいよ新型コロナウイルスのワクチン接種、1回目です。無事に終わってほしいです。
この夏参加する展覧会
Graphic Art exhibition 2021.August クリエイティブ表現の現在 http://www.recto.co.jp/verso/
My website / 私のウェブサイト
https://ydart.exout.net/
抽象画のオーダー承ります。
https://ydart.exout.net/order.html
Call for Mail Art! / メールアート募集中!
https://ydart.exout.net/mailart.html