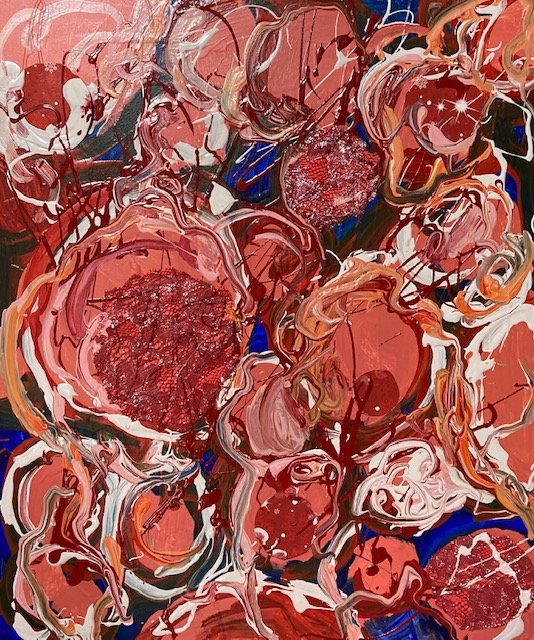 (ENG)
This is my original artwork.
"Sweet and Sour"
Mixed Media,38x45.5cm,2021
I imagined something sweet and sour like plum, pickled plum, apple and plum. Sweet and sour taste or fragrance. I imagined Ume in particular.
Speaking of plum blossoms, some famous places in Kyoto have plum blossoms blooming and some of them are at their best early. There are more and more photos of Japanese plum posted on Twitter. Today in Kyoto, it is sunny and the highest temperature is 13.1 degrees Celsius, so I feel spring is approaching.
It seems that this warmth will last until the weekend, so I was thinking of going to a plum grove sketch in the near future, so I prepared a sketchbook and portable paints while cleaning today. I'm still wondering where to go, but I can manage it even if I decide on the day.
(JPN)
これは私が創った作品です。
「甘酸っぱい」
ミクストメディア、38x45.5cm、2021
梅だとか梅干しだとか、あとリンゴだとかスモモだとか、甘酸っぱいものを想像して描きました。甘酸っぱい味とか、香りとか。特に梅を想像しましたね。
梅といえば、京都の梅の名所も梅の花が咲き出して、早い所では見頃になっている所もあるようです。Twitterなどで梅の写真の投稿が多くなってきました。今日も京都はよく晴れて最高気温は13.1℃ということもあり、春が近づいてきたなという感じです。
週末までこの暖かさが続きそうなので、近々梅林のスケッチに行こうかと思い、今日は掃除のかたわらスケッチブックや携帯絵の具を準備していました。どこに行くかまだ迷っていますが、それは当日に決めてもなんとかなります。
---
My Website / 私のウェブサイト
https://ydart.exout.net/
My Artwork sales site / 私の絵の販売サイト
https://ydart.stores.jp/