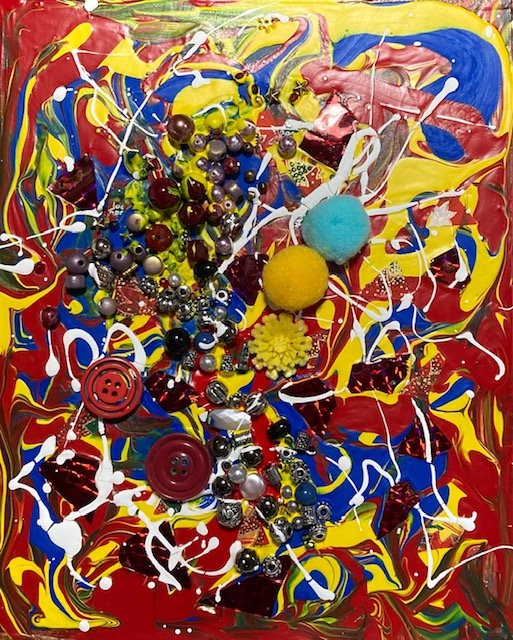 (ENG)
This is my original artwork.
"Toy Country"
Mixed Media,22x27.3cm,2021
I made a toy country by scattering various things such as beads and buttons. I drew this picture imagining a land of toys where children play with passion and adults play with nostalgia for their childhood. I drew it because I wanted you to feel happy even for a short time.
Even so, my house is a pile of trash, not to mention toys, and there is no place to put my personal exhibition luggage, so I try my best to clean it every day. It's a little cleaner, but I still have to clean it.
(JPN)
これは私が創った作品です。
「おもちゃの国」
ミクストメディア、22x27.3cm、2021
ビーズやボタンなど色々なものを散らして、おもちゃの国を作りました。子どもは夢中になって遊び、大人は子どもの頃を懐かしく思って遊ぶ、おもちゃの国を想像してこの絵を描きました。つかの間でも、楽しい気分になってほしいと思って描きました。
それにしても自宅はおもちゃどころかゴミの山で、個展の荷物の置き場所がなくて、毎日一生懸命掃除しています。ほんの少しきれいになりましたが、まだ掃除しなくてはいけません。
---
Akiko Yada Solo Exhibition "waxing and waning of mind"
Date: Wednesday, May 12, 2021 - Monday, May 17
11 : 00 - 19 : 00 (Last Day 17: 00)
Venue: Art Gallery Kitano
(439 -4 Ebisu-cho, Kawaramachi Higashi-iru, Sanjo-dori Street, Nakagyo-ku Ward, Kyoto City)
---
矢田明子個展「こころの満ち欠け」
日時:2021年5月12日(水)~5月17日(月)
   11:00~19:00(最終日17:00まで)
会場:アートギャラリー北野
   (京都市中京区三条通河原町東入ル恵比須町439-4 コーカビル)
---
Call for Mail Art! / メールアート募集中!
https://ydart.exout.net/mailart.html