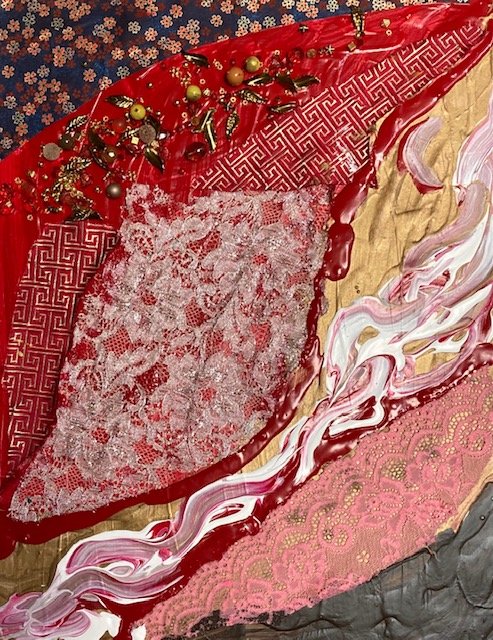 (ENG)
This is my original artwork.
"Treasure Hunt"
Mixed Media,31.8x41cm,2021
Once upon a time, I used to dig in the sand in the sandbox at the park and go on a treasure hunt. I didn't find any gold or silver, but I did find some shell-like objects and beautifully colored stones. I was told not to bring home such trivial things. Since I became an adult, I don't go on treasure hunts anymore, but I suddenly remembered the old days and drew a picture that looked like a treasure hunt map.
---
Akiko Yada's solo exhibition "Let your cerebral cortex be your guide
Period: 26(Tue) October - 31(Sun) October, 2021, 11:00 - 20:00
Venue: Room_412
(Room 412, Takagi Building, 15-8 Sakuragaoka-cho, Shibuya-ku, Tokyo)
---
(JPN)
これは私が創った作品です。
「宝探し」
ミクストメディア、31.8x41cm、2021
むかし私は公園の砂場で砂を掘って宝探しをしていました。金や銀は出てきませんでしたが貝殻のようなものや綺麗な色の石を見つけて家に持ち帰ると怒られました。そんなつまらないもの持って帰るなと怒られました。大人になってからはすっかり宝探しなどしなくなりましたが、ふと昔を思い出して宝探しの地図のような絵を描いてみました。
---
★矢田明子 個展「大脳皮質をあそばせて」
会期:2021年10月26日(火)-10月31日(日)11-20時
会場:Room_412
(東京都渋谷区桜丘町15-8 高木ビル412号室)
---