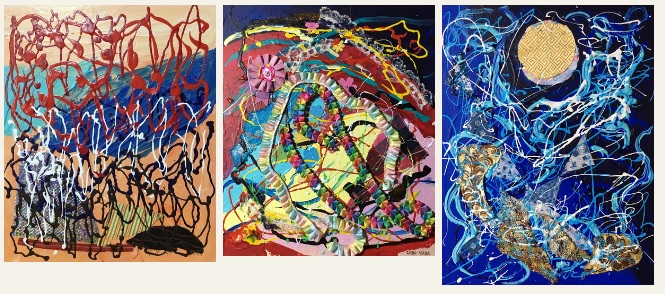 (ENG)
The pictures are part of the work I created this year.
Well, I made a false announcement on some SNS sites, but it has been officially decided that I will exhibit my work at "UNKNOWN ASIA 2020 ONLINE", an art fair mainly in Asia in which even individuals can participate.
I applied to this art fair two years ago and last year and failed, but this year I won the prize and it was decided that I would participate.
It was held in Osaka until last year, but this year it will be held online due to the Corona disaster.
As a result, you can see and buy the works of various artists including me from all over Japan, or even from all over the world! Please come and watch it online!
I'll do my best to prepare, so I'll be waiting.
---
UNKNOWN ASIA 2020 ONLINE
2020.12.11[fri] 10:00~20:00 VIP PREVIEW
2020.12.12[sat] 10:00~20:00
2020.12.13[sun] 10:00~20:00
Website: https://unknownasia.net/
My Artist Page: https://unknownasia.net/artist/artist_detail.php?lang=&aid=72
---
(JPN)
写真は私が今年創った作品たちの一部です。
さて、一部SNSでフライングして発表してしまったのですが、アジアを中心として個人でも参加できるアートフェアである "UNKNOWN ASIA 2020 ONLINE" への出品が正式に決まりました。
私はこのアートフェアに一昨年、昨年も応募し落選しましたが、今年ついに当選し参加が決まったことをお伝えいたします。
昨年までは大阪で行われていたのですが、今年はコロナ禍もありオンラインでの開催です。
その分日本中から、いや世界中から私を始め様々なアーティストの作品をご覧いただくことができ、また購入もしていただけます! 是非是非、オンラインで観に来てください!
私も準備を頑張りますので、お待ちしております。
---
UNKNOWN ASIA 2020 ONLINE
2020.12.11[fri] 10:00~20:00 VIP PREVIEW (11日は関係者、招待者のみ)
2020.12.12[sat] 10:00~20:00
2020.12.13[sun] 10:00~20:00
オンライン( https://unknownasia.net/ へアクセス)
私の紹介ページは https://unknownasia.net/artist/artist_detail.php?lang=&aid=72 です。
---