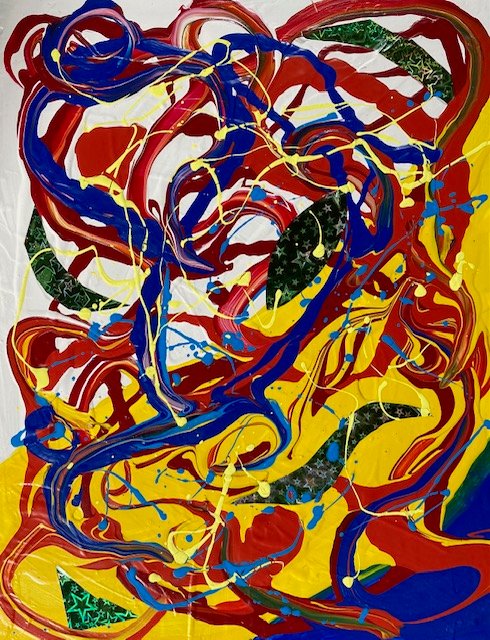 (ENG)
This is my original artwork.
"Untitled20210901"
Mixed Media,31.8x41cm,2021
Well, today is the start of September. The data entry job was successfully approved by the client. Thank you for your help. So I'm going to start drawing pictures almost every day and posting them here. I'm always grateful to those who vote for me. However, I also have to prepare for my solo exhibition, so for the time being, I will take a break from time to time to post.
This is a painting I did using primary colors, as if the colors were dancing around.
---
⭐Akiko Yada's solo exhibition "Let your cerebral cortex be your guide
Period: 26(Tue) October - 31(Sun) October, 2021, 11:00 - 20:00
Venue: Room_412
(Room 412, Takagi Building, 15-8 Sakuragaoka-cho, Shibuya-ku, Tokyo)
---
(JPN)
これは私が創った作品です。
「Untitled20210901」
ミクストメディア、31.8x41cm、2021
さて今日から9月です。データ入力の仕事は無事クライアント様に承認されました。助かりました。ということでまたほぼ毎日絵を描いてここに投稿しようと思います。いつもvoteしてくださる方には感謝しています。しかし私は個展の準備もしなければならないので、当分の間は時々休みつつ投稿したいと思います。
これは原色を使い、色彩が舞い踊るような絵を描きました。
---
★矢田明子 個展「大脳皮質をあそばせて」
会期:2021年10月26日(火)-10月31日(日)11-20時
会場:Room_412
(東京都渋谷区桜丘町15-8 高木ビル412号室)
---