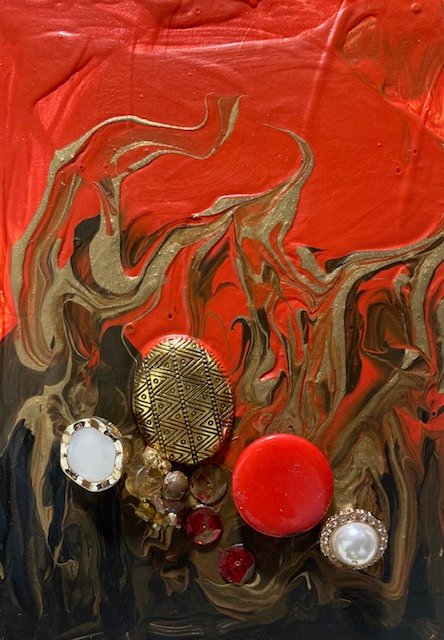 (ENG)
This is my original artwork.
"Vermilion and gold flame"
Mixed Media,15.8x22.7cm,2021
This is a painting I did before the exhibition, but I took it out the day before yesterday and went back to my house in Kyoto.
I was tired yesterday, so I took a rest and today I painted for the first time in a while, and I felt really refreshed. I was so tired yesterday that I took a rest.
I know I'm a little late, but I'd like to say thank you for my solo exhibition in Tokyo.
Unfortunately, there were no sales this time, and only a few visitors, but I would like to express my sincere gratitude to all those who came.
(JPN)
これは私が創った作品です。
「朱と金の炎」
ミクストメディア、15.8x22.7cm、2021
これは個展前に描いた絵ですが、一昨日搬出して京都の自宅に帰って、
昨日は疲れていたので休んで、今日久しぶりに絵を描いたらすごく気分がすっきりしました。やっぱり私は絵を描くのが好きなんだなあと思います。
遅れましたが東京での個展のお礼のご挨拶をしたいと思います。
今回は残念ながら売上は出ず、お客様も少なかったですが、少ないながらも来ていただいた方に厚く御礼申し上げます。