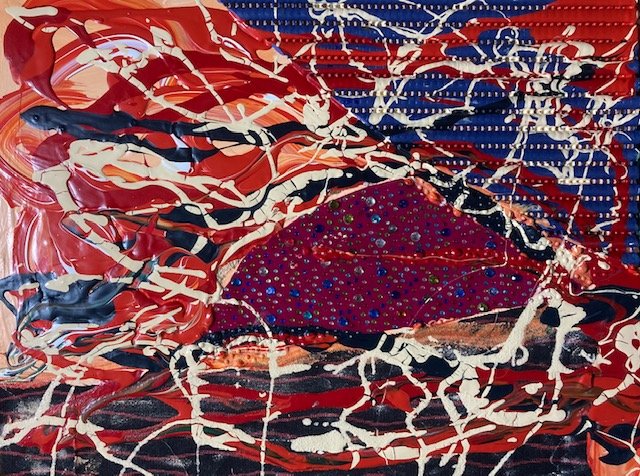 (ENG)
This is my original artwork.
"Volcano"
Mixed Media,31.8x41cm,2021
We tried to create an interesting world by pasting cloth (cloth originally used for bags) with beads embedded in the center, and pasting cloth like a table mat or kimono cloth on top and bottom, and applying paint.
We are working on three-dimensional works these days. It takes the same energy and labor as creating a flat work of size 20 even if it is small. But I'm looking forward to it. I'll post it here again when it's ready.
(JPN)
これは私が創った作品です。
「火山」
ミクストメディア、31.8x41cm、2021
中央にビーズが埋め込まれた布(元は鞄に使われていた布)を貼り、上下にもテーブルマットのような布や着物の布を貼り付け、絵の具を塗って面白い世界を作り出そうとしました。
ここのところは立体作品に取り組んでいます。立体は小さくても20号くらいの平面作品を創るのと同じエネルギーを費やしますし、手間もかかります。でも出来上がりが楽しみです。出来上がったらまたここに投稿しますね。
---
My Website / 私のウェブサイト
https://ydart.exout.net/
My Artwork sales site / 私の絵の販売サイト
https://ydart.stores.jp/