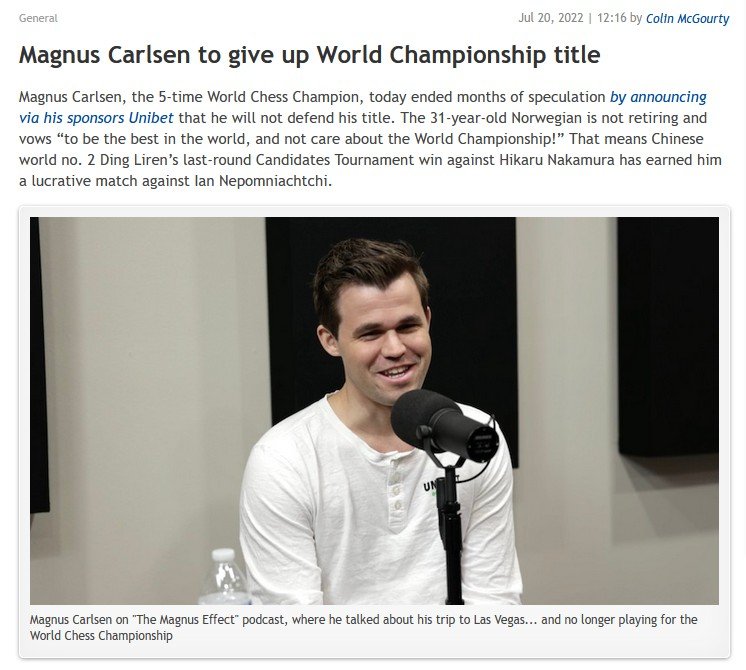 Source / Извор: Chess24.com

So who is the new world chess champion? It will be Ian Nepomniachtchi! Or Ding Liren! Or one of you, if you don't give up your tournament preparations! Because if the Chinese government declares a viral hoaxdown… a lockdown, you too could have someone from FIDE knocking on your door with an offer to play a title match. Therefore, you must not be unprepared. Take the first step by attending tomorrow's Betman's 1972 Memorial:

Ко је дакле нови светски шаховски шампион? То је Јан Непомнијашчи! Или Динг Лирен! Или неко од вас уколико не одустанете од припрема на турнирима! Јер ако кинеска влада прогласи вирусно замајавање… затварање, и вама може неко из ФИДЕ да закуца на врата са понудом да играте меч за титулу. Зато не смете бити неспремни. Учините први корак учешћем на сутрашњем Бетмановом меморијалу:
---
---
---
What if you're not strong at chess? You can join us anyway, because here, thanks to
Lighteye's Scoring & Reward system,
every participant can win at least one point per round – the current value of which is around 0.25 HBD.
For those who don't know how to play chess at all, Betman has a pleasant surprise: Fischer's Chess Crash Course (
with his favorite Dubrovnik chess set
) that can make you a Champion in no time!
Шта ако нисте јаки у шаху? Свеједно нам се можете придружити, јер овде, захваљујући
Лајтајевом систему рангирања и награђивања
сваки учесник може освојити макар један поен у колу – чија је тренутна вредност око 0,25 ХБД.
За оне који уопште не знају да играју шах, Бетман има пријатно изненађење: Фишеров кратки шаховски курс (
на омиљеној Дубровник гарнитури
) који од вас може зачас направити шампиона!
---
Duration / Трајање: 8:08
---
---
Summary
• The tournament is held on Lichess.org and will have 4 rounds with 7 games each.
• Date and time: Thursday, July 21st 2022 at 21:00 CET.
• Format and time control: Fischer Random (Chess960) 3+2 Swiss
• All liquid HBD will be distributed to the Hive member contestants according to placement criteria, and further 10 HBD will be distributed equal to all Hive member contestants. Three games minimum.
• Since the greatest name 'Rabid Rabbit Rapid' was already taken, you will have to join Betman's Blitz Blunder Barrons team, and announce their Hive and Lichess names in the comments.
Резиме
• Турнир се одржава на Lichess.org у четири кола са по 7 партија.
• Датум и време: четвртак, 21. јул 2022. у 21.00 ЦЕТ.
• Формат и временска контрола: Фишеров шах (Chess960) 3+2 швајц.
• Ликвидни ХБД биће распоређен такмичарима са Хајва по критеријуму пласмана, а још 10 ХБД биће подељено такмичарима са Хајва на једнаке делове. Три партије минимално.
• Пошто је најбоље име 'Rabid Rabbit Rapid' већ било заузето, мораћете да се прикључите тиму Betman's Blitz Blunder Barrons, и у коментарима објавите ваша имена на Хајву и Личесу.
---
Join and have a nice stress… time!
Придружите нам се и пријатан стрес… провод!
---
This post might be interesting for:
Овај текст би могао бити занимљив за:
---
@aakrist, @abimbola753, @agreste, @alan8a, @alberto0607, @alexmag1988, @almightymelon, @alpha, @ambarvegas, @amirl, @anadello, @anli, @anomadsoul, @apy, @arsenal49, @astrolabio, @b0s, @behiver, @bitsignal, @burnoutawesome, @camiloferrua, @cerati, @chacald.dcymt, @chessbrotherspro, @chesthetica, @cocacolaron, @cryptoniusraptor, @cryptoph0823, @darruiz, @diegofitness92, @digitalis. @ebingo, @eenriquerivas, @eliaschess333, @elprofe62, @emic, @eniolw, @eenriquerivas, @evgsk, @fairy-of-comfort, @fiona777, @fjcr, @flaws, @foxconnmars, @franciscomarval, @franu, @gabotask, @giacomone, @gingerbyna, @gravitcaper, @heimindanger, @hierro21, @hirohurl, @hive-129589, @iceblue, @iobates, @ibizaki, @jaki01, @jesusmgl1995, @jkms, @johannesboldt, @johannfrare @josesmoke, @juanmi96, @kintokris, @kreur, @levitant, @lighteye, @lofone, @lucianosky, @maciejficek, @manncpt, @manuel6, @marcusantoniu26, @masterswatch, @maverieux000, @meedo, @mister-omortson, @mrsarri, @mstafford, @mypathtofire, @nerdvana, @nftland1989, @orlanzavala, @oshiokhenhoya, @pamboy27, @parung76, @perpz, @petreius, @pravesh0, @primersion, @rafaelaquino, @renerondon, @rexplanet, @rheda, @rodrook, @ropavejero, @rosmarly, @salomijale, @samostically, @sawko, @schamangerbert, @schnitte, @soluce07, @spacetoon, @steamloled, @stayoutoftherz, @stranger27, @svarogbg, @syndmitrij, @the01crow, @thedoc07, @therealflaws, @tony1294, @tungphong, @uliseshb, @vaipraonde, @vasigo, @victorbch2, @vjap55, @walner, @wegflexor, @wildthougts, @xoflox, @yazp, @zacherybinx, @ziabutt3836
---
Hive Chess Tournaments / Хајв турнири
Welcome!
Добро нам дошли!
---
* * *
Related texts / Повезани текстови: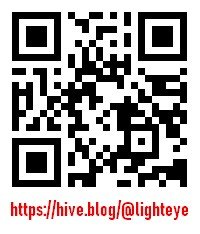 Check out ABRA and easily invest in 28 cryptocurrencies or BIT10, an index of the top cryptos. Use this link to sign up and get $25 in free bitcoin after your first Bank/Amex deposit, or 1.5% cash back when you exchange cryptos

1GZQG69sEKiMXKgGw9TcGcUCBoC4sC1ZYp