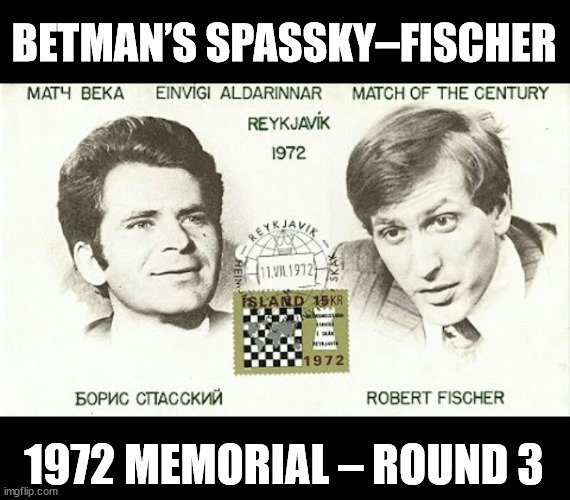 The third round is practically the last chance for title aspirants to enter the Betman's 1972 Memorial Tournament. But the reward in cryptocurrency will not escape you anytime you join and any place you take. Betman's rules!
Speaking of rules, here's a small addition. As the competition becomes very uncertain, the question arises of the criteria for determining the placement in the event of an equal number of points. The first criterion is the number of participation in the tournament. Preference will be given to a competitor who has participated in several tournaments, thus stimulating participation. In the event that it is equal, the next criterion will be performance, which practically boils down to the fact that the competitor with the lower rating will have an advantage.
So, on Thursday at nine o'clock we will once again be reminded of that great match in which Robert Fischer entered the legend by winning the title of World Chess Champion… who later got so sick of it that he came up with a better variant clumsily called Chess960, instead of the natural name – Fischer Random Chess.
Meeting at this place:

Треће коло последња је шанса за аспиранте на титулу да се укључе у Бетманов меморијални турнир. Али награда у криптовалути неће вам измаћи било кад да се укључите и било које место да заузмете. Бетманова правила!
Кад смо код правила, ево малог додатка. Пошто такмичење постаје веома неизвесно, поставља се питање критеријума одређивања пласмана у случају једнаког броја бодова. Први критеријум је број учешћа на турниру. Предност ће имати такмичар који је учествовао на више турнира, чиме се стимулише учешће. У случају да је и то једнако, следећи критеријум биће учинак, што се практично своди на то да ће предност имати такмичар са нижим рејтингом.
Дакле, у четвртак у девет поново ћемо се подсетити тог сјајног меча у коме је Роберт Фишер ушао у легенду освојивши титулу шампиона света у шаху… који му се касније до те мере смучио да је смислио бољу варијанту незграпно названу Шах960, уместо природног назива – Фишеров шах.
Састанак на овом месту:
---
---
---
---
Duration / Трајање: 15:58
---
Summary
• Tournament will take place on Lichess.org and will have 4 rounds with 7 games each.
• Date and time: Thursday, July 28th 2022 at 21:00 CET.
• Format and time control: Fischer Random (Chess960) 3+2 Swiss
• All liquid HBD will be distributed to the Hive member contestants according to placement criteria, and further 10 HBD will be distributed equal to all Hive member contestants. Three games minimum.
• Since the greatest name 'Rabid Rabbit Rapid' was already taken, you will have to join Betman's Blitz Blunder Barrons team, and announce their Hive and Lichess names in the comments.
Резиме
• Турнир ће се одржати на Lichess.org у четири кола са по 7 партија.
• Датум и време: четвртак, 28. јул 2022. у 21.00 ЦЕТ.
• Формат и временска контрола: Фишеров шах (Chess960) 3+2 швајц.
• Ликвидни ХБД биће распоређен такмичарима са Хајва по критеријуму пласмана, а још 10 ХБД биће подељено такмичарима са Хајва на једнаке делове. Три партије минимално.
• Пошто је најбоље име 'Rabid Rabbit Rapid' већ било заузето, мораћете да се прикључите тиму Betman's Blitz Blunder Barrons, и у коментарима објавите ваша имена на Хајву и Личесу.
---
Do not hesitate, join and have a nice stress… time!
Не оклевајте, придружите нам се и пријатан стрес… провод!
---
This post might be interesting for:
Овај текст би могао бити занимљив за:
---
@aakrist, @abimbola753, @agreste, @alan8a, @alberto0607, @alexmag1988, @almightymelon, @alpha, @ambarvegas, @amirl, @anadello, @anli, @anomadsoul, @apy, @arsenal49, @astrolabio, @b0s, @behiver, @bitsignal, @burnoutawesome, @camiloferrua, @cerati, @chacald.dcymt, @chessbrotherspro, @chesthetica, @cocacolaron, @cryptoniusraptor, @cryptoph0823, @darruiz, @diegofitness92, @digitalis. @ebingo, @eenriquerivas, @eliaschess333, @elprofe62, @emic, @eniolw, @eenriquerivas, @evgsk, @fairy-of-comfort, @fiona777, @fjcr, @flaws, @foxconnmars, @franciscomarval, @franu, @gabotask, @giacomone, @gingerbyna, @gravitcaper, @heimindanger, @hierro21, @hirohurl, @hive-129589, @iceblue, @iobates, @ibizaki, @jaki01, @jesusmgl1995, @jkms, @johannesboldt, @johannfrare @josesmoke, @juanmi96, @kintokris, @kreur, @levitant, @lighteye, @lofone, @lucianosky, @maciejficek, @manncpt, @manuel6, @marcusantoniu26, @masterswatch, @maverieux000, @meedo, @mister-omortson, @mrsarri, @mstafford, @mypathtofire, @nerdvana, @nftland1989, @orlanzavala, @oshiokhenhoya, @pamboy27, @parung76, @perpz, @petreius, @pravesh0, @primersion, @rafaelaquino, @renerondon, @rexplanet, @rheda, @rodrook, @ropavejero, @rosmarly, @salomijale, @samostically, @sawko, @schamangerbert, @schnitte, @soluce07, @spacetoon, @steamloled, @stayoutoftherz, @stranger27, @svarogbg, @syndmitrij, @the01crow, @thedoc07, @therealflaws, @tony1294, @tungphong, @uliseshb, @vaipraonde, @vasigo, @victorbch2, @vjap55, @walner, @wegflexor, @wildthougts, @xoflox, @yazp, @zacherybinx, @ziabutt3836
---
Hive Chess Tournaments / Хајв турнири
Welcome!
Добро нам дошли!
---
* * *
Related texts / Повезани текстови: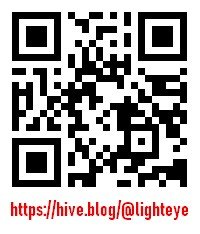 Check out ABRA and easily invest in 28 cryptocurrencies or BIT10, an index of the top cryptos. Use this link to sign up and get $25 in free bitcoin after your first Bank/Amex deposit, or 1.5% cash back when you exchange cryptos

1GZQG69sEKiMXKgGw9TcGcUCBoC4sC1ZYp