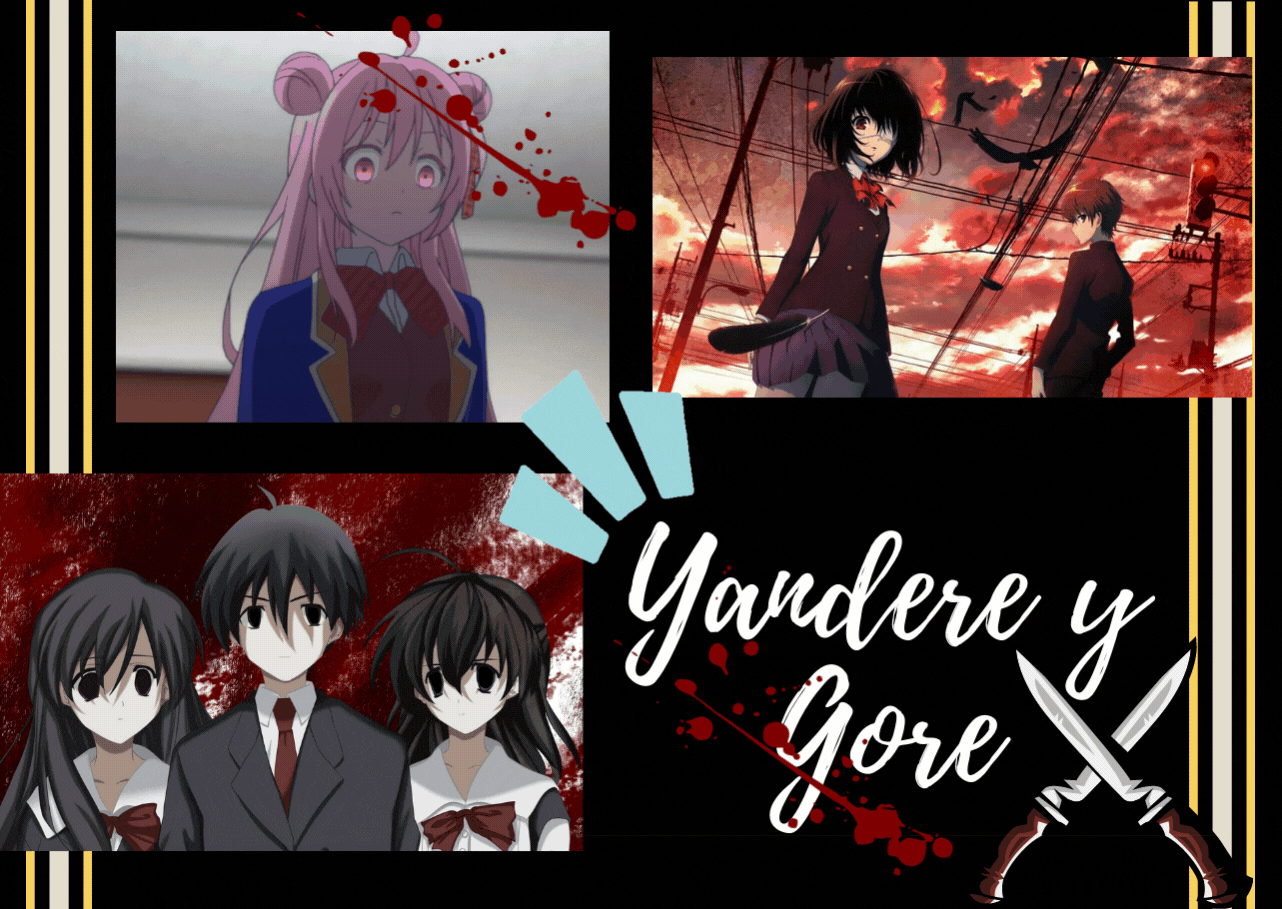 Hello, internet people! I hope you're doing well. Today I will continue with @kurunokensh's challege about Anime. I'll talk about my favorite type of Anime. I skipped two issues because my favorite Shonen Anime is Naruto (and I've already talked too much about that Anime) and the Seinen I watched, Death Note, I hated (don't judge me!), so let's get started!
¡Hola, gente de internet! Espero que estén bien. Hoy seguiré con el challege de @kurunokensh sobre Anime. Hablaré sobre mi tipo preferido de Anime. Me salté dos números porque mi Anime Shonen preferido es Naruto (y ya he hablado demasiado de ese Anime) y el Seinen que vi, Death Note, lo odié (¡no me juzguen!), así pues ¡Comencemos!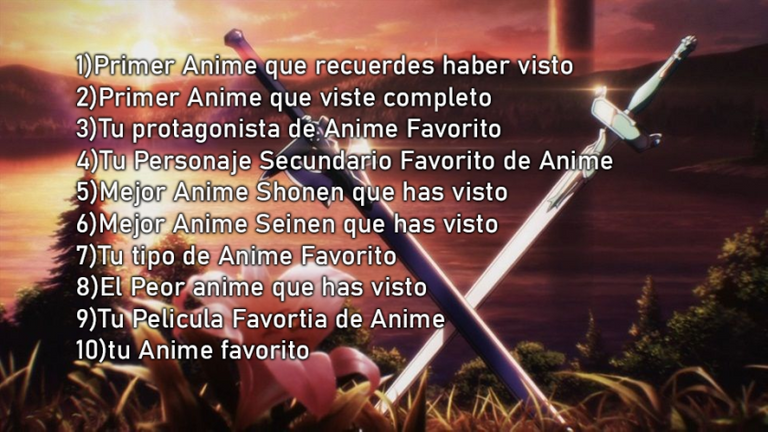 It's funny to think that although everyone says that I'm adorable and my preference are very kawaii (in clothes, accessories, colors, etc) my preferences in Anime and video games, differ quite a lot because, my favorite genre of video games is Survival Horror and in Anime... the Gore and Yandere genre.
Es gracioso pensar que aunque todo el mundo diga que soy adorable y mis gustos son muy kawaii (en ropa, accesorios, colores, etc) mis gustos en cuanto a Anime y videojuegos, difieren bastante pues, mi género de videojuegos preferidos es el Survival Horror y en Anime... los de género Gore y Yandere.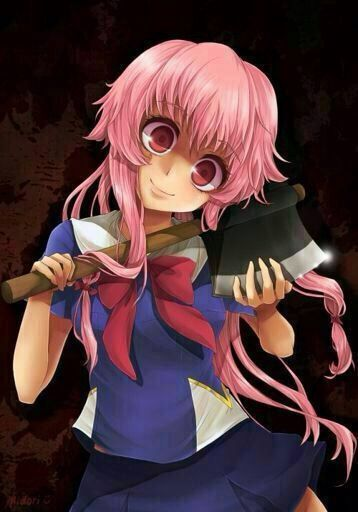 Fuente
I imagine that whoever reads this post must be an Otaku, however, I will explain the difference between simple Gore and Yandere. Anime of the Gore genre it's about stories or situations that contain a lot of blood and violence at the hands of a murderer or a curse (something similar to Final Destination, the movie). On the other hand, Yandere (although there are violent scenes that may involve a lot of blood) is specifically based on one or more people who are murderers as a result of a love obsession.
Imagino que quien lea este post ha de ser Otaku, sin embargo, explicaré la diferencia entre el simple Gore y el Yandere. Los Anime de género Gore tratan sobre historias o situaciones que contienen mucha sangre y violencia a manos de algún asesino/a o también alguna maldición (algo parecido a destino final, la película). Por otro lado, en el Yandere (aunque hay escenas violentas que pueden implicar mucha sangre) se basa específicamente en una o más personas que son asesinas a raíz de una obsesión amorosa.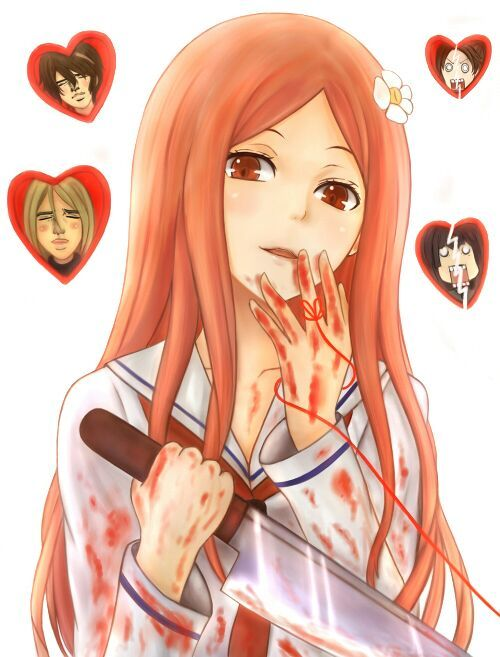 Fuente
My favorite Gore anime is "Another" and my favorite Yandere Anime is "Happy Sugar Life".
Mi anime Gore preferido es Another y mi Anime Yandere preferido es Happy Sugar Life.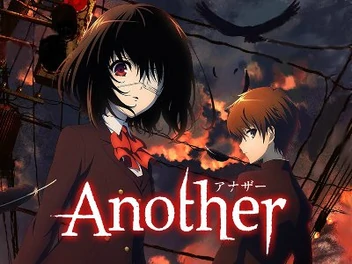 Fuente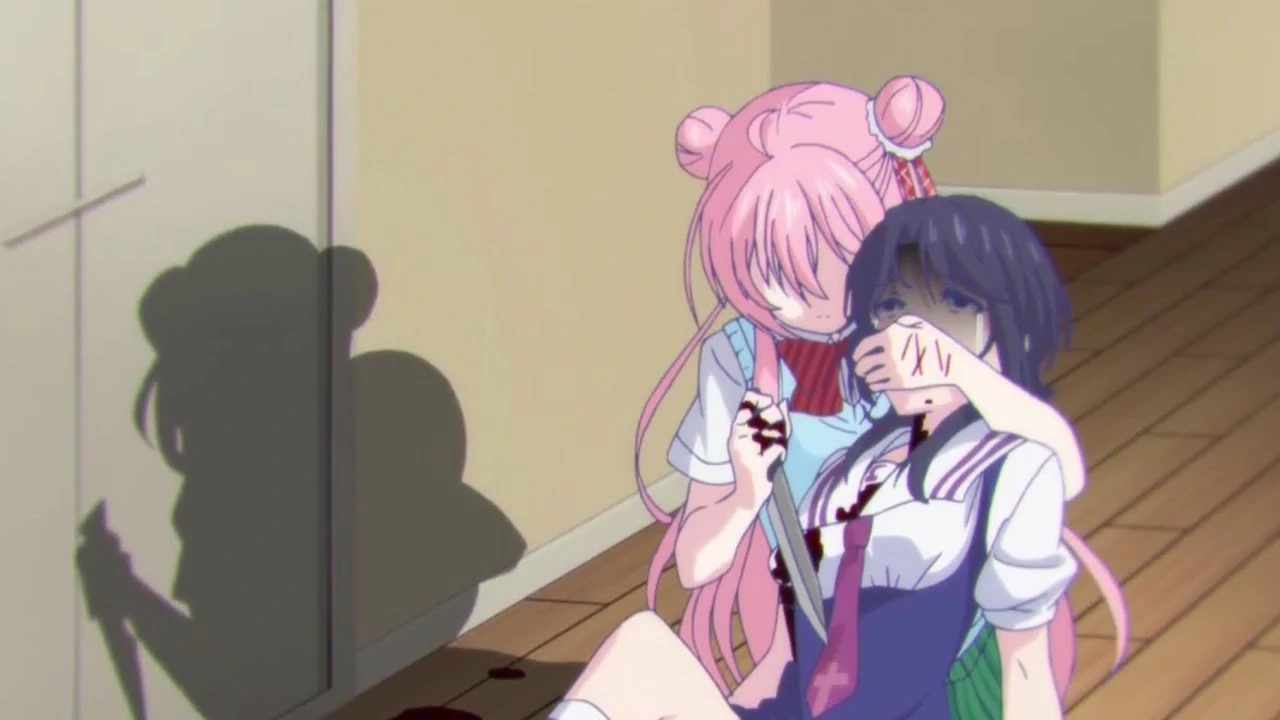 Fuente
Contrary to the majority of kids who love to hear a Japanese dubbing actor screaming like a madman, and vaunt the Yandere as gods for the simple fact of acting like psychopaths with more mental disorders, I'm not a fan of this genre for those banal and immature reasons (besides worrying) but because I love the horror genre and thrillers and I admire the hard work of a good story and what it involves to bring it to the screen and be able to generate fear. Whether in animation or life action format, it's not an easy thing to do.
Contrario a la mayoría de chiquillos que les encanta oir a un actor de doblaje japonés gritando como demente, y vanaglorian a los Yandere como dioses por el simple hecho de actuar como psicópatas con más trastornos mentales, yo no soy fan de este género por esos motivos banales e inmaduros (además de preocupantes) sino porque soy amante del género terror y los thrillers y admiro el trabajo arduo de una buena historia y lo que implica llevarlo a la pantalla y poder generar miedo. Ya sea en animación o en formato life action, no es algo sencillo de hacer.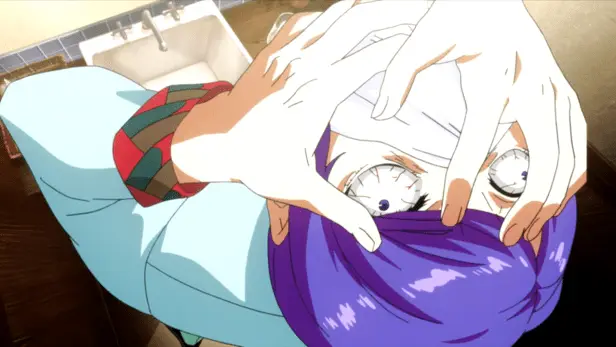 Fuente
As for Yandere, I like to see the different types and different stories in different Anime. Some are obsessed with some romantic interest, some by their relatives, some others with a specific aspect of a certain person... there's a world of possibilities when talking about obsession.
En cuanto a Yandere, me gusta ver los diferentes tipos y las diferentes historias en los distintos Animes. Algunos están obsesionados con algún interés romántico, otros por sus familiares, algunos otros con un aspecto especifico de determinada persona... hay un mundo de posibilidades cuando se habla de obsesión.
Fuente

As I already mentioned, these genres aren't easy to work with, and that's why I like them. As for developing Yandere characters, it's not easy either because, being a genre widely used in Anime, you always have to be innovative, that's why not all of them have the same method, motive, obsession or story and that's something to be applauded because although they all have in common to gradually behave erratically as the Anime approaches the climax, they always develop in different ways.
Como ya mencioné, estos géneros no son fáciles de trabajar y es por eso que me gustan. En cuanto a desarrollar personajes Yandere, tampoco es fácil ya que, siendo un género muy usado en el Anime, siempre se debe ser innovador, es por eso que no todos tienen la mismo método, móvil, obsesión o historia, y eso es algo que se aplaude porque aunque todos tengan en común el ir comportándose de forma errática paulatinamente a medida que el Anime se acerca al clímax, siempre se desarrolla de formas diferentes.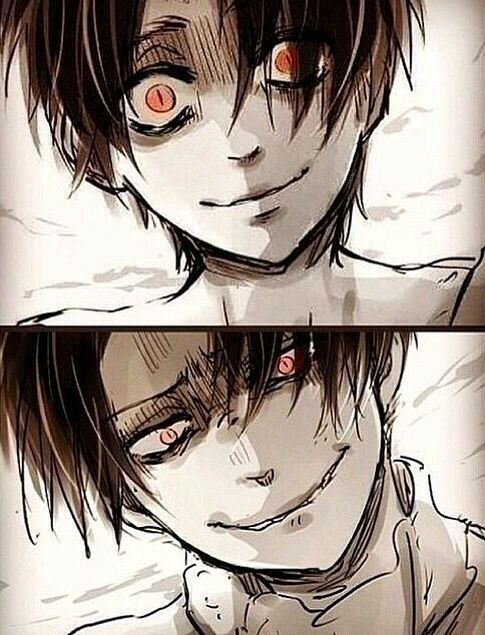 Fuente
As for the Gore genre, I've only watched "Another" and the truth is I was amazed (in fact I did an analysis that I'll leave at the end if you want to read it) the setting was brutal, the photography, the soundtrack... a jewel of Anime that made me love the genre.
En cuanto al género Gore pues solo he visto Another y la verdad quedé maravillada (de hecho le hice un análisis que se los dejaré al final si lo quieren leer) la ambientación era brutal, la fotografía, el soundtrack... una joya de Anime que me hizo amar el género.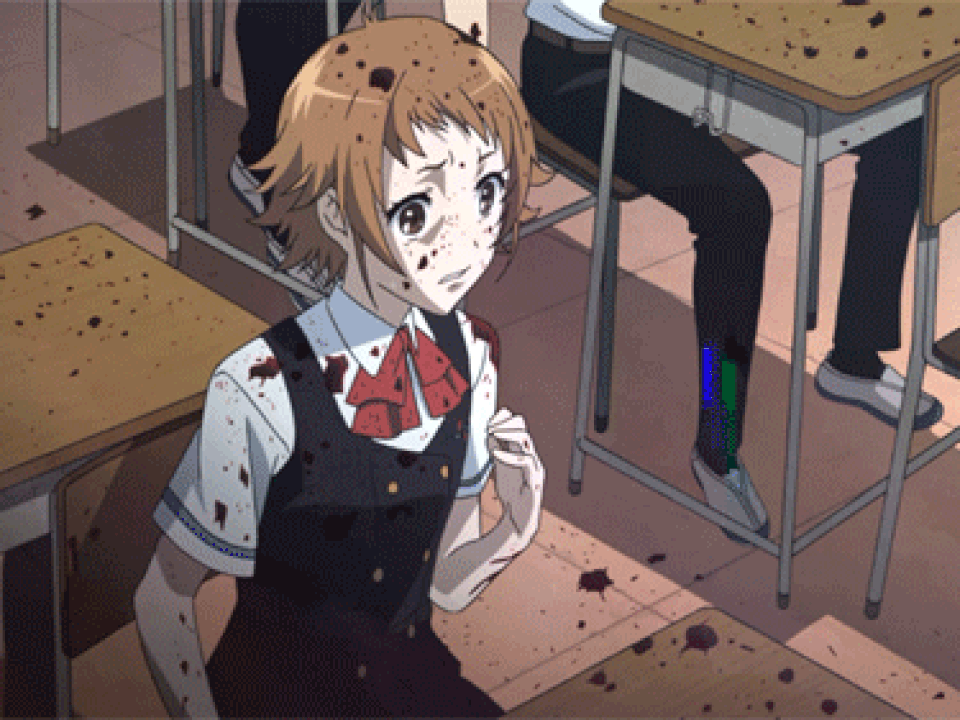 Fuente
They are genres that I really love for their complexity, not only in the story, but also in all the graphic work. I have a long list of Anime to watch among which I have many of these genres, which I will continue to enjoy every chance I get.
Son géneros que en verdad me encantan por su complejidad, no solo en la historia, sino también en todo el trabajo gráfico. Tengo una larga lista de Anime que ver entre los que tengo muchos de estos géneros, los cuales seguiré disfrutando cada que pueda.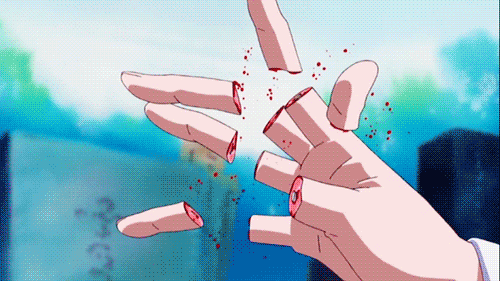 Fuente

A continuación les dejo el enlace a la Review de Another:
Here is the link to the Review of Another: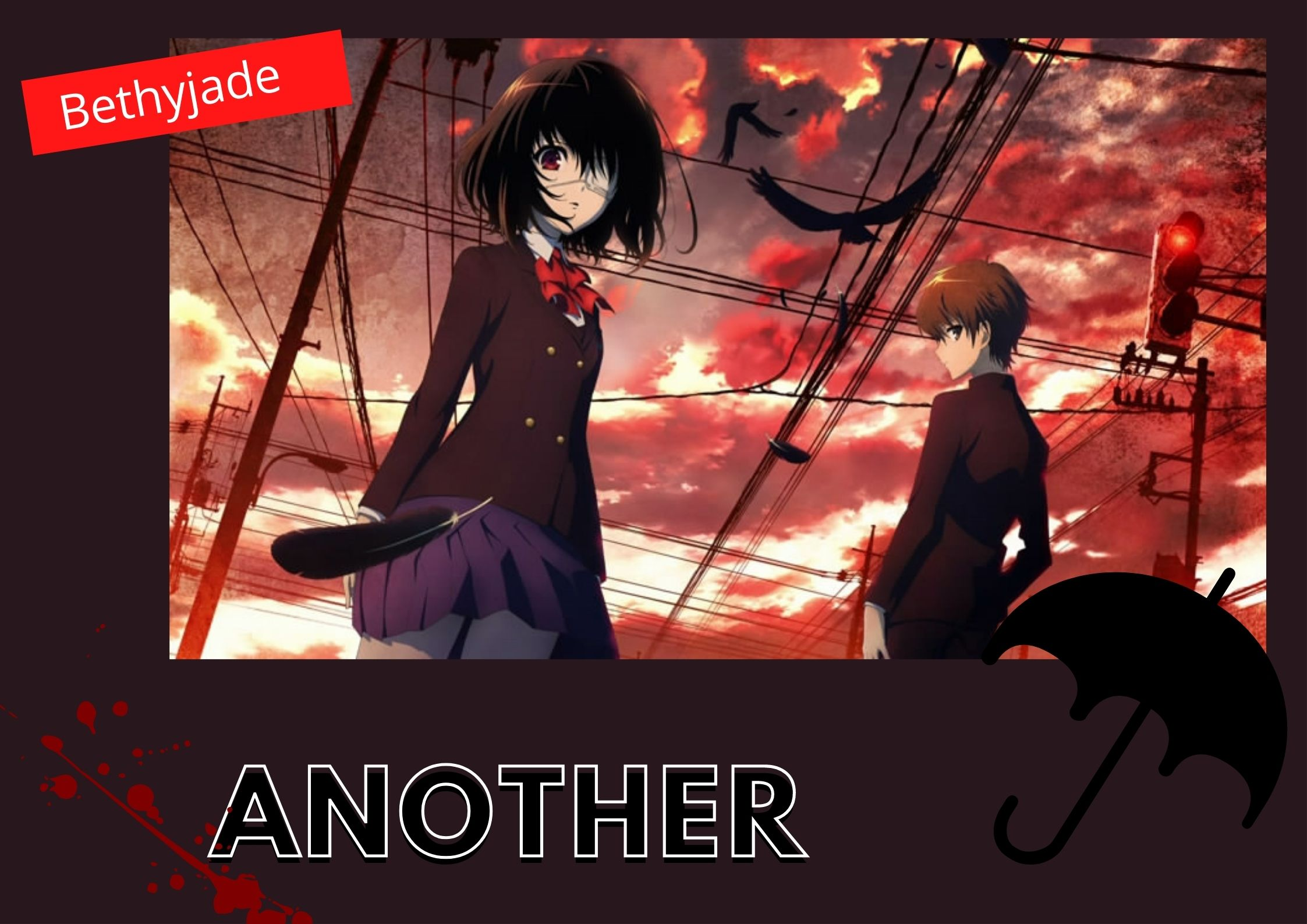 Fuente
Well, people, this has been all for today's post, I hope you liked it, thank you very much to all of you who always support my work! Thanks to you too, new reader, best regards and I'll see you in another post, see you later!
Bueno, gente, esto ha sido todo por el post de hoy, espero que les haya gustado. ¡Muchas gracias a todos los que siempre apoyan mi trabajo! Gracias a ti también, nuevo lector, muchos saludos y ya nos encontraremos en otro post! ¡Hasta luego!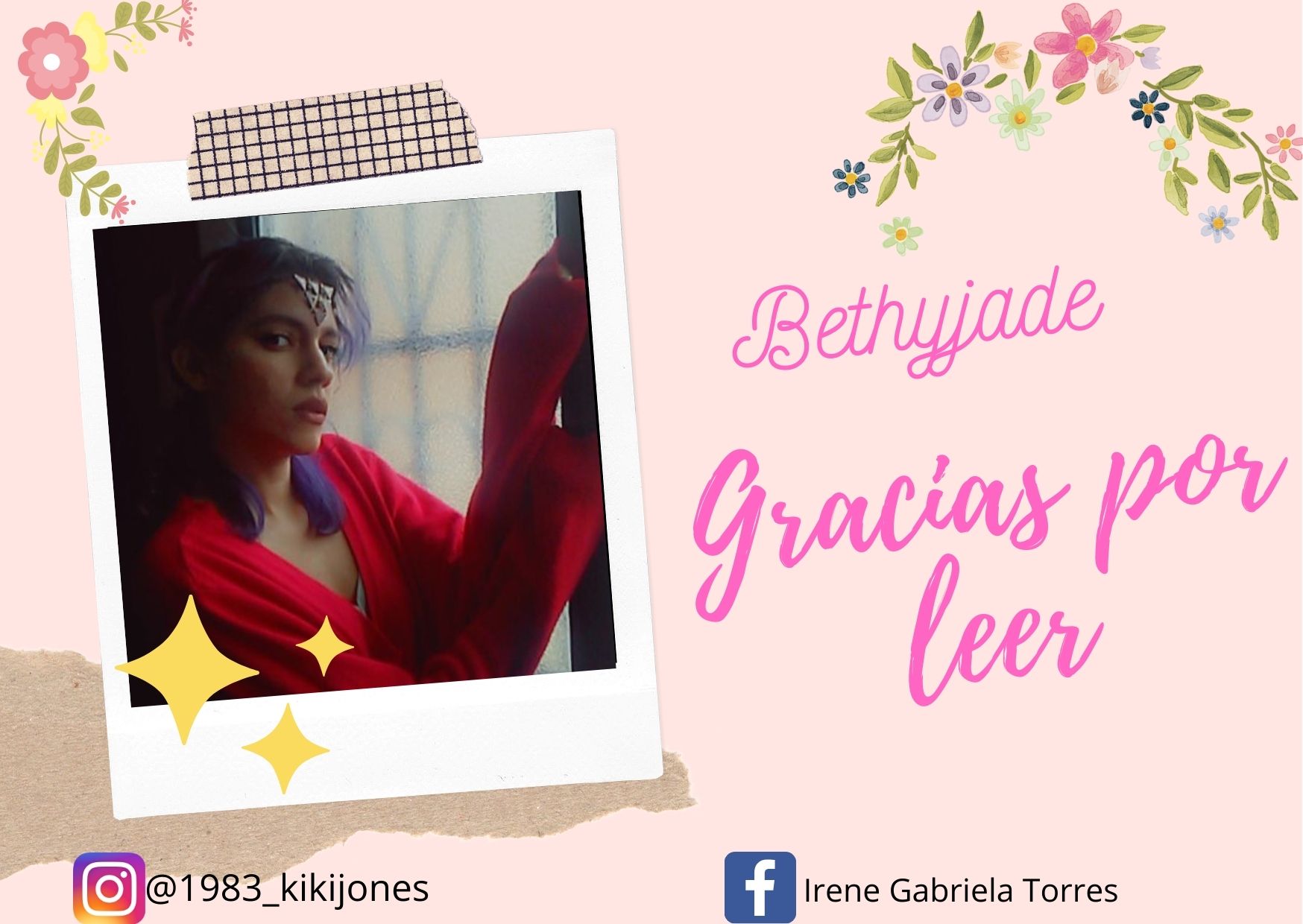 I designed the cover and farewell image in Canva.
La imagen de portada y de despedida las diseñé en Canva.