I have not watched a romantic comedy movie in a while so, I asked some of my friends to recommend a chill, slice-of-life kind of anime. I got pissed with the last anime I watched because I got bored with the repetitive plot. Err. I just finished it because I was hoping that there will be a turn in the story. If you are interested in my review of Bofuri, you can click here.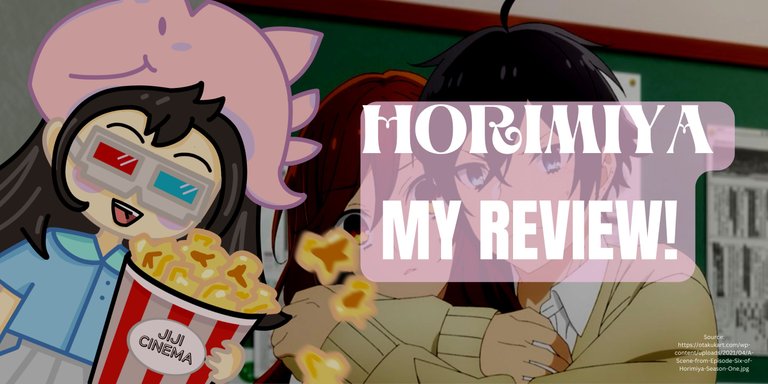 This anime was recommended by @demotry. He had suggested a list of anime but Horimiya sounded interesting. I Googled it right away and yeah, this is the kind of anime I was looking for a while.
Review
!!! Spoiler alert! You may skip the Review part! !!!
The first character to be introduced was Hori, the other half of Horimiya. She was portrayed as this "perfect" girl in school. Not known to the world that she is this girl that does household chores and takes care of her little brother Sota. Miyamura on the other hand was the weird and cryptic guy that nobody wanted to talk to.
One day, Miyamura accompanied Hori's brother home because he had a little mishap. This is when the two shared a secret that their classmates did not know. They became friends and since then, Miyamura visits Hori's home often to play with her little brother.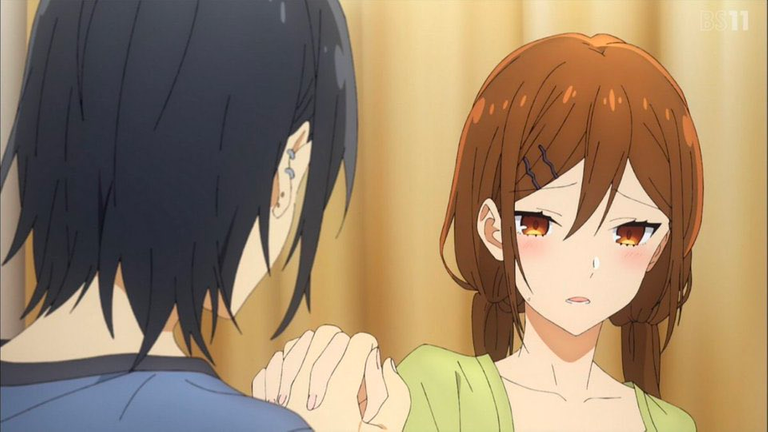 Source Screenshot from Episode 4
The story not only revolved around the two protagonists but also around the side characters. Ishikawa confessed his feelings toward Hori but got rejected, but still a friend to both Hori and Miyamura. The turn of the story started in episode three when they almost confessed their feelings to each other as they compare their hands. Kyaaa~ my heart kennat. In the end, they realized their budding love.
In between the story, Sakura, the girl with glasses and green hair, fell in love with Ishikawa. Shindo, Miyamura's friend was later introduced to Hori and Ishikawa. She noticed that they talk in not a formal manner. I think this is how true friends treat each other. Hori got sick and Miyamura took care of her and learned about her sad experiences thus telling her his feelings for her.
There was a little hiccup on the way when Hori knew Miyamura had a "girlfriend" through Sota. Hori threw a book because of disappointment toward Miyamura. Miyamura went to Hori's home to return the book and apologize.This the part where the two are officially dating. Ugh~ It is so cheesy, I grined from ear to ear! Ishikawa was a bit sad learning this but still kept friends with the two. On the other hand, Sakura told Remi that she had feelings for Ishikawa.
Miyamura cut his hair as he was concerned of Hori's image and reputation. This then was noticed by other girls like Sawada, his neighbor. Hori and Miya kissed for the first time when he taste the candy on here lips. Ugh~ my heart melts. They were so cute.
There is an episode of reminiscing the old self of Miyamura. It was dark times of his life, especially back in highschool. He promised to himself that one day, he will meet people that will treat him as a genuine friend. He also run to his old bullies but thanks to Hori, they cannot touch Miya no more.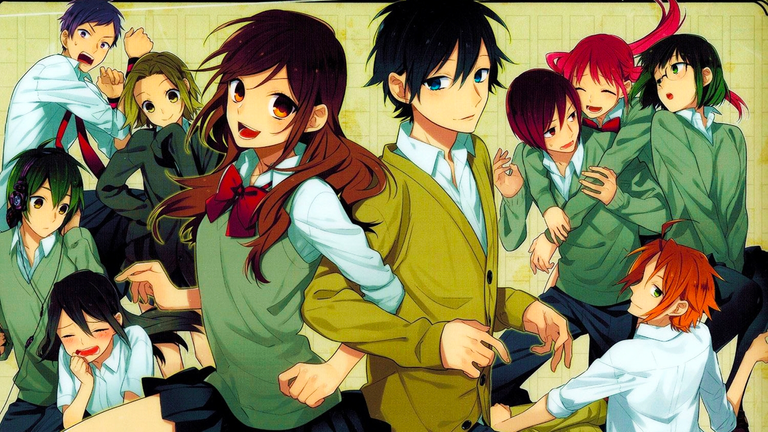 Source
Sakura felt hurt when she learned that Ishikawa was dating Yuki. Little did she know that Ishikawa had a feeling for her, but did ask for an answer. There were alot of side stories going on between the secondary characters but will only focus on the main characters in this blog.
Christmas time and naturally you will invite your boyfriend to come over to your house. Miya was very busy because his family run a cake shop. Everyone was celebrating with their loved ones. Hori was thinking what is her future after graduation. Miyamura visited Hori in between his work telling him that she wanted to be with him after graduation. He responded back by saying that he wanted to get married. I KENNAT- I die of cuteness overload
In the last episode, the graduation was just around the corner so, time to clean up the lockers. They assure to each other that even if they will not see each other no more, they will still be friends. Miya thought of what if he did not meet these people, especially Hori.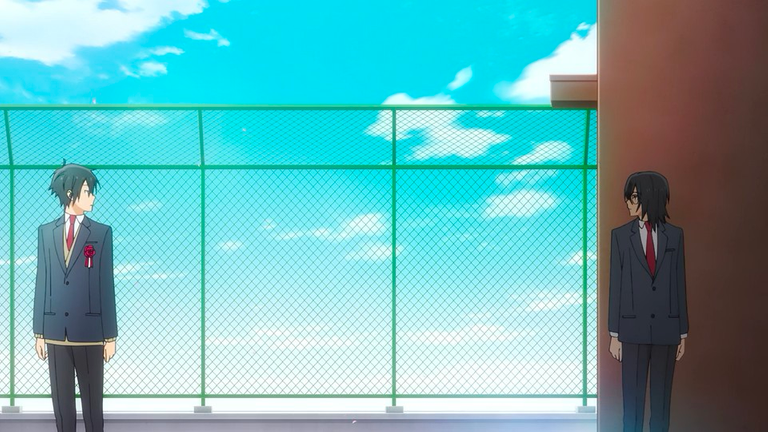 Source Episode 13
The rooftop scene is about him promising his old self to not go back to the dark times. While Hori and him head out, he just thought of the beautiful times and the happy future with Hori.
Conclusion
I felt invigorated after finishing Horimiya ~UwU~. Life is not that bad at all, right? HAHA! It just me getting jelly every time they have cute moments. The anime was not intense at all. The scenes are natural and realistic every day life. The anime did not just revolved around the two main characters but also generously showed snippets of the other characters. Animation and OSTs are freaking mint! I could not ask for more. For me, there was never a dull moment and story as this was the perfect anime I wanted to watch for a while now. If you are into slice-of-life and rom-con anime, definitely try Horimiya!
My rating: 8.5/10, plus 1 for Hori and Miya's cuteness overload <3 <3 <3
---
That is it for this article. I will see you at the next one!
📸 All photos are owned and taken by me, otherwise credited. Banner designed in Canva ©️jijisaurart