Hola jóvenes ilustres, ¿qué tal su semana?, me alegra, ¿y yo? pues ya ven, aquí sigo, rescatando series, por eso, quiero traerles un poco sonado pero interesante anime, hoy, les hablaré de Maoyu Maou Yuusha.
Hello illustrious young people, how was your week? I'm glad, and me? Well, you see, I'm still here, rescuing series, that's why I want to bring you a little notorious but interesting anime, today, I'll talk about Maoyu Maou Yuusha.
MAOYUU MAOU YUUSHA (ARMS CORPORATION, 2013)
RECAPITULEMOS/LET'S RECAP.
Han pasado 15 años desde que los humanos y demonios iniciaron la guerra, los humanos entraron por uno de los portales de los demonios y les arrebataron una de las bases más importantes, los demonios aprovecharon la oportunidad, y volcaron uno de los territorios humanos en caos, causando tragedias que martirizaron a los humanos, y, durante esta pesadilla, un héroe humano se levantó contra el demonio luchando lado a lado con sus 3 compañeros, su implacable carga, se convirtió en la luz del pueblo, pero, tras ver la situación, se lanzó solo e imparable a una pelea definitiva contra el Rey demonio, creyendo con toda la fe que albergaba su corazón, que al cortar su cuello, todo se solucionaría, pero, ¿quién iba a pensar que sería tentado?, aquello que nadie deseaba, menos aún imaginarían, el Héroe y el Rey demonio juntos… ¿una historia de Romeo y Julieta?, ¡Ni de broma!, la guerra no es más que política, por ello, el "Flácido Rey Demonio", traerá la estabilidad a la guerra con el Héroe como su mejor carta, soy la sirvienta mayor, y esa, es la clase de mujer a la que sirvo.
It's been 15 years since the humans and demons started the war, the humans entered through one of the demons' portals and seized one of the most important bases, the demons took the opportunity, and turned one of the human territories into chaos. , causing tragedies that martyred humans, and, during this nightmare, a human hero stood up against the demon fighting side by side with his 3 companions, his relentless burden, he became the light of the people, but, after seeing the situation He launched himself alone and unstoppable into a definitive fight against the Demon King, believing with all the faith that his heart harbored, that by cutting his neck, everything would be solved, but who would have thought that he would be tempted? wished, even less would they imagine, the Hero and the Demon King together... a story of Romeo and Juliet? to war with the Hero as his best card, I'm the senior servant, and that's the kind of woman I serve.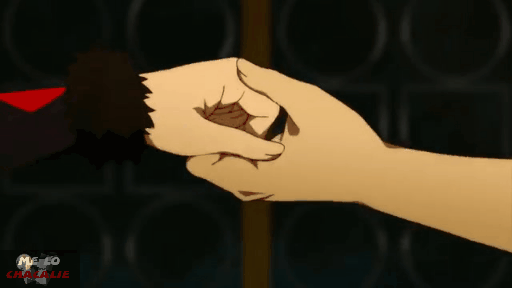 MAOYUU MAOU YUUSHA (ARMS CORPORATION, 2013)
SU VALORACIÓN/YOUR ASSESSMENT…
Siendo sincera, no sé mucho acerca de ella, verán, Maoyu empezó como una novela ligera en japón que inició su publicación en 2009 y terminó en 2012, en ese momento, las novelas ligeras no estaban precisamente de moda, pero, tuvo una buena recepción, por lo que se ganó una adaptación al anime en 2013, desafortunadamente, el anime no fue tan bien recibido debido a los temas sensibles que maneja, por lo que no hubo proyectos para continuarla, hasta aquí mi reporte Joquín.
To be honest, I don't know much about her, you see, Maoyu started as a light novel in japan that started publishing in 2009 and ended in 2012, at that time, light novels weren't exactly in fashion, but, it was well received , for which an anime adaptation was won in 2013, unfortunately, the anime was not so well received due to the sensitive issues it handles, so there were no projects to continue it, so far my report .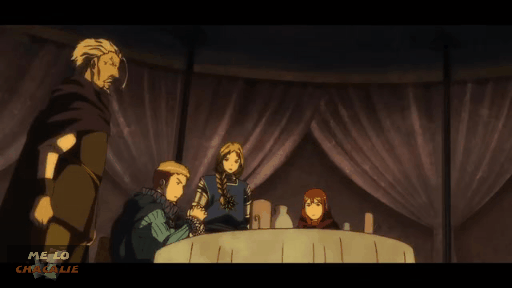 MAOYUU MAOU YUUSHA (ARMS CORPORATION, 2013)
MI OPINIÓN/MY OPINION…
Cuando me encontré con Maoyuu Maou Yuuysha, lo primero en que me fijé fue en su sinopsis, y me pareció aburrida como pocas, no había nada, absolutamente nada que me pareciera interesante sobre ella, pero la imagen me atrapó por su estilo de animación, así que le di una oportunidad y la impresión más fuerte de ella en mi cabeza fue que es un anime muy curioso y te voy a explicar el por qué.
When I met Maoyuu Maou Yuuysha, the first thing I noticed was her synopsis, and I found it boring like few others, there was nothing, absolutely nothing that seemed interesting about her, but the image caught me because of its animation style, so I gave it a try and the strongest impression of it in my head was that it is a very curious anime and I am going to explain to you why.
MAOYUU MAOU YUUSHA (ARMS CORPORATION, 2013)
El estilo de animación es (para variar) estilizado, pero debo decir que bastante redondeado, de alguna manera me recuerda al estilo de Toradora (si no la has visto, puedes leer nuestra reseña aquí: http://melochacalie.com/del-cajon-de-los-recuerdos-toradora/ ), que si bien, tiene algunas escenas bien logradas, no fueron prioridad durante todo el anime ya que lucen poco vividos, pero, en cuestión de diseño de personajes, la historia es distinta, ya que tiene diseños de personajes que logran arrastrar consigo el argumento de la historia, además de utilizarlos para resaltar su comedia, algo que viene muy bien dada la cantidad de narrativa que tiene, algo hermosamente ejecutado.
The animation style is (for a change) stylized, but I must say quite rounded, somehow reminding me of the Toradora style (if you haven't seen it, you can read our review here: http://melochacalie.com/del- drawer-of-memories-toradora/ ), which although it has some well-achieved scenes, were not a priority throughout the anime since they look little lived, but, in terms of character design, the story is different, since that has character designs that manage to carry the plot of the story with them, as well as using them to highlight its comedy, which comes in handy given the amount of narrative it has, which is beautifully executed.
MAOYUU MAOU YUUSHA (ARMS CORPORATION, 2013)
Analizando su banda sonora, si bien, he escuchado mejores en animes de estilo similares, ésta en específico no decepciona como en la mayoría, no es de esas bandas sonoras que pasan desapercibidas y no ayudan ni perjudican al anime, es de esas bandas sonoras que cumplen con su propósito, si bien, no es una maravilla, lo hace muy bien, su opening me encanta, es muy alegre y su ending tiene estos ritmos celtas que lo hacen algo especial, además del hecho de que está bien utilizada.
Analyzing its soundtrack, although I have heard better in similar style animes, this one in particular does not disappoint as in most, it is not one of those soundtracks that go unnoticed and does not help or harm the anime, it is one of those soundtracks that they fulfill their purpose, although it is not wonderful, it does it very well, I love its opening, it is very happy and its ending has these Celtic rhythms that make it something special, in addition to the fact that it is well used.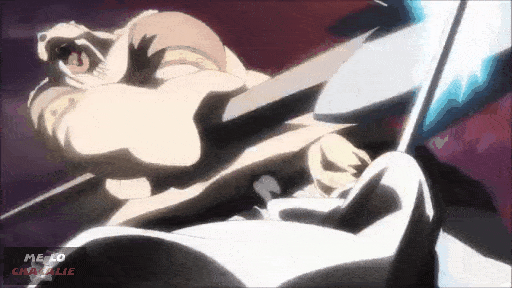 MAOYUU MAOU YUUSHA (ARMS CORPORATION, 2013)
¿Quién decidió que los demonios son el mal?, "Ojos de Rubí", es el personaje central de esta historia, una mujer nacida en la raza demoniaca que heredó el trono, y, en lugar de dejarse arrastrar por la sangre que su pueblo deseaba, miró la guerra desde el punto de vista geopolítico, ¿Qué pasa con la economía en la guerra?, ¿Qué sucede con el ganador al terminar una guerra?, ¿y el perdedor?, ¿Qué sucede con el flujo económico?, ¿y la hambruna?, ¿Qué hay con los intereses de terceros?, esta historia abarca temas difíciles de política que no me habría imaginado encontrar en un anime, y lo mejor, es la forma en que lo maneja (-pero darki, eso sale en Genjitsuji-, no, no es lo mismo y si bien genjitsuji está "bien hecho", solo roza la superficie de lo que maoyuu aborda), ya que hablan de una mujer idealista pero muy realista que busca estabilizar el mundo antes de terminar el conflicto, le da mucha seriedad al argumento.
Who decided that demons are evil? "Ruby Eyes" is the central character of this story, a woman born in the demonic race that inherited the throne, and instead of letting herself be dragged by the blood that her people wanted, he looked at the war from the geopolitical point of view, what happens to the economy in war? What happens to the winner at the end of a war? And the loser? What happens to the economic flow? What about the famine? What about the interests of third parties? This story covers difficult political issues that I would not have imagined finding in an anime, and the best thing is the way it handles it (-but darki, that appears in Genjitsuji-, no, it's not the same and while genjitsuji is "well done", it only scratches the surface of what maoyuu addresses), since they speak of an idealistic but very realistic woman who seeks to stabilize the world before ending the conflict, gives a lot of seriousness to the argument.
MAOYUU MAOU YUUSHA (ARMS CORPORATION, 2013)
Ahora, si bien hablamos de un anime serio y con mucho argumento y contexto, también hablamos de un anime que supo aminorar esta seriedad que podría salirse de las manos y volverlo aburrido, hace uso de un estilo de comedia entre ecchi y tsukomi usando a la mujer que hay en El Rey Demonio, con inseguridades de su físico, son idealismo y humanidad, todas estas partes de la mujer que representa, las enfocan a su relación con el Héroe, todo con el fin de aligerar la carga de la historia, hay sangre donde debe de haberla, comedia necesaria, y temáticas fuertes, es un anime muy equilibrado.
Now, although we are talking about a serious anime with a lot of plot and context, we are also talking about an anime that knew how to reduce this seriousness that could get out of hand and make it boring, it makes use of a comedy style between ecchi and tsukomi using the woman in The Demon King, with physical insecurities, are idealism and humanity, all these parts of the woman she represents, focus on her relationship with the Hero, all in order to lighten the load of history, there are blood where it should be, necessary comedy, and strong themes, it is a very balanced anime.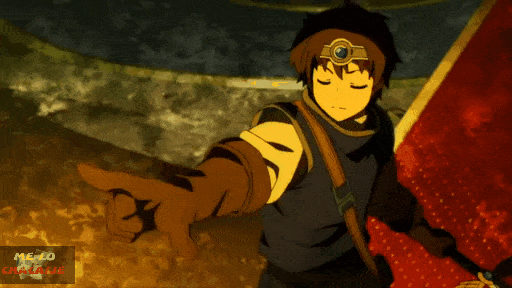 MAOYUU MAOU YUUSHA (ARMS CORPORATION, 2013)
TERMINANDO/ENDING...
Maoyu no es una anime que recomendaría para cualquier edad, es más un anime para mayores de 16, no por su comedia, por la sangre o el ecchi, todas estas partes sumadas son relativamente aptas para todo público y fluyen de forma natural por lo que es muy entretenido, el motivo por el que recomiendo para mayores de 16, es por la parte política que es la piedra angular de todo el anime, fuera de eso, es un anime corto de 12 capítulos, pero que se disfruta mucho, una mezcla con un poco de drama, un poco comedia, un poco de romance, guerra, y algo de educación respecto a la economía y política (muy acertada según mis investigaciones) vuelven a este anime una joya un tanto oculta, ya que pasó sin pena ni gloria, y creo que debería ser rescatada.
Maoyu is not an anime that I would recommend for any age, it is more an anime for people over 16, not because of its comedy, blood or ecchi, all these parts added together are relatively suitable for all audiences and flow naturally so It is very entertaining, the reason why I recommend it for people over 16, is because of the political part that is the cornerstone of all anime, apart from that, it is a short anime of 12 chapters, but it is very enjoyable, a mixture with a bit of drama, a bit of comedy, a bit of romance, war, and some education regarding economics and politics (very accurate according to my research) they make this anime a somewhat hidden gem, since it happened without sorrow or glory, and I think it should be rescued.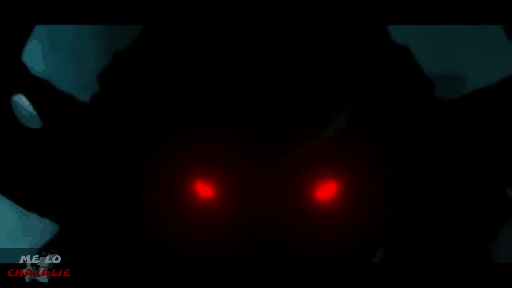 MAOYUU MAOU YUUSHA (ARMS CORPORATION, 2013)
Bueno mis chacalillos, hasta aquí con la recomendación de hoy, he disfrutado mucho de maoyu y espero que también la disfrutes si le das una oportunidad, yo me despido, pero no sin antes desearles como cada semana que muy buenas las tengan y que mejor las pasen.
Well my kids, so far with today's recommendation, I have enjoyed maoyu a lot and I hope you also enjoy it if you give it a chance, I say goodbye, but not without first wishing you like every week that you have very good and that you better Come in.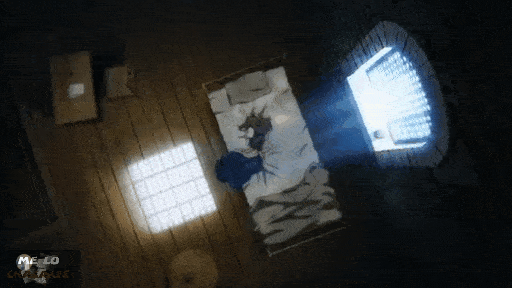 MAOYUU MAOU YUUSHA (ARMS CORPORATION, 2013)
Tanto el texto como los gifs utilizados en este post fueron realizados por @melochacalie para nuestra pagina oficial
Both the text and the gifs used in this post were made by @melochacalie for our page official