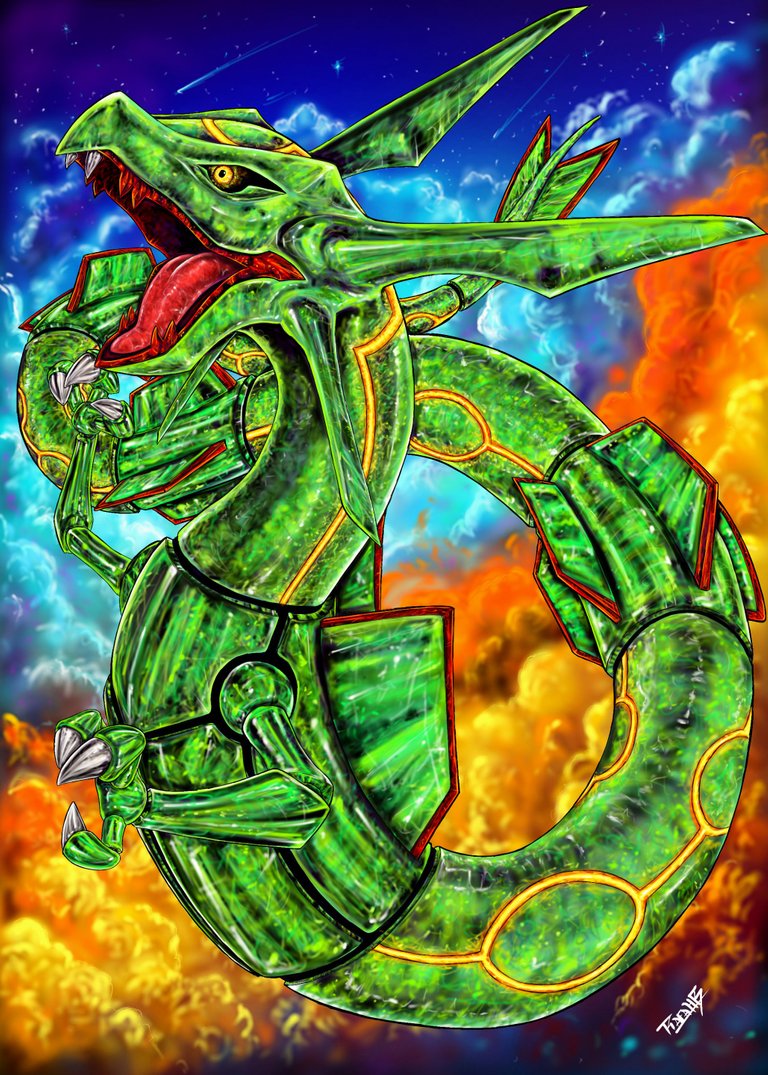 ---
Saludos amigos de #hive y #alienart, les deseo un feliz inicio de semana para todos ustedes, el día de hoy les compartiré el dibujo de un pokemon legendario, el cual sí muchos llegaron a jugar pokemon seguramente lo conocerán, es Rayquaza, un pokemon legendario introducido en la tercera generación, y es la imagen del juego de pokemon esmeralda, que a su vez es uno de mis juegos favoritos de pokemon. Sin duda cuenta con un espectacular y feroz diseño que me hace pensar mucho en Quetzalcoatl la serpiente emplumada, además de que ambos son creadores del cielo, lo que es otra cosa que tienen en común a pesar de ser serpientes voladoras.
Greetings friends of #hive and #alienart, I wish a happy start of the week to all of you, today I will share with you the drawing of a legendary pokemon, which if many of you got to play pokemon you will surely know it, it is Rayquaza, a legendary pokemon introduced in the third generation, and it is the image of the emerald pokemon game, which in turn is one of my favorite pokemon games. It certainly has a spectacular and fierce design that makes me think a lot of Quetzalcoatl the feathered serpent, plus both are creators of the sky, which is another thing they have in common despite being flying snakes.
Rayquaza es un pokemon legendario tipo dragón/ Volador, conocido como el creador y protector del cielo, además de ser el que detuvo la devastadora pelea entre Groudon y Kyogre, logrando la victoria y haciendo que estos se queden dormidos. Rayquaza habita en la capa de ozono de la atmósfera, incluso se dice que llegó a vivir ahí sin bajar a la tierra por un lado periodo de tiempo, mantiene el equilibrio del cielo, protegiendo de cualquier anomalía exterior que se acerca a la capa de ozono, como meteoritos, esto se puede apreciar en la película "El destino de Deoxys" cuando este cae en un meteorito, y Rayquaza va rápido a detenerlo. También suele bajar al pilar celeste a descansar, y a pesar de su gran tamaño de 7 metros de longitud, Rayquaza se alimenta de las partículas de agua suspendidas en el aire.
Rayquaza is a dragon/flying type legendary pokemon, known as the creator and protector of the sky, besides being the one who stopped the devastating fight between Groudon and Kyogre, achieving victory and making them fall asleep. Rayquaza lives in the ozone layer of the atmosphere, it is even said that it came to live there without coming down to earth for a period of time, it maintains the balance of the sky, protecting from any external anomaly that approaches the ozone layer, such as meteorites, this can be seen in the movie "The fate of Deoxys" when it falls on a meteorite, and Rayquaza goes quickly to stop it. It also usually goes down to the celestial pillar to rest, and despite its large size of 7 meters long, Rayquaza feeds on water particles suspended in the air.

📱𝑷𝒓𝒐𝒈𝒓𝒂𝒎𝒂 𝒖𝒕𝒊𝒍𝒊𝒛𝒂𝒅𝒐📱
📱𝑷𝒓𝒐𝒈𝒓𝒂𝒎 𝒖𝒔𝒆𝒅📱
🖌️Procedimiento🖌️
🖌️Procedure🖌️
Realice la base del dibujo con el lápiz digital usando un tono azul, haciendo la pose de rayquaza. Después con el morado y en una nueva capa empecé a definirlo, haciendo sus alas, garras, cabeza, ojos y otros elementos.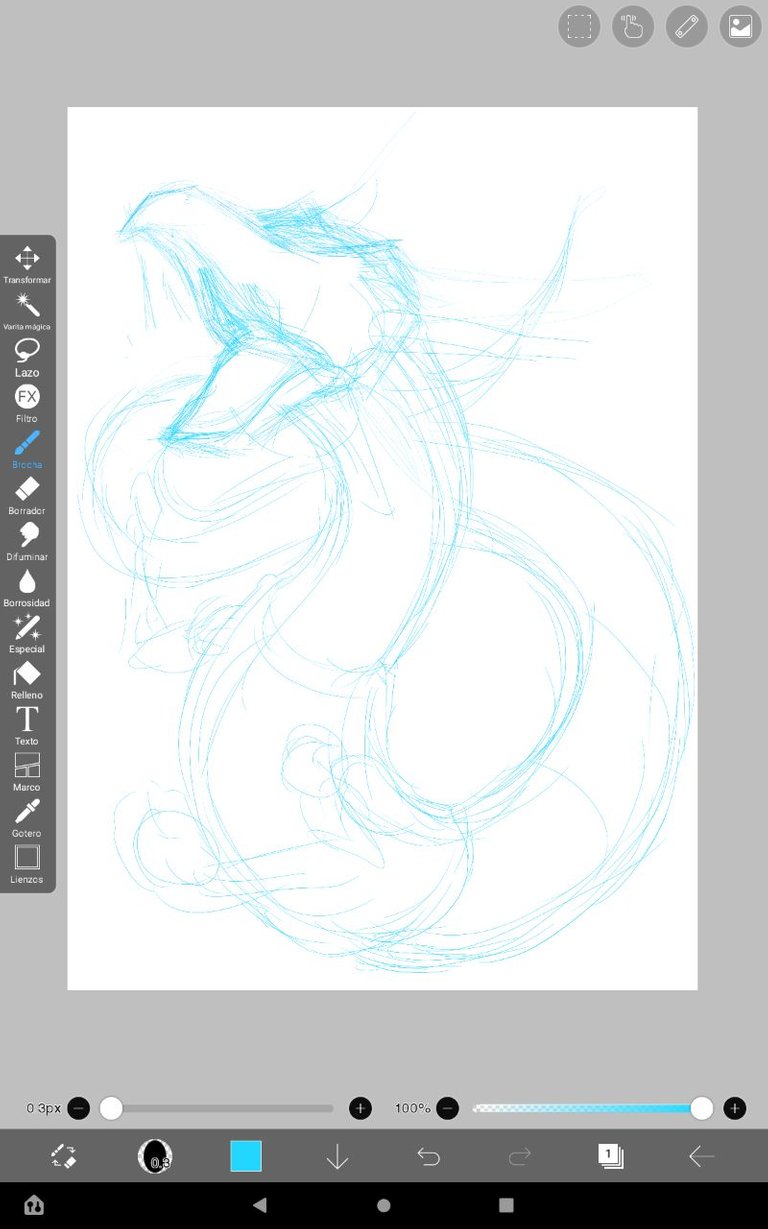 Make the base of the drawing with the digital pencil using a blue tone, making Rayquaza's pose. Then with purple and in a new layer I started to define it, making its wings, claws, head, eyes and other elements.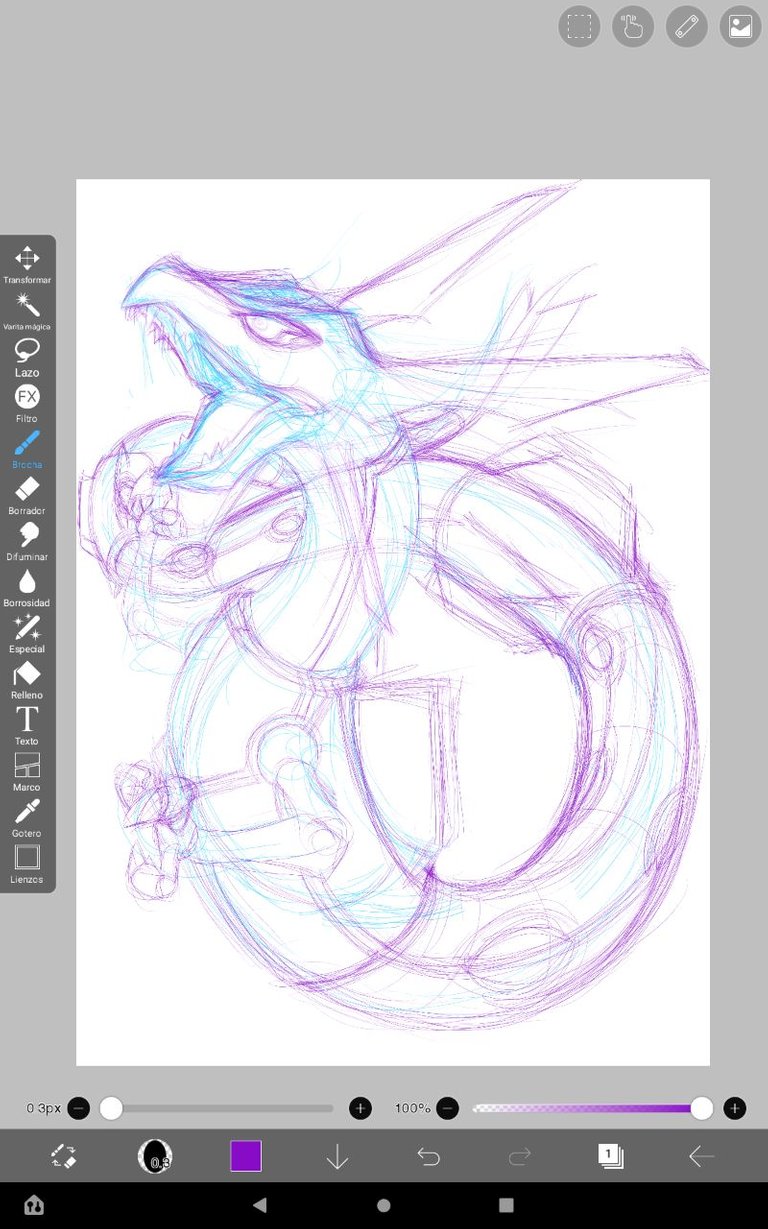 ---
Con la pluma escolar dura empecé a realizar el trabajo de línea usando el color negro, al terminar elimine las dos primeras capas y procedí a realizar la base de color en una nueva capa, usando celeste, amarillo y rojo en sus respectivas zonas.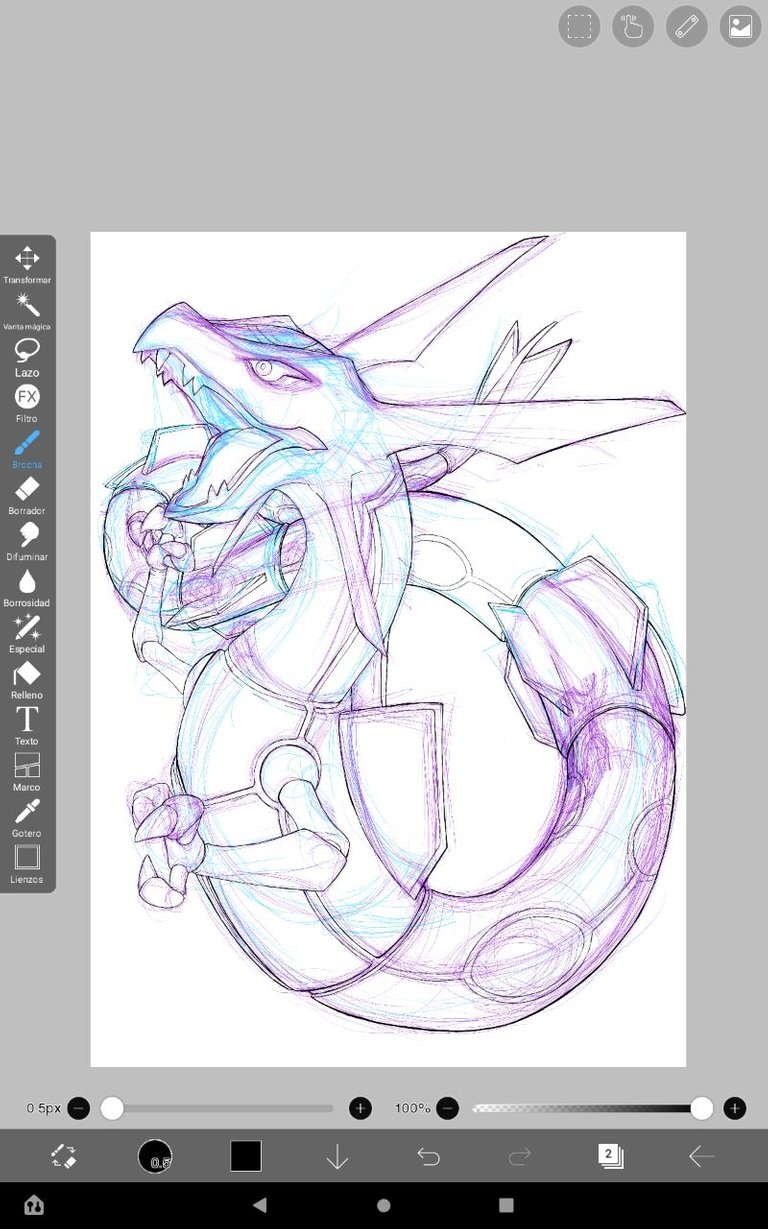 With the hard school pen I began to make the line work using the black color, when I finished I eliminated the first two layers and proceeded to make the base color in a new layer, using light blue, yellow and red in their respective areas.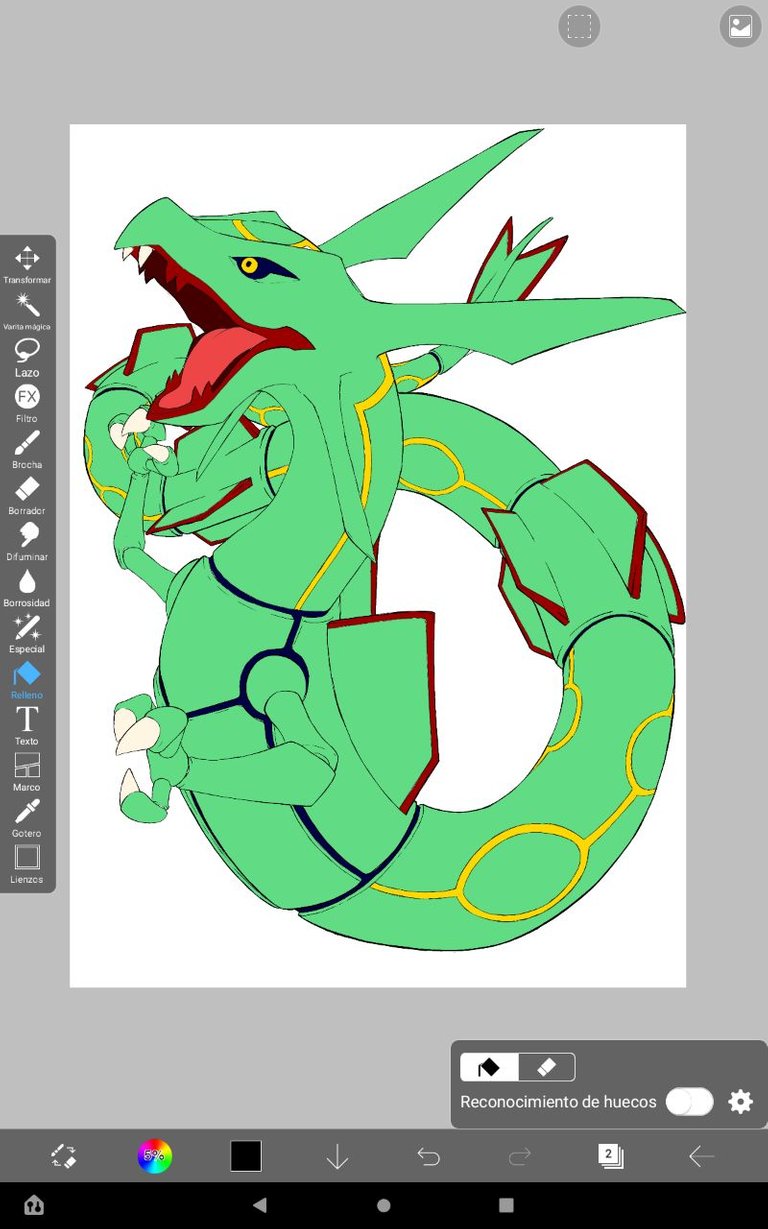 ---
Con el aerógrafo triangular empecé a realizar una capa de sombra para darle volumen y dimensión al dibujo. Después empecé a detallar la cabeza y las partes no "metalicas" de Rayquaza, usando una variedad de tonos verdes además de negro y blanco, dándole una textura más natural y que a su vez pareciera que la energía corre a través de él.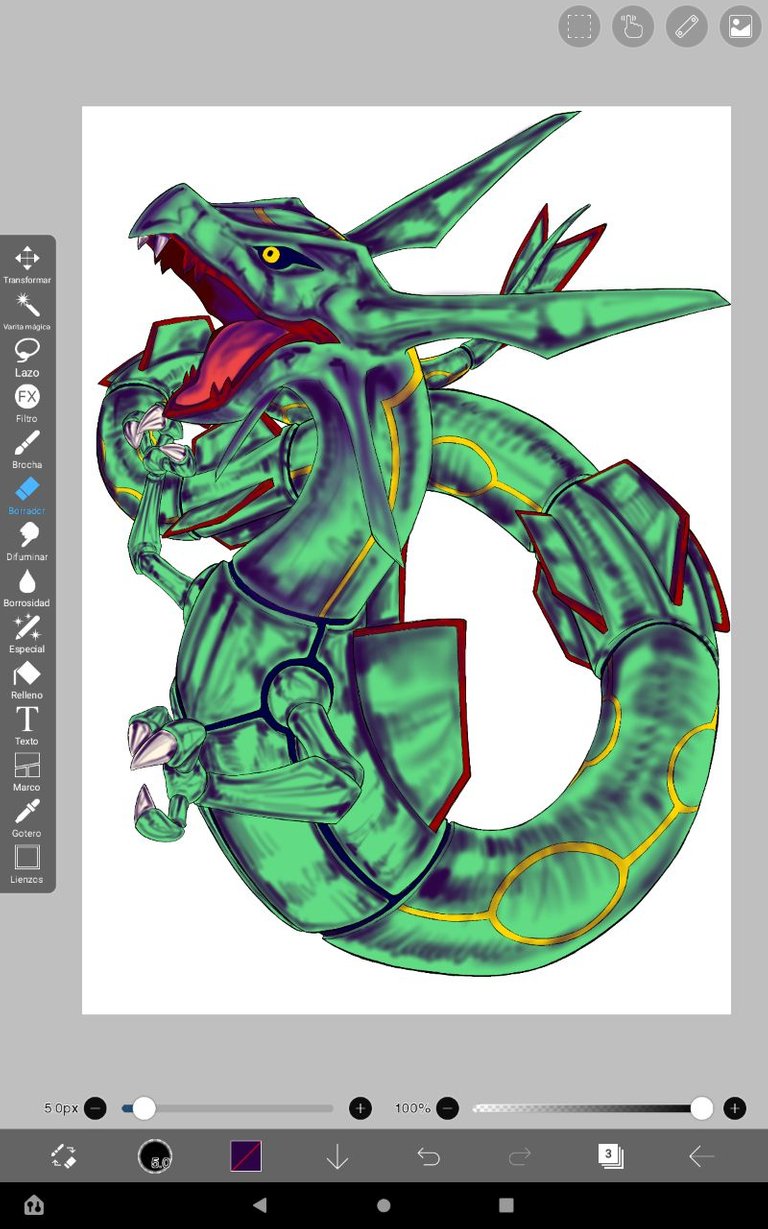 With the triangular airbrush I started to make a shadow layer to give volume and dimension to the drawing. Then I began to detail the head and the non-metallic parts of Rayquaza, using a variety of green tones in addition to black and white, giving him a more natural texture and giving him the appearance of energy running through him.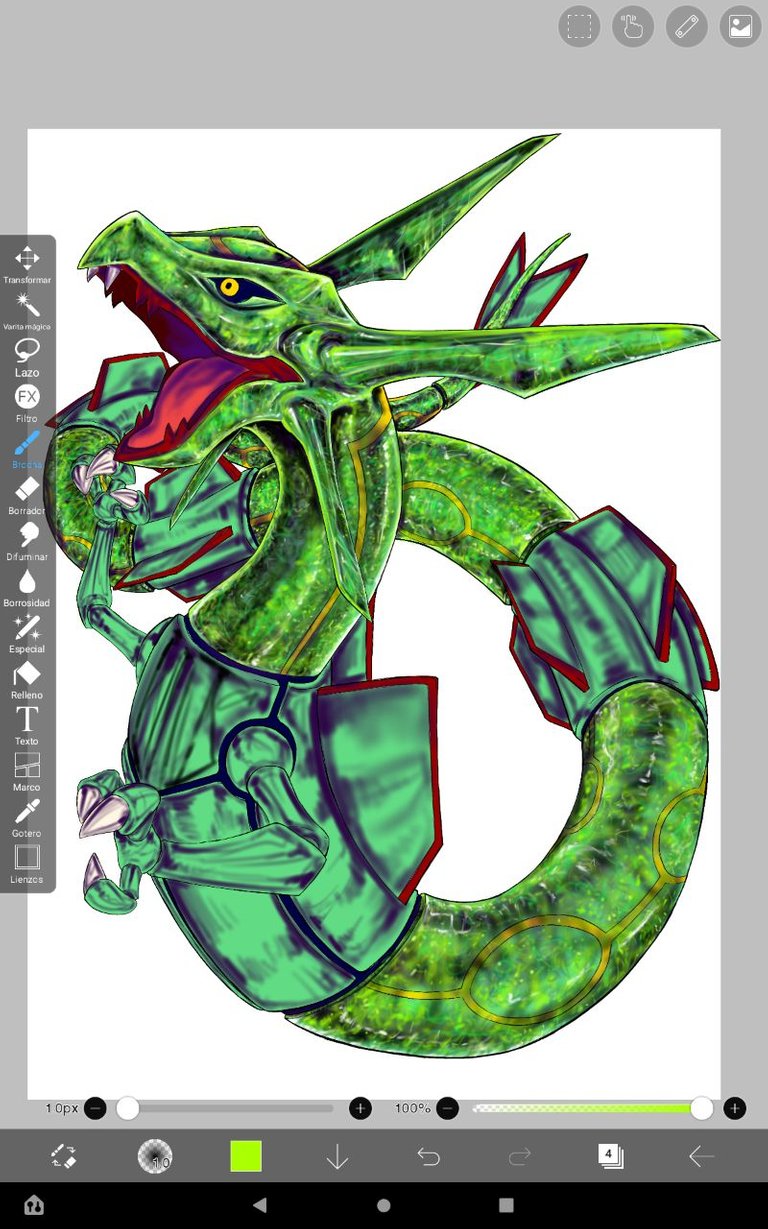 ---
Después procedí a detallar las partes metálicas con los mismos tonos, pero dandole otro acabado, y aplicando los colores en todo orden, una vez terminada las alas procedí a detallar la boca y las franjas rojas y aros amarillo. En los aros busque darles ese aspecto de brillo, como si irradia o pudiera acumular energía en esas zonas de su cuerpo.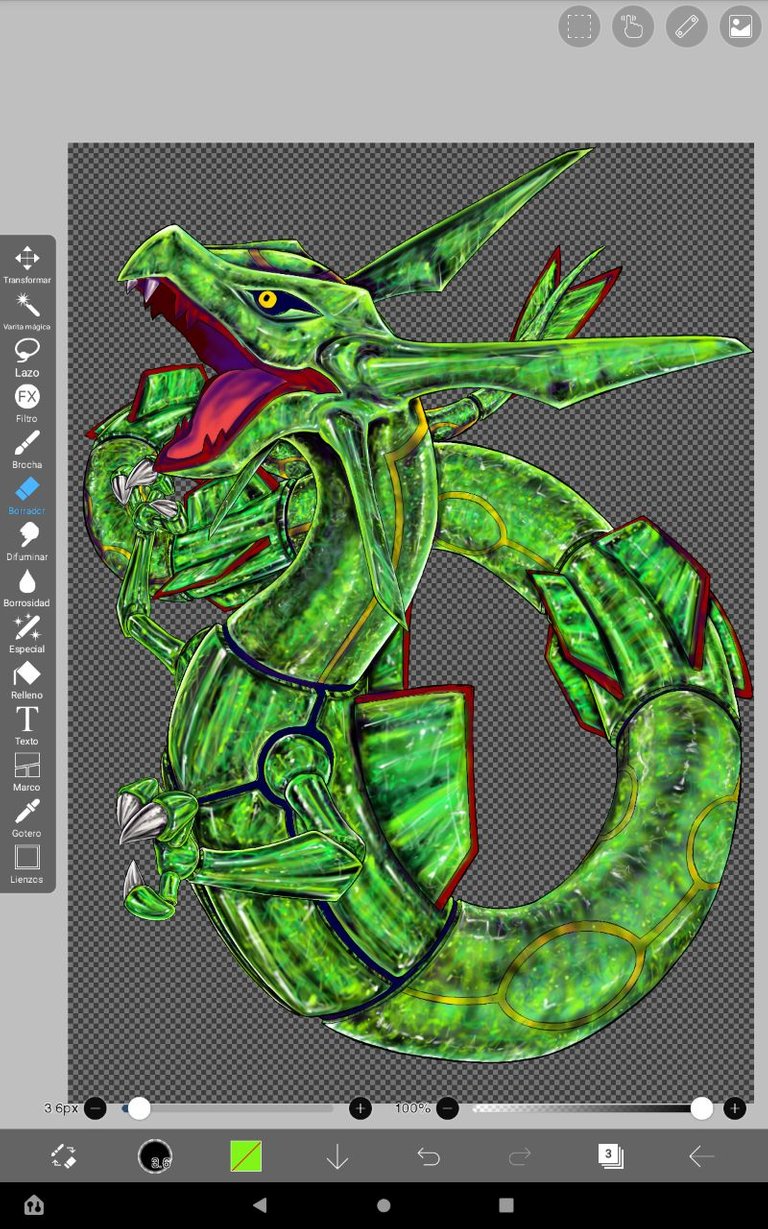 Then I proceeded to detail the metallic parts with the same tones, but giving it another finish, and applying the colors in all order, once the wings were finished I proceeded to detail the mouth and the red stripes and yellow hoops. In the rings I tried to give them that aspect of brightness, as if it radiates or could accumulate energy in those areas of his body.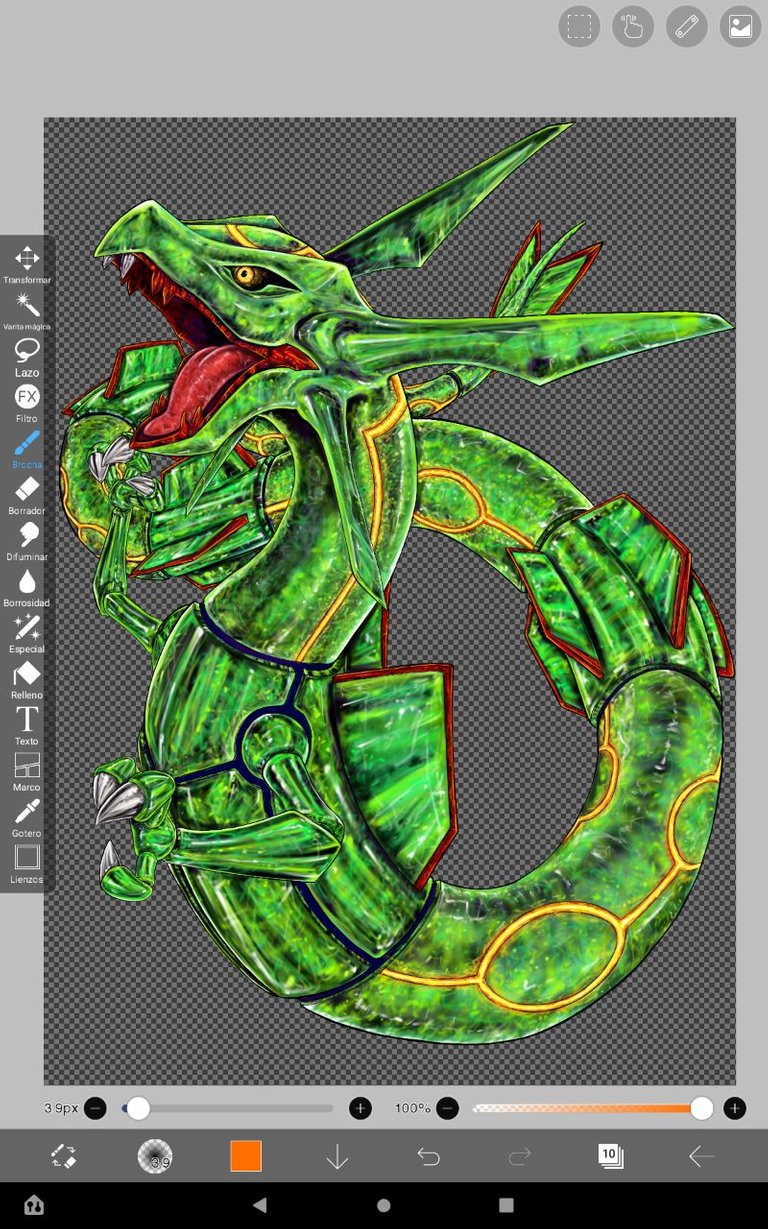 ---
Para el fondo realice una base con negro, azul ,anaranjado y rojo, degradando y posteriormente empezando a realizar nubes en una nueva capa, dejando la parte superior más descubierta para que se pudiese apreciar el cielo estrellado. En las nubes use diversos tonos de azul, amarillo, anaranjado y rojo, creando un hermoso contraste, después volví a agregar a Rayquaza, culminando el procedimiento.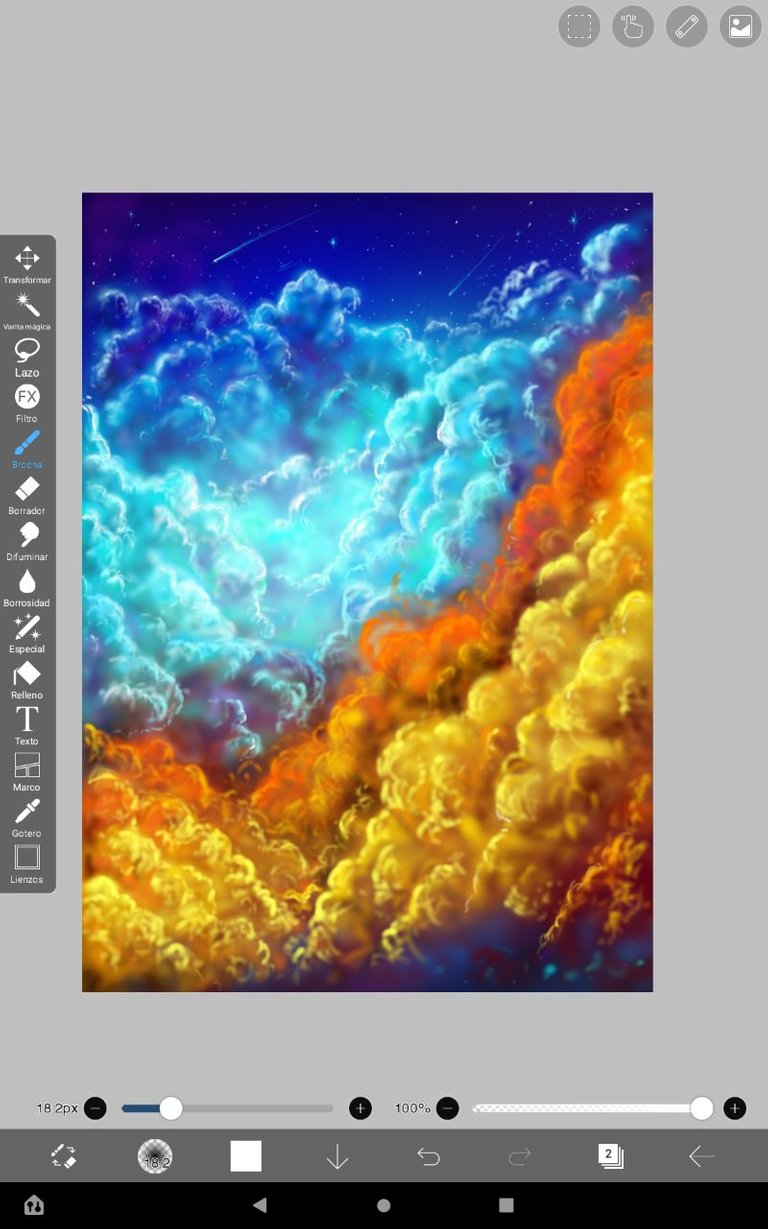 For the background, I made a base with black, blue, orange and red, degrading and then starting to make clouds in a new layer, leaving the upper part more uncovered so that the starry sky could be appreciated. In the clouds I used various shades of blue, yellow, orange and red, creating a beautiful contrast, then I added Rayquaza again, culminating the procedure.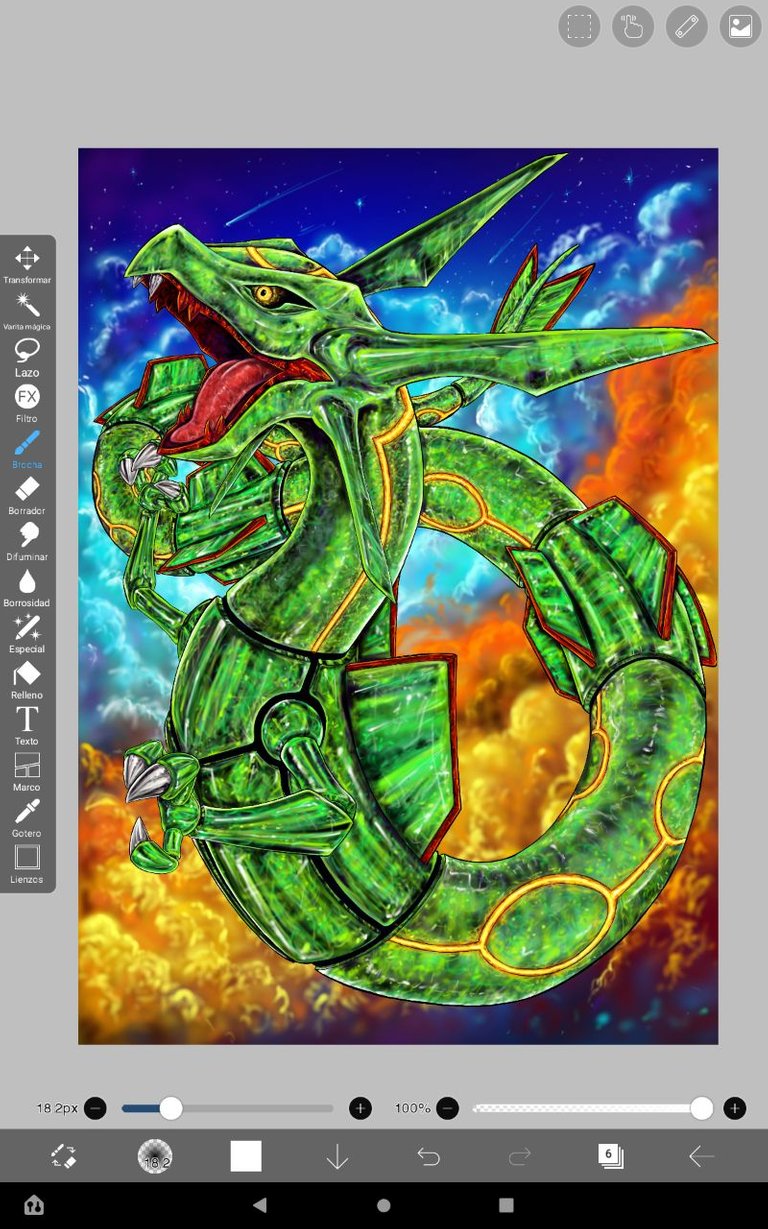 ---

Este dibujo tiene un total de 14 capas en su elaboración, tres en la base y trabajo de linea, dos en el fondo y el resto en color y detalles, el cual contó con un tiempo de elaboración de 13 horas, convirtiéndose en uno de mis dibujos favoritos que he realizado de pokemon, además de empezar a trabajar más los fondos y que estos tengan más profundidad. Estoy muy contento con este resultado y con el juego de colores en el fondo, espero les guste mi fan art de Rayquaza.
This drawing has a total of 14 layers in its elaboration, three in the base and line work, two in the background and the rest in color and details, which had an elaboration time of 13 hours, becoming one of my favorite drawings I've done of pokemon, besides starting to work more backgrounds and that these have more depth. I am very happy with this result and with the play of colors in the background, I hope you like my fan art of Rayquaza.
Los invito a visitar mi perfil 👉🏼@afa.hb03, donde diariamente comparto los distintos dibujos e ilustraciones, además del distinto material que realizo por encargos.
I invite you to visit my profile 👉🏼@afa.hb03, where I daily share the different drawings and illustrations, in addition to the different material that I make by commissions.
✨🌟✨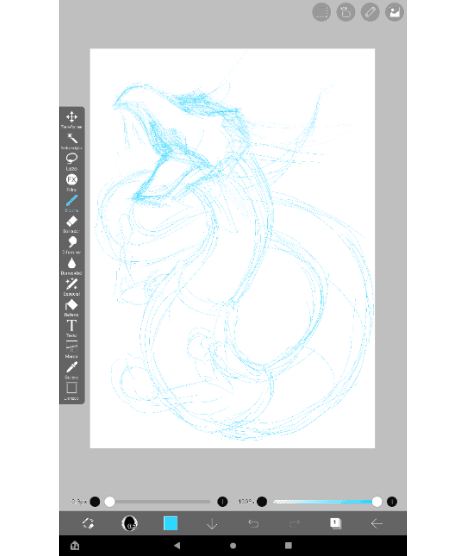 ✨🌟✨
✨🌟✨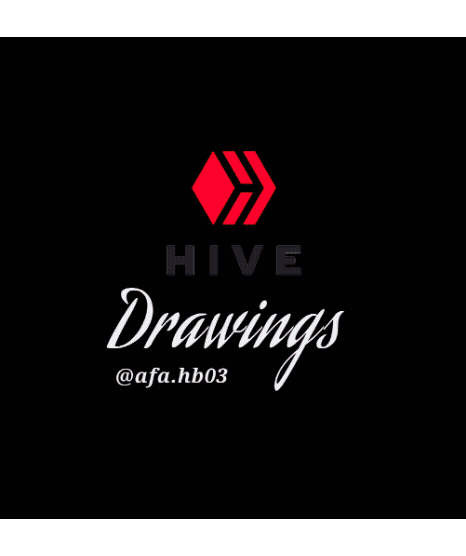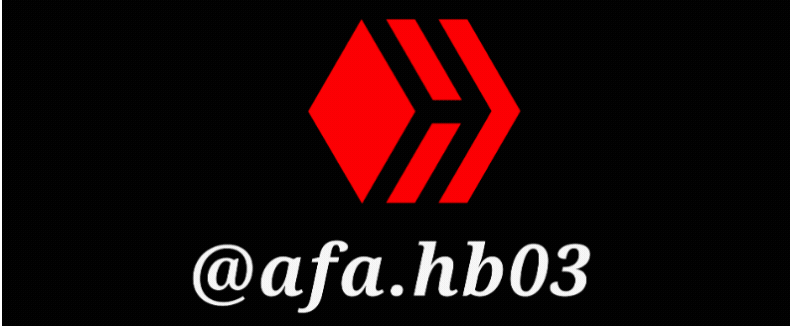 ✨🌟Gracias por leer, espero les guste y hasta una próxima publicación🌟✨
✨🌟Thanks for reading, I hope you like it and see you next time🌟✨