A Splinterlands Artwork of Not One But Two Monsters
Hi Guys, Welcome to Another Weekly Art Contest Hosted by the Splinterlands Team, where Artists are encouraged to share their Creative Works of Monsters from Splinterlands TCG Game. Take a Look by Following this Link, If you would Like to See the Details and Become a Participant.
Every Week, I also Create Artwork Around Monsters from Splinterland's Various Card Editions, I'm not a Natural artist, So I Use Computer Generation Art which is a supported entry in the Weekly Art Contest, I've been Experimenting with Several AI Models to Generate Fun, Inspiration and Attractive Artworks of Monsters.

ThrowBack
My First Ever AI Artwork - I Created a Single Striking Image of Fire Elemental, a Fire Monster from the Untamed Card Edition
My Second Artwork - I Created One Artwork that I Really Loved, Around a Monster Called DiemonShark from the Water Elemental. In this Artwork - I Created three Different Pieces of Diemonshark in 3 Scenes- LAND, AIR, SEA.
My Third Artwork - In My Third Artwork for Splinterlands, I upped my game by Creating a Story-Piece Where I Explored the Lore of Kobold Bruiser. This was Extremely Fun and Challanging, and Required a Matching Set of Images all from AI Models.
My Fourth & Fifth Artwork - This Involved a Recreating of Two Monsters , Scavo Chemist AND Goblin Psychic. By Depicting a Typical Scene of A Maniacal Scavo Chemist AND A Goblin Psychic at Hogwarts School
The purpose of listing all these Previous Creations of Mine is to First, Show you the Capability of AI Art Models, their Realism, and the Inspiration it Gives to Non-Artists AND Second, Also to Inspire me to Better Art Creations.
So I Prepared Something Special this Week, By Simply Asking Myself - Why Not Create a Monster Artwork of Two Different Monsters depicting a Battle Scene, OR some kind of Face Off.
What is a Monster Face-Off?
Okay, So I Write a Lot of Splinterlands Battle Post, of Monster Strategies, Positioning, Superior Monster Ability, and So On, And So It Occurred to me to Depict a Classic Battle Scene of What it Would Look like If Two Monsters From the Splinterlands are About to Fight - Most Likely, I'm Going for Frontline Monsters since they are the Most Aggressive and Impressive.
Two Monsters - 1 Artwork
Monster 1 (Unicorn Mustang) - For a While, I've been having thoughts on creating Artwork Around Unicorn Mustang since I'm very Familiar(I also Fancy them) with Unicorns from Several Animated Movies I've Watched, and this Week - I Finally Decided on it.
So Unicorn Mustang is Our First Tank to be Presented in the Battle Scene.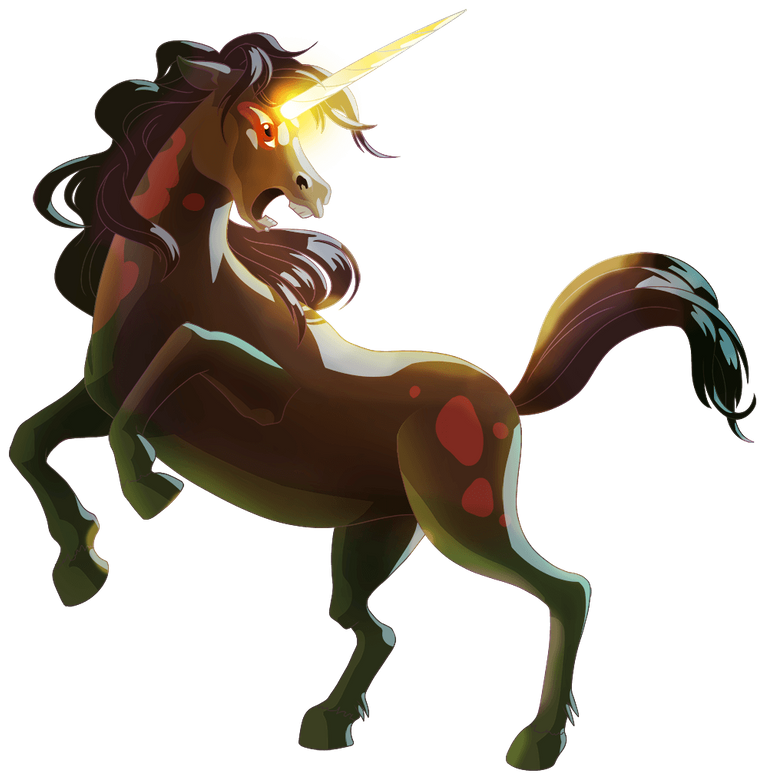 Lore:
The wild brown Unicorns of Anumün contrast the white Unicorns of Khymeria in many ways. Unicorn Mustangs travel in herds, while Sacred Unicorns are only seen alone. The brown Unicorns are not considered sacred like the white, but they are still protected from hunt and slaughter by a superstitious stigma that no Lyverian dares challenge. When approached in the wild, Unicorn Mustangs act as though anyone and everyone but fellow Unicorns are their enemies.
Monster 2 (Dhamphir Stalker) - I Discovered this Death Monster after a SYBC and Had a Lot of Fun with it. Since then, I Use it Frequently, also Because it has High Ranged Attacks. Dhampir Stalker might not be a Tank Monster, Usually, he's Placed in the Backline Position -BUT, He's as Well The Perfect Opponent for Unicorn Mustang.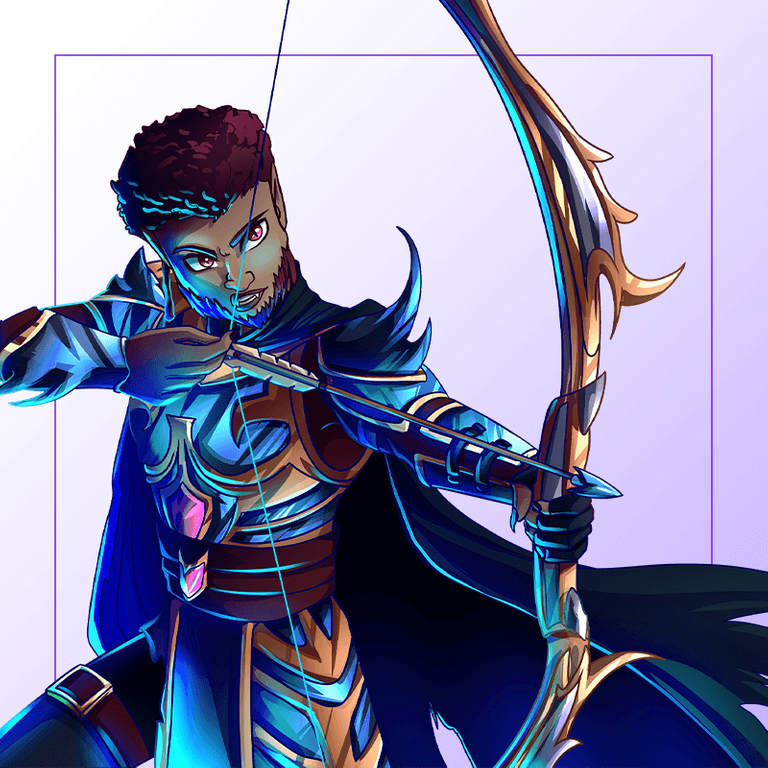 Lore:
Half-vampire, the Dhampir are faster and stronger than normal humans. Most have taken to a mercenary lifestyle, never quite welcome with vampires or humans. The Stalker is adept at tracking their prey, then dispatching the target with a silent and perfectly-placed arrow from the shadows.
So Typically, Here's the Scene I'm Drawing Out:
A Unicorn Mustang is Being Attacked by Dhamphir Stalker in a Dark Forest. Dhamphir Stalker sticks to the Shadows while Hunting his Prey, But the Unicorn Mustang is among the Fastest Monster in the Forest, So Would He Continue to Miss, Or will he Finally Land a Direct Hit? Unicorn Mustang Looks About, Looking for a Clue, Always Ready to Dodge!.
Time for Some AI Art Generation
So, Gathering Information from the Lore of Both Monsters, There are Some Environmental Details that I want Present in Our Final Art, Such as;
Forest With Tress
Shadowy Areas
Unicorn Herd or Running Unicorn Mustang
Again, I'll be Recreating Both Monsters with Details of their Original Self;
For the Unicorn Mustang, we want - Brown, Single Horn, Body Spots, and Fluffy Mane.
For Dhampir Stalker we want - Blue Cloak, Arrow, Red Hair, Armor Body Suit.

Art Creation Details:
AI Model: Mid Journey AI Model
Prompt Session(Unicorn): hyper realistic oil painting of a brown unicorn, with white spots and fluffy mane, running in a dark forest, dodging arrows, close up by greg rutkowski --v 4
Prompt Session(Dhampir Stalker): hyper realistic oil painting of a half-vampire archer with red short hair and beard, in blue cloak with armor suit, stalking in a dark forest, with bow and arrow
Time Taken: Approx 2 Hours
Images Created: About 20 Images
My Final Generation was: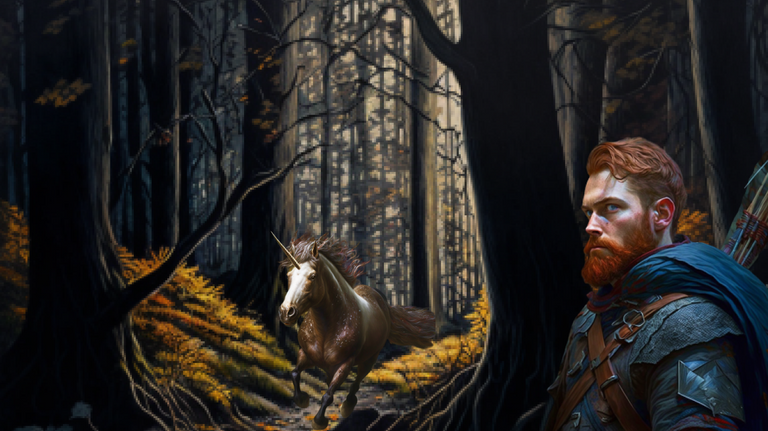 Comment:
This Artwork is the Combination of Two AI Models of Dhampir Stalker and Unicorn Mustang, with the Addition of the Blending Background Forestry. I think that this Image Fully Depicts Our Story. With More Mastery of Photoshop and Art Techniques, More Intricate Details can be Added to Bring this Piece Alive, Such as (Dust, Contrast, Trapped Sunlight, Leave Colors and So on). But I Hope you also Appreciate the Details in this Piece, Created with the Work of AI Generation Models and a Few Simple Photo Editing. 😎
What Do You think about this Artwork?

Thanks for Reading my Blog, If your Love it, Send me an Upvote 💖, Share this Post🤝, and Follow for More 📰.
Your Gamer & Builder,
Chel_
My Previous Splinterlands Posts