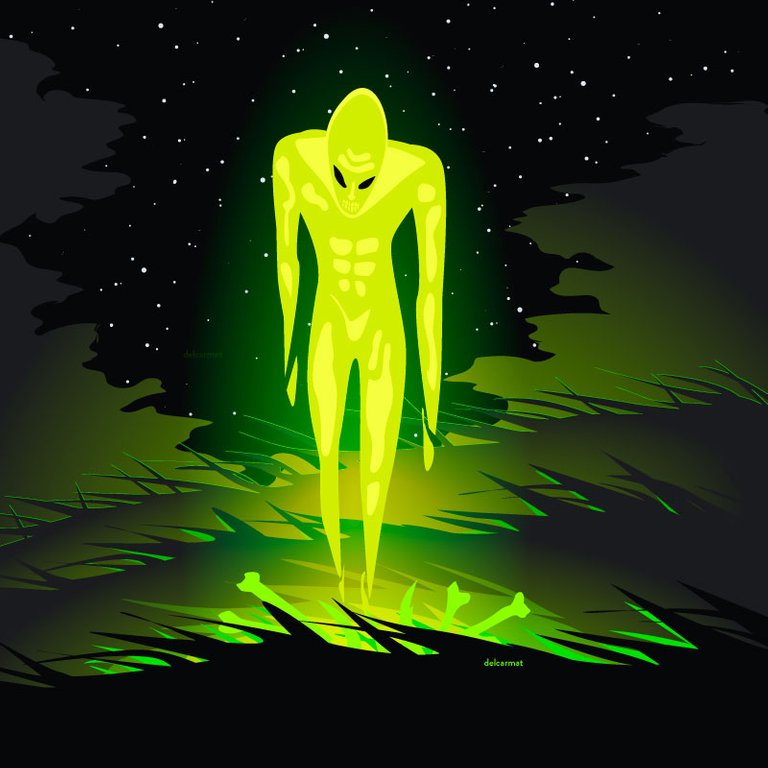 ENG
The luzmala (the "bad light") is a myth from Argentina folklore, and it can be considered the local version of the "ignis fatuus" or "Will-o'-the-wisp" myth. It's a creature seen on rural wastelands and farms. It is a bright light floating in the middle of nowhere like a strange ghost. There are reports of the light standing quiet without doing nothing, but others told that the light followed and terrorizing them.
It was told by locals that the bad light was a lost soul and bullets do nothing on them, so if you see one, the best thing you can do is pray for the soul to find peace and then bit a knife. If you have no option than fight, don't use a gun, defend yourself with the knife.
There are other version of this myth, that calls it "the devil's lamp", so if you see an aparition of the badlight, you should dig there on the morning, because it guards hidden treasures and gold, but if the light is red, don get close, it's a sign that the devil is near.
Some skeptical people say that it is a phosphorescence and reflection of the moon of cow bones and decomposing matter, but the myth has survived to this day.
Comment me here if you like it! I will be uploading here more cryptozoology and mythology tales and illustrations here. Follow me if you want more, it helps me to create more contents here daily :)
ES
La luzmala es un mito del folclore argentino, y puede considerarse la versión local del mito del fuego fatuo. Es una criatura que se ve en granjas y terrenos baldíos rurales. Es una luz brillante que flota en medio de la nada como un fantasma extraño. Hay informes de que la luz se quedó quieta sin hacer nada, pero otros dijeron que la luz los seguía y los aterrorizaba.
Los lugareños suelen decir que la mala luz es un alma perdida sin entierro y que las balas no les afectan, así que si ves una, lo mejor que puedes hacer es rezar para que el alma encuentre la paz y luego morder un cuchillo. Si no tienes más opción que luchar, no uses un arma, defiéndete con el cuchillo.
Hay otra versión de este mito, que la llama "la lámpara del diablo", por lo que si ves una aparición de la luz mala, debes cavar allí en la mañana, porque guarda tesoros escondidos y oro, pero si la luz es roja, No te acerques, es una señal de que el diablo está cerca.
Algunas personas escépticas dicen que es una fosforescencia y un reflejo de la luna de huesos de vaca y materia en descomposición, pero el mito ha sobrevivido hasta nuestros días.
¡Comentame aquí si te ha gustado la historia! Subiré más cuentos de criptozoología y mitología y dibujos aquí. Sígueme si quieres más, me ayuda a crear más contenidos aquí todos los días :)