!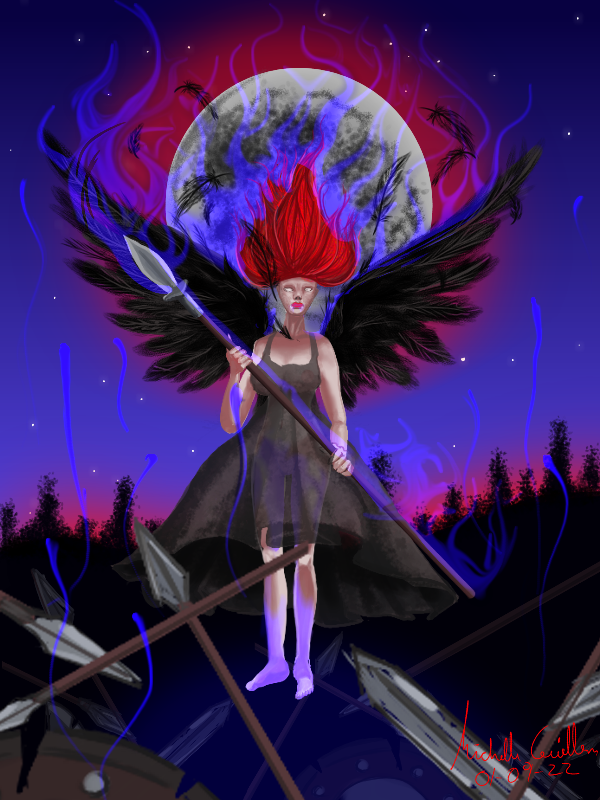 Buenos días, tardes o noches, gracias por pasar por mi post, en esta ocasión les traigo mi primera ilustración inspirada en el juego de Ragnarök y la quiero compartir con ustedes. Valkyrie es un personaje femenino icónico de la mitología nórdica quien en pocas palabras escoge quien vive en la batalla. Se puede leer hoy día, que Las Valkirias también seleccionaban las almas para que fueran al cielo que debían ir. A continuación, un breve paso a paso del proceso de ilustración, al final un GIF con un resultado que me enamoró. Sin más continuamos.
Good morning, afternoon or evening, thanks for stopping by my post, this time I bring you my first illustration inspired by the Ragnarök game and I want to share it with you. Valkyrie is an iconic female character from Norse mythology, who in few words chooses who lives in battle. Nowadays it can be read that Valkiries also selected the souls to go to the heaven that they should go. Next, a brief step by step of the illustration process, at the end a GIF with a result that I fell in love with. Without more, we continue.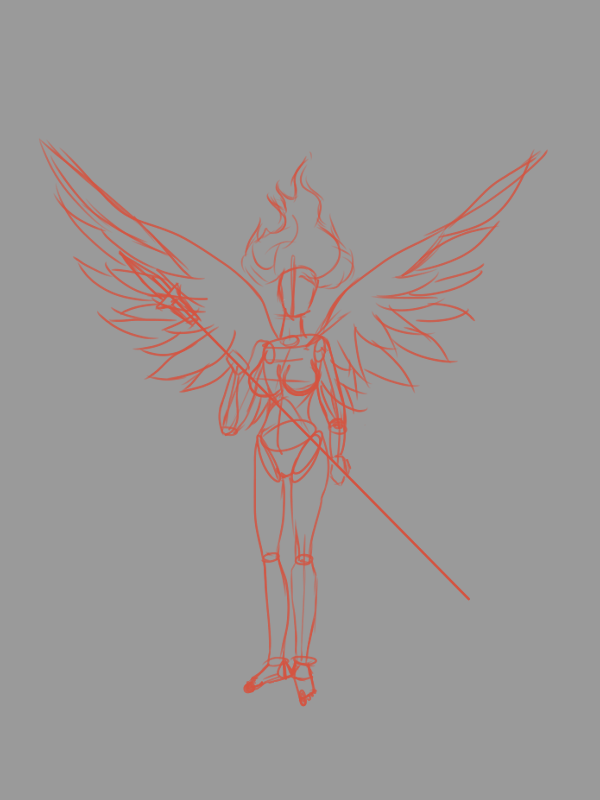 Realicé un bosquejo donde marco la ubicación en el espacio de la que sería nuestra Valkyrie. El fondo gris en ocasiones lo utilizo porque me permite ver algunos detalles al momento de pintar.
I made a sketch where I mark the location in space of what our Valkyrie would be. I sometimes use the gray background because it allows me to see some details when painting.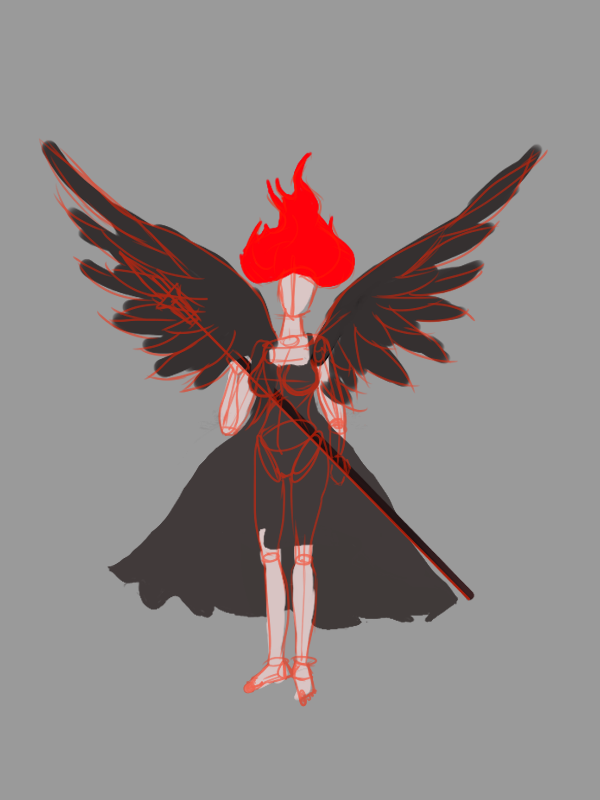 Realicé la mancha con los colores base tanto del cabello como de la piel, utilizo el boceto como guía, esto me ayuda para hacer el trabajo de definir los detalles.
I made the stain with the base colors of both the hair and the skin, I use the sketch as a guide, this helps me to do the work of defining the details.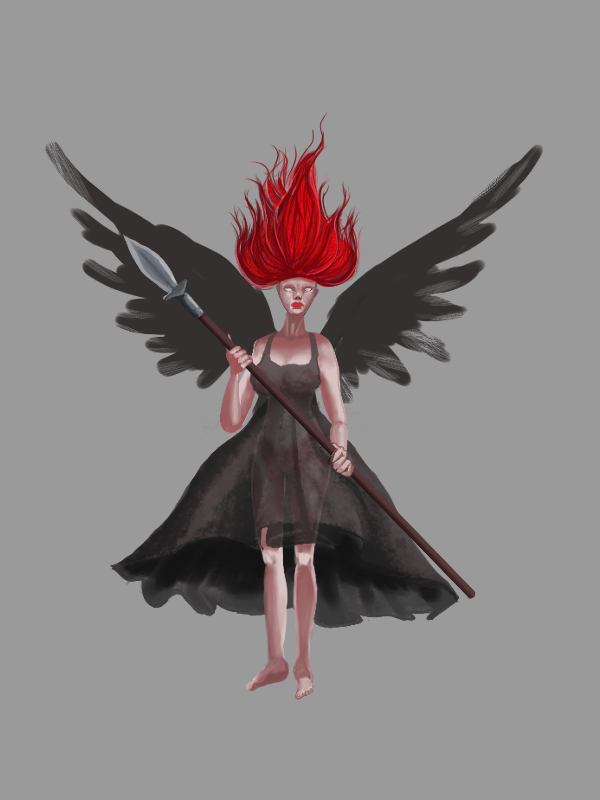 Aquí dibujé la figura con detalles de sombras sobre la piel y trabajé sobre el vestido que permitiera ver la figura de nuestra Valkyrie.
Here I draw the figure with details of shadows on the skin and worked with on the dress that would allow to see the figure of our Valkyrie.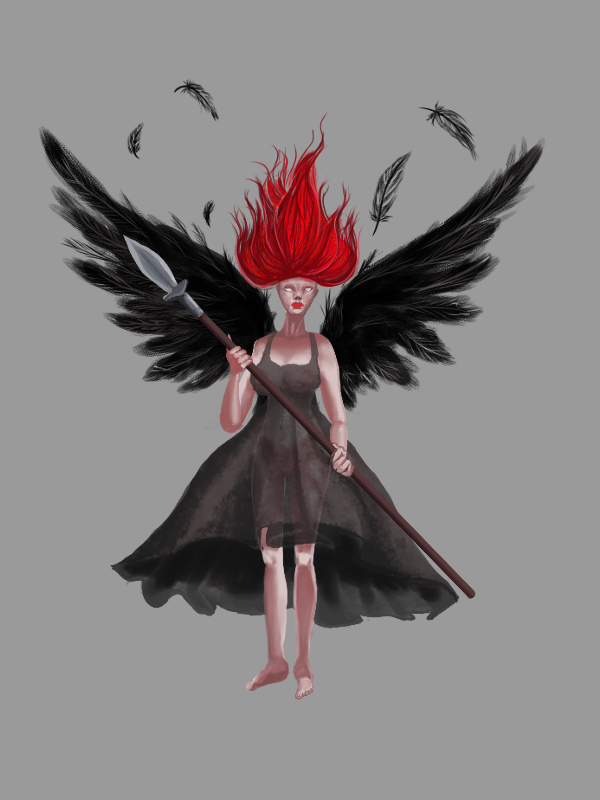 Así quedaron las alas de cuervo que, según la tradición oral, las Valkyrie están íntimamente relacionada con los símbolos de los cuervos.
Here there are the raven wings that, according to oral tradition, the Valkyrie are closely related to the symbols of the ravens.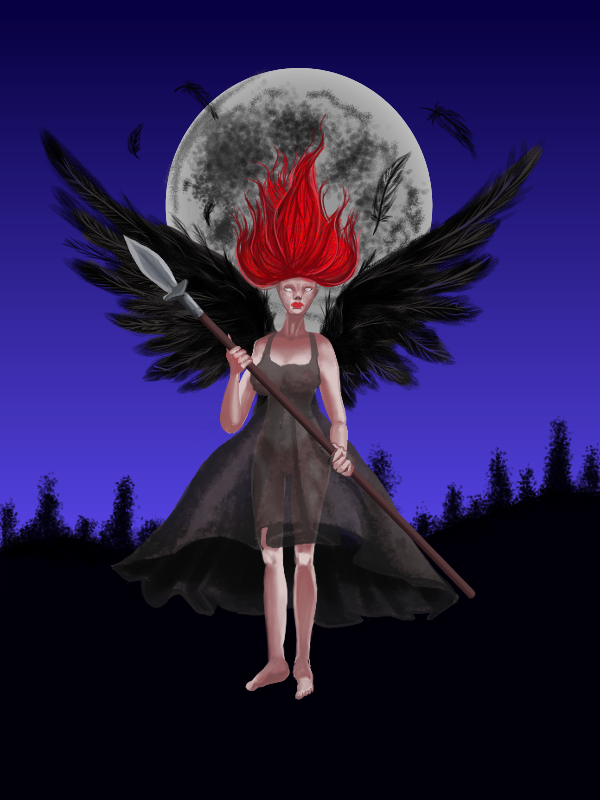 Sustituyo el fondo gris, por las manchas de lo que será el paisaje nocturno donde está la Valkyrie seleccionando las almas que irán al Valhalla.
I replace the gray background with the spots of what will be the night landscape where the Valkyrie is, selecting the souls that will go to Valhalla.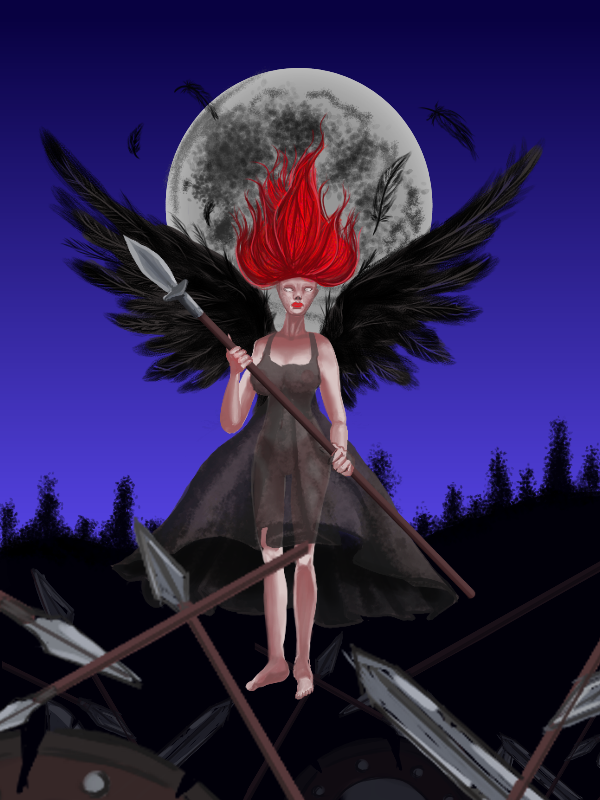 Acá las armas de los guerreros caídos, todavía sobresalen del ahora pacifico campo de batalla.
Here the weapons of the fallen warriors still stand out from the now peaceful battlefield.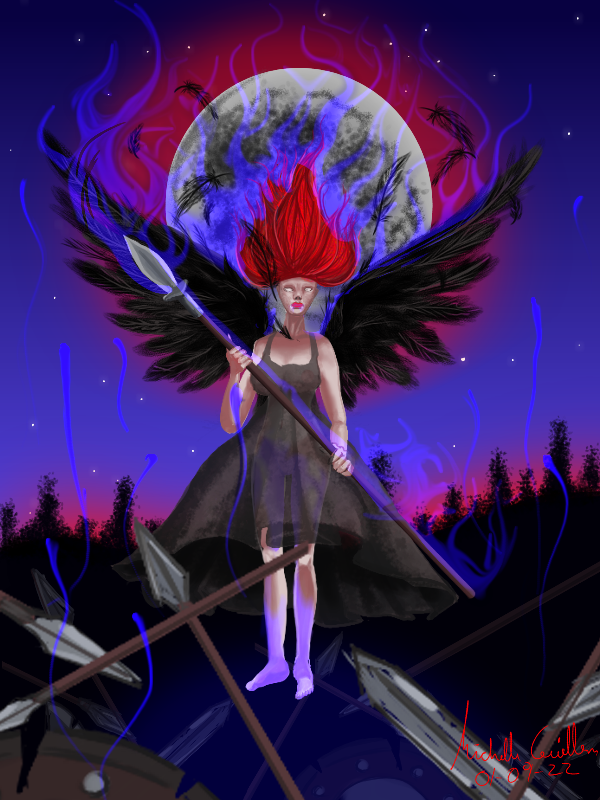 Con la iluminación, las almas ascendiendo en las alas del cuervo con dirección a un cielo u otro.
With illumination, the souls ascending on the wings of the raven in the direction of one heaven or another.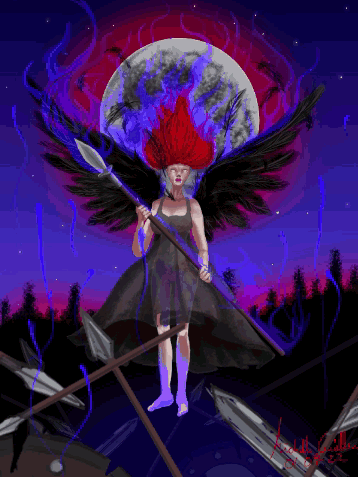 Este GIF Lo amé desde el primer momento, me alegra que lo puedan apreciar como lo hago yo, gracias.
I loved this GIF from the first moment, I am glad that you can appreciate it as I do, thank you.

Gracias por leer, ¿Qué opinas de la relación entre la protagonista y el fondo?, ¿Cuál es tu opinión de la ilustración?, Me encantaría leerlo en los comentarios, si crees que alguno de tus seguidores puede disfrutar este post como tú lo disfrutaste comparte, muchas gracias.
Thanks for reading, what do you think of the relationship between the main character and the background?, what is your opinion of the illustration?, I would love to read it in the comments, if you think that any of your followers can enjoy this post as you did share, thank you very much.
Autor: Michelle Alexander Guillen
Año: 2021
(Thanks to @mikalonny for review and style)
(Agradecimientos a @mikalonny por la revisión y estilo)