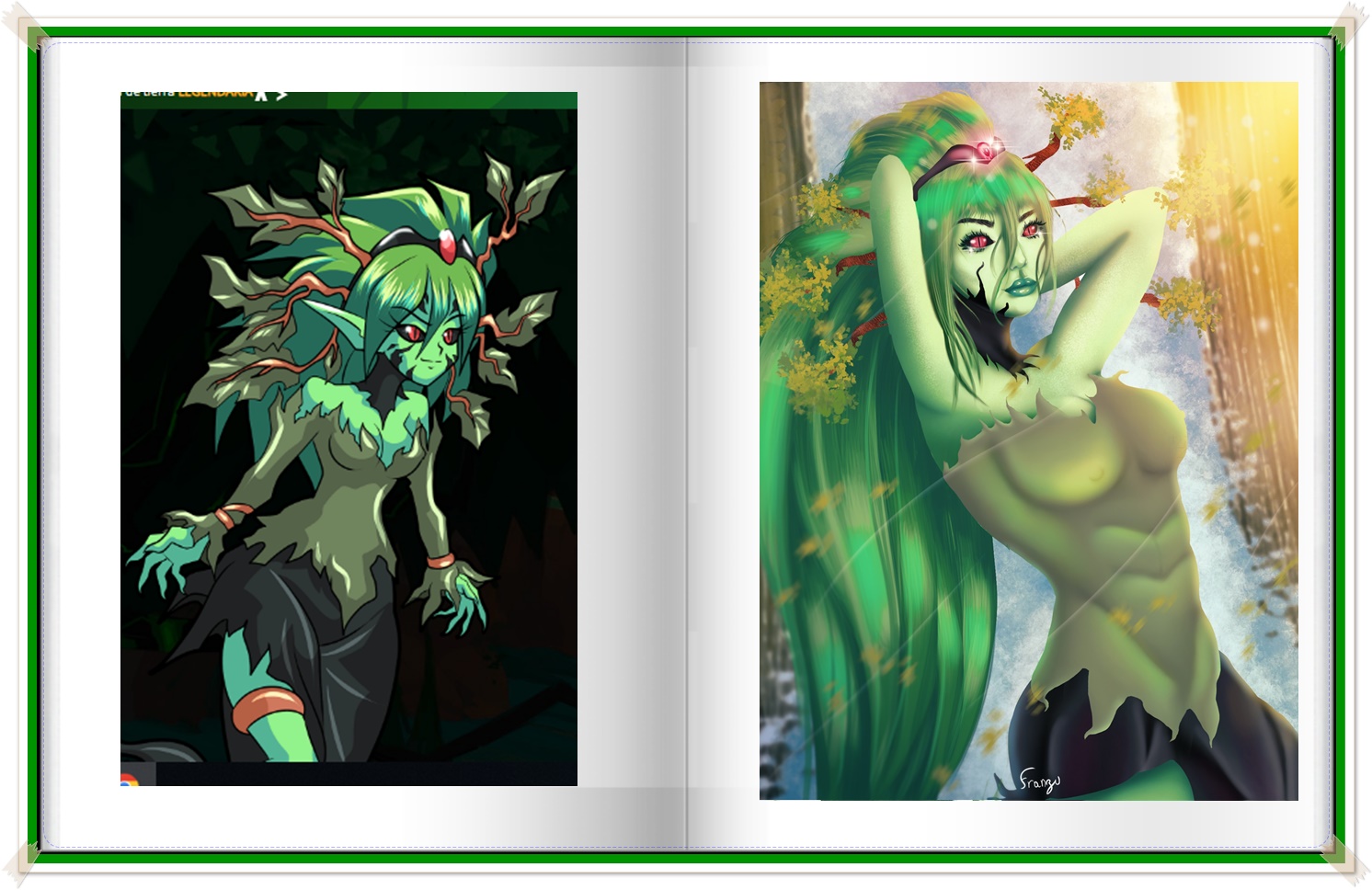 SPIRIT OF THE FOREST
| | |
| --- | --- |
| ¡Hola amigos! estoy nuevamente por acá para contarles sobre el proceso de esta ilustración que realicé para el concurso de @splinterlands, escogí la carta Splinter de tierra llamada: "SPIRIT OF THE FOREST" me gustó este personaje porque ella es una de las creadoras originales de la vida en Splinterlands y para ir a la batalla puede ser convocada por un invocador, también tiene la capacidad de amar como una madre, y eso me parece algo hermoso. | Hi friends! I'm here again to tell you about the process of this illustration I made for the @splinterlands contest, I chose the Splinter earth card called: "SPIRIT OF THE FOREST" I liked this character because she is one of the original creators of life in Splinterlands and to go to battle she can be summoned by a summoner, she also has the ability to love like a mother, and I think that's a beautiful thing. |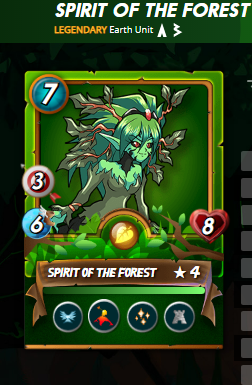 REFERENCE

AND THE PROCESS BEGINS: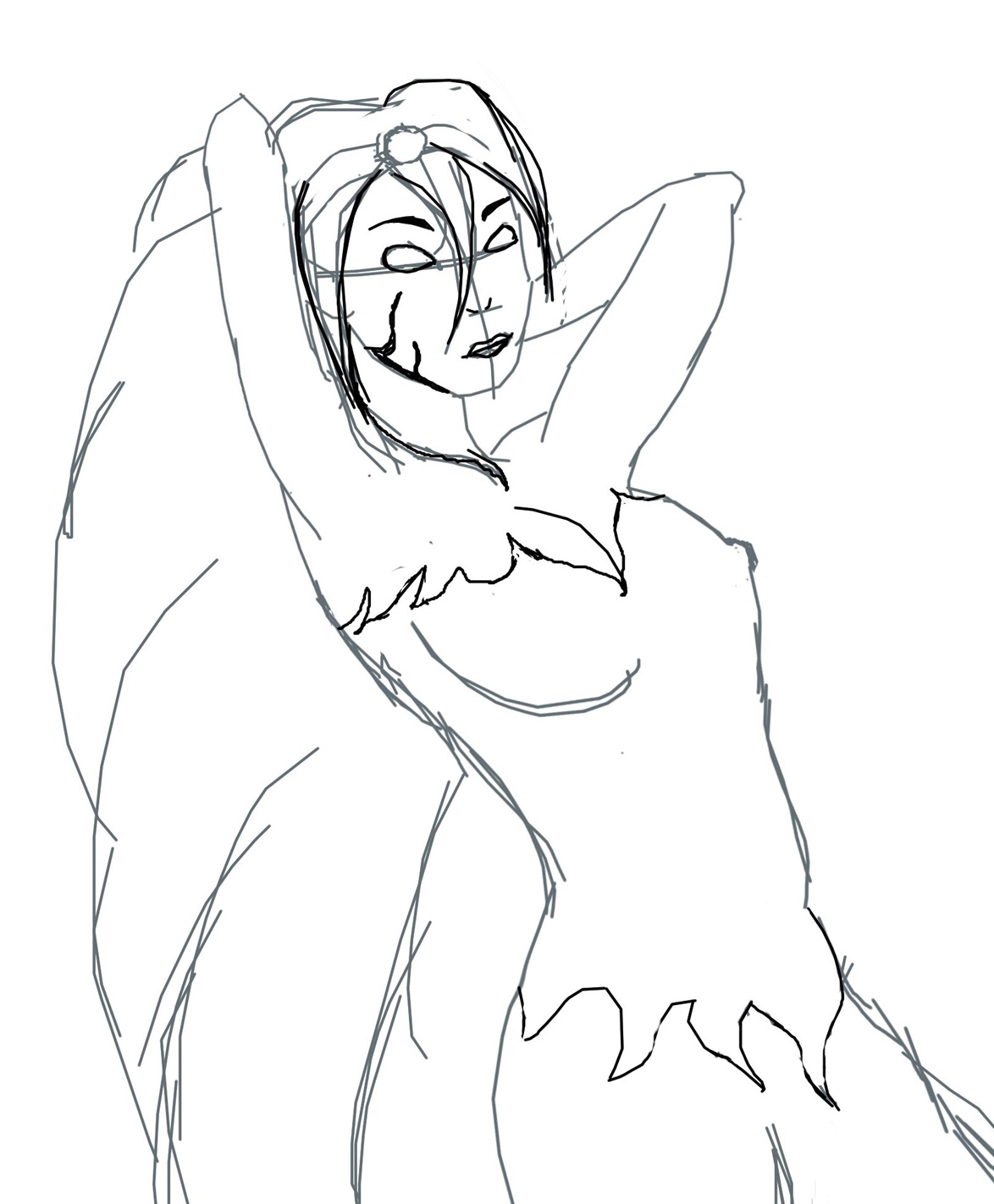 | | |
| --- | --- |
| Hola amigos, para empezar el proceso, dibujé el boceto haciendo unas líneas rústicas, esto lo hago para tener idea de lo que quiero hacer y del tamaño de todo lo que haré, esta vez lo quise hacer en una pose donde el personaje se viera atractiva. | Hello friends, to start the process, I drew the sketch making some rustic lines, I do this to have an idea of what I want to do and the size of everything I will do, this time I wanted to do it in a pose where the character would look attractive. |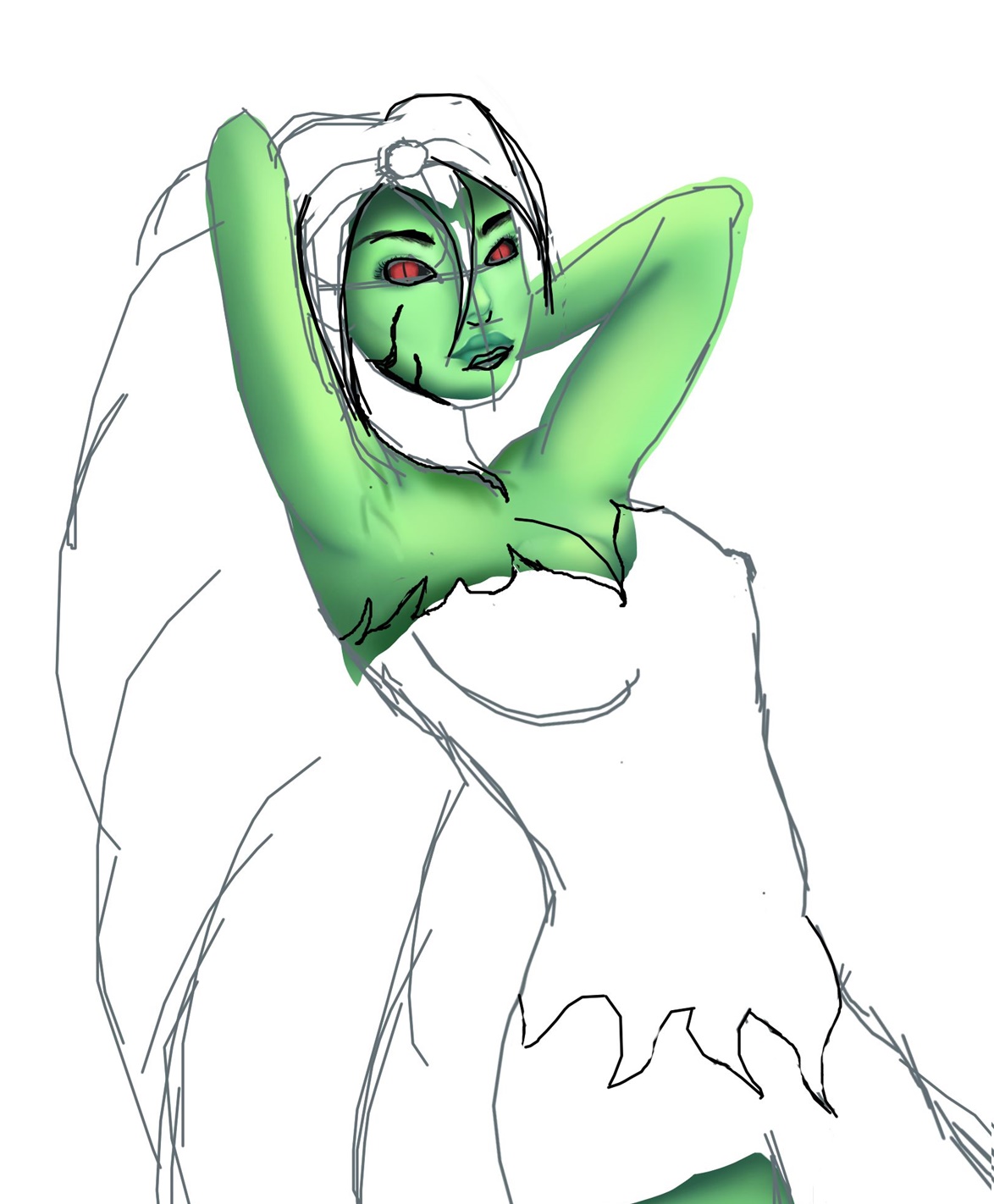 | | |
| --- | --- |
| En segundo lugar e optado últimamente hacer con la Herramienta lazo el delineado de todo lo que sería la piel entre ello la cara, una parte de la pierna y brazos, para luego rellenar con el Bote de Pintura, toda la piel la pinté con una tonalidad verde como color base, luego saturé el color para hacer las sombras después aclaré más el color base así hacer la luz que refleja en la cara y brazos, todo esto lo hice con el Pincel Aerógrafo al igual que la boca y nariz, después hice las cejas y pestañas con el Pincel de Pelo. | In second place I chose lately to make with the Lasso Tool the outline of all that would be the skin between it the face, a part of the leg and arms, to then fill with the Paint Bucket, all the skin I painted it with a green tonality as base color, then I saturated the color to make the shadows then I lightened more the base color to make the light that reflects on the face and arms, all this I did with the Airbrush Brush as well as the mouth and nose, then I did the eyebrows and eyelashes with the Hair Brush. |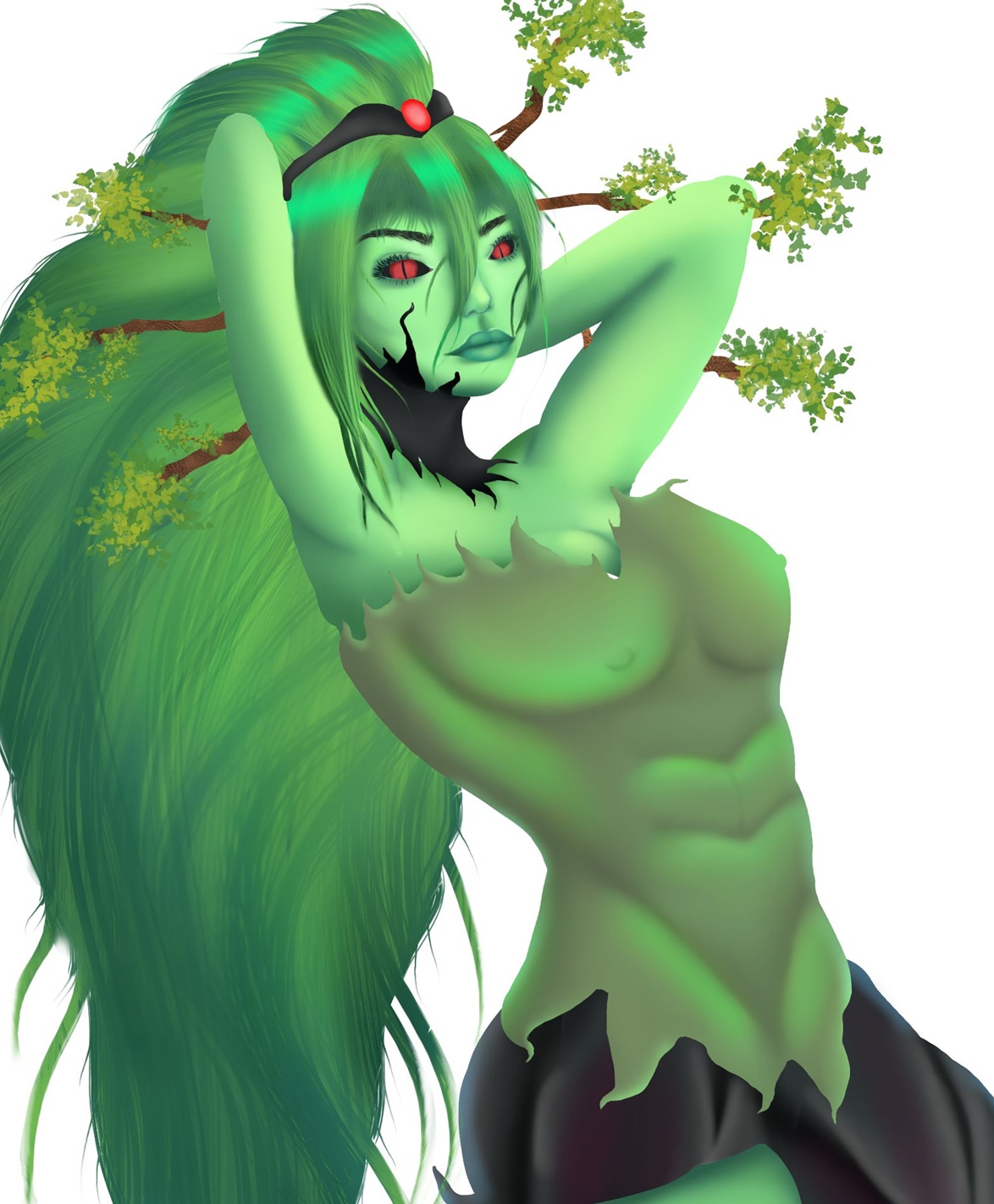 | | |
| --- | --- |
| En esta parte me enfoqué en realizar el cabello ya que me lleva tiempo hacerlo, pintándolo de verde como color base y luego comencé con el Pincel de Pelo hacer varios mechones. En unos mechones oscurecí y en otros aclaré para darle volumen al cabello, después hice todo el vestuario y la parte negra que cubre el cuello, la sombra y luces de cada pieza las hice con el Pincel Aerógrafo saturando y aclarando los mismo colores base, luego hice las ramas con un pincel común, con un pincel de Manchas realicé las hojas, por ultimo hice la diadema con una gema que lleva en la cabeza. | In this part I focused on making the hair since it takes me time to do it, painting it green as a base color and then I started with the Hair Brush to make several locks. In some locks I darkened and in others I lightened to give volume to the hair, then I made all the costume and the black part that covers the neck, the shadow and lights of each piece I made them with the Airbrush saturating and lightening the same base colors, then I made the branches with a common brush, with a Stain brush I made the leaves, finally I made the tiara with a gem that she wears on her head. |

FINISHED ILLUSTRATION:



Title: SPIRIT OF THE FOREST
Duration: 10 hours
Program: Krita i used a graphic tablet: Wacom Intuos S
| | |
| --- | --- |
| Por último mis queridos amigos, hice un degradado de amarillo a transparente tratando de simular la luz de un ocaso. Luego decidí cambiar un poco el cabello ya que no me agradaba mucho pero utilicé las mismas herramientas, le di mas brillos a ciertas partes, entre ellas; piel, cara, ropa, boca, y cabello. Con una tonalidad amarilla ya que quería semejar a un atardecer, luego hice unas hojas de arboles cayendo y le aplique un Desenfoque de Movimiento hice unas líneas blancas y baje su opacidad para que pareciera brisa, le di mas brillo a la gema de la cabeza duplicando la capa y jugando con los modo de Fusión de Colores y coloque unos destellos blancos en la misma para que brillara mas, igual coloque estos destellos en los ojos, Por ultimo en el fondo decidí hacer unas rocas con musgo con tonos verde y amarillo, luego realice el agua de la cascada con los tonos azul y blanco, el blanco para la espuma que proviene de la caída del agua esto lo hice con un Pincel de esponja, e hice algunas gotas de aguas en el aire. | Finally my dear friends, I made a gradient from yellow to transparent trying to simulate the light of a sunset. Then I decided to change the hair a little bit since I didn't like it very much but I used the same tools, I gave more shine to certain parts, among them; skin, face, clothes, mouth, and hair. With a yellow tonality since I wanted to resemble a sunset, then I made some tree leaves falling and applied a Motion Blur, I made some white lines and lowered its opacity to make it look like a breeze, I gave more shine to the gem of the head duplicating the layer and playing with the Color Blending mode and placed some white sparkles on it to make it shine more, Finally in the background I decided to make some rocks with moss with green and yellow tones, then I made the water of the waterfall with blue and white tones, the white for the foam that comes from the fall of the water, I did this with a sponge brush, and I made some drops of water in the air. |

My social network:
| About Franzu 💎 | INSTAGRAM! |
| --- | --- |
| Frank Perez, Venezuelan. He is an apprentice of digital illustration. He is currently experimenting with new ways of painting in search of creating his own style. / Frank Pérez, venezolano. Es un aprendiz de la ilustración digital. Actualmente se encuentra experimentando nuevas formas de pintar en busca de crear un estilo propio. | |
Bueno ese fue el resultado final, me gustó mucho el resultado espero que a ustedes también les agrade y espero tener la oportunidad de ganar algún lugar en el concurso.
Well that was the final result, I really liked the result, I hope you like it too and I hope I have the chance to win some place in the contest.
I hope you like this illustration as I do and see you in future publications!