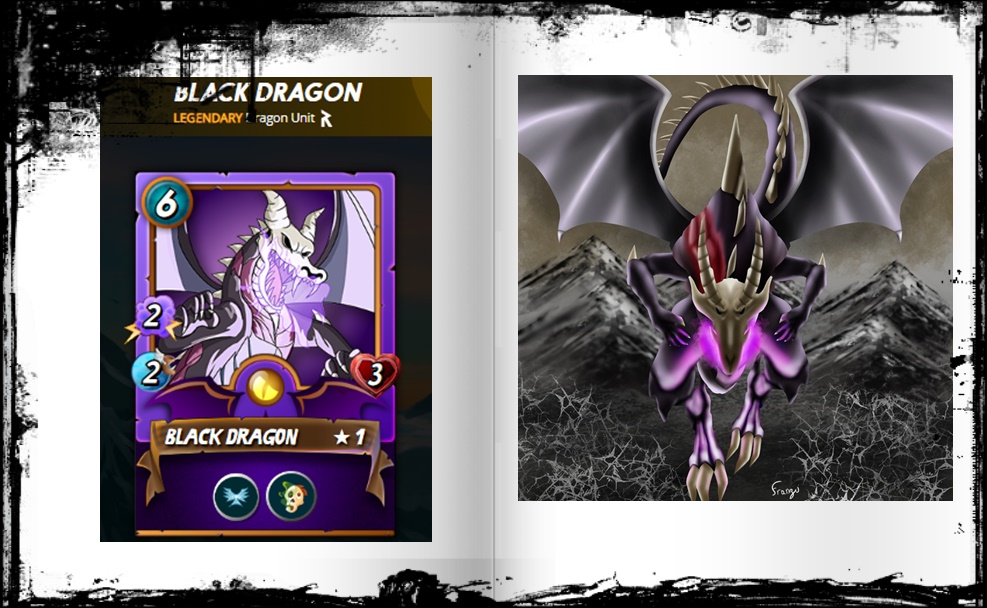 BLACK DRAGON
| | |
| --- | --- |
| ¡Hola a Todos! este post es para el desafío de social media en @splinterlands, en esta ocasión realicé un dibujo sobre de la unidad de DRAGON y escogí la carta llamada ''BLACK DRAGON'', El Dragón Negro de Mortis es el único Dragón que ha sido convencido para firmar el Contrato Oscuro. Su nombre es Korjack, Korjack es mucho más grande que todos los demás Dragones vivos y podría gobernarlos a todos si tuviera la ambición pero en cambio, se enfoca en su propio progreso hacia la Eternidad Oscura ademas se le permite usar su tiempo como le plazca. Dado que nadie que entra en su cueva vuelve a salir, se sabe poco sobre los detalles de sus actividades cotidianas. Presumiblemente, pasa la mayor parte de su tiempo leyendo y practicando nuevas formas de Hechicería. Siempre está feliz de ser llamado a la batalla del torneo, donde puede probar su colección de hechizos crueles e inusuales en los vivos. | Hello everyone! This post is for the social media challenge at @splinterlands, this time I made a drawing of the DRAGON unit and I chose the card called ''BLACK DRAGON'', The Black Dragon of Mortis is the only Dragon that has been convinced to sign the Dark Contract. His name is Korjack, Korjack is far greater than all other Dragons alive and could rule them all if they had the ambition but instead, he focuses on his own progress towards the Dark Eternity plus is allowed to use his time as he pleases. Since no one who enters their cave ever comes out again, little is known about the details of their day-to-day activities. Presumably, he spends most of his time reading and practicing new forms of Wizardry. He is always happy to be called into tournament battle, where he can test his collection of cruel and unusual spells on the living. |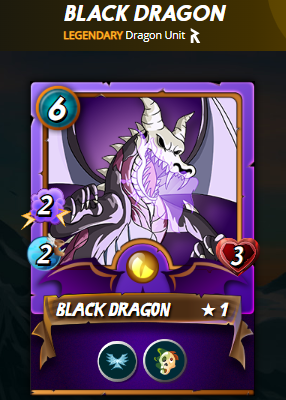 REFERENCE
ENTER SPLINTERLANDS

AND THE PROCESS BEGINS: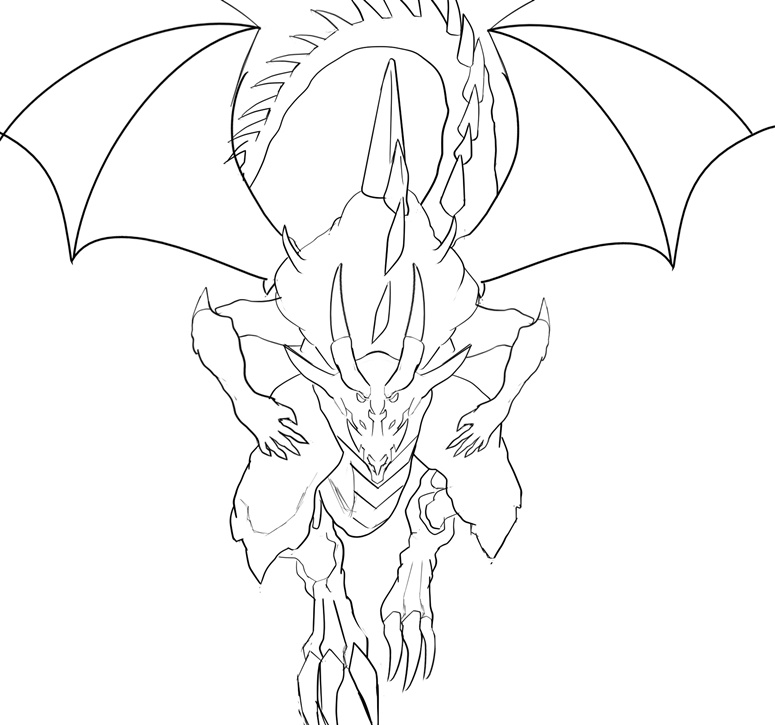 | | |
| --- | --- |
| Amigos, El coste de maná es de: 6, La Edición: Premio, Rareza: Legendario, Habilidades: carta voladora , Sanguijuela de vida , Lento , Fortalecer, Valor de quemado de lámina regular: 1500 DIC por BCX, Valor de quemado de lámina de oro: 75.000 DEC por BCX. | Folks, The Mana Cost is: 6, The Edition: Premium, Rarity: Legendary, Abilities: Flying Card, Life Leech, Slow, Strengthen, Regular Foil Burn Value: 1500 DEC per BCX, Foil Burn Value gold: 75,000 DEC per BCX. |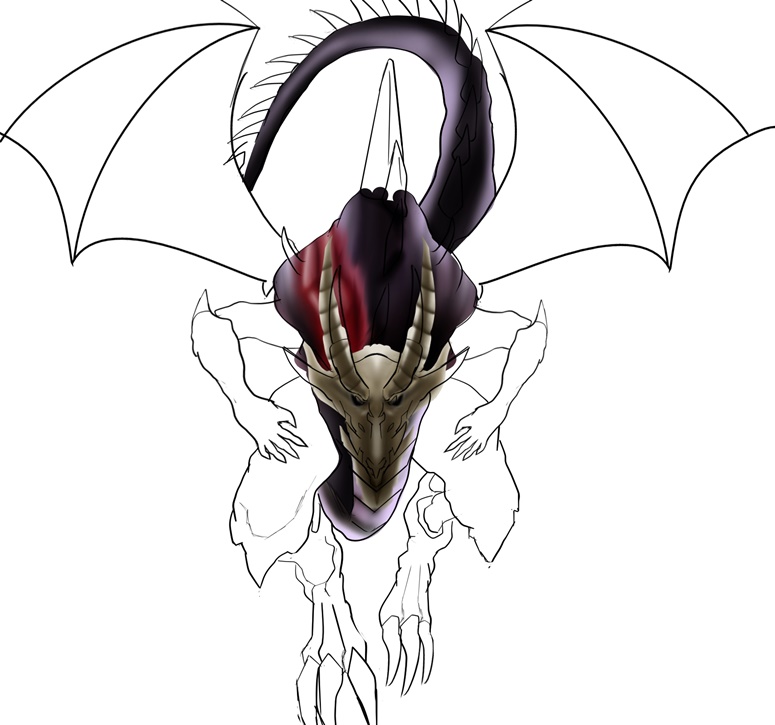 | | |
| --- | --- |
| Mis amigos a mayor nivel mejoran las estadísticas y habilidades, estas aumenta mediante la combinación de cartas iguales. Esta carta cuenta con la habilidad volador: El monstruo puede volar y a su vez puede esquivar ataques cuerpo a cuerpo o a distancia de otro que no vuelan, otra habilidad es Sanguijuela de Vida: un monstruo con esta habilidad, aumenta su nivel de salud cada vez que causa daño a sus enemigos, la cantidad de aumento es proporcional al daño que causa. | My friends at a higher level improve the statistics and abilities, these are increased by combining the same cards. This card has the flying ability: The monster can fly and in turn can dodge melee or ranged attacks from another that does not fly, another ability is Life Leech: a monster with this ability increases its health level each time it deals damage to his enemies, the amount of increase is proportional to the damage he deals. |
| | |
| --- | --- |
| Tambien cuenta con la habilidad de poner Lento: Disminuye 1 nivel de velocidad de todos los monstruos enemigos. Su efecto termina cuando el monstruo que la posee es eliminado y su ultima habildad es de Fortalecer: Aumenta 1 nivel de salud de todos los monstruos aliados, su efecto termina cuando el monstruo que la posee es eliminado. Las habilidades son lo que hacen este juego entretenido e interesante, pues con ellas puede cambiar el sentido de cualquier batalla, siendo indispensable saber el uso de cada una de ellas porque de esto depende la forma en que planeamos la estrategia de nuestras batalla si queremos obtener la victoria. | It also has the ability to put Slow: Decreases 1 level of speed of all enemy monsters. Its effect ends when the monster that possesses it is eliminated and its last ability is Strengthen: Increases 1 health level of all allied monsters, its effect ends when the monster that possesses it is eliminated. The abilities are what make this game entertaining and interesting, because with them you can change the direction of any battle, being essential to know the use of each one of them because the way in which we plan the strategy of our battle depends on this if we want to obtain the victory. |

FINISHED ILLUSTRATION: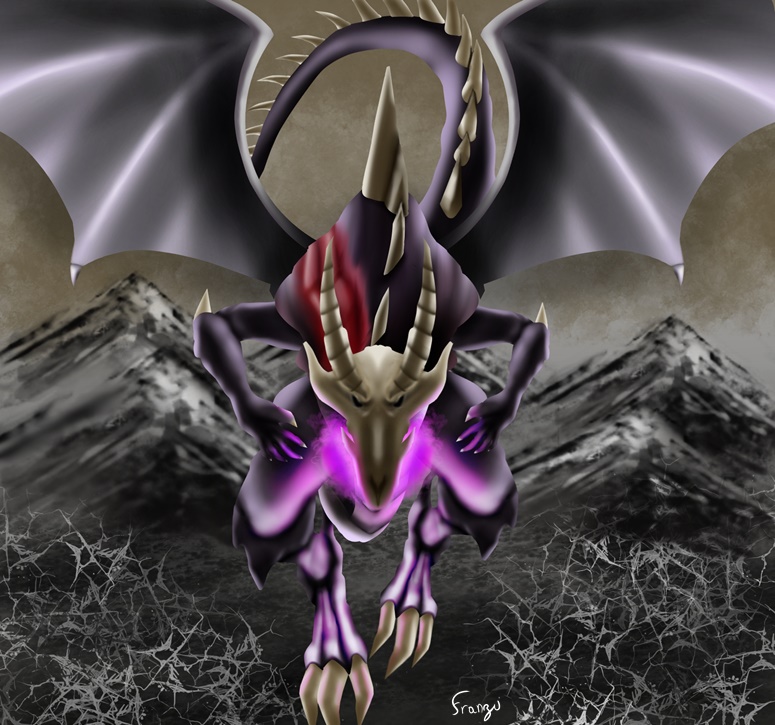 Title: BLACK DRAGON
Duration: 10 hours
Program: Krita i used a graphic tablet: Wacom Intuos S
| | |
| --- | --- |
| Splinterlands es un juego de cartas coleccionables que se ejecuta en la cadena de bloques de Hive, en Splinterlands cada usuario posee ciertas cartas las cuales conforman su colección que usa para jugar y enfrentarse a los demás jugadores, siendo un juego muy entretenido debido a las distintas estrategias que se pueden usar dependiendo de las cartas que poseas en tu maso. | Splinterlands is a collectible card game that runs on the Hive block chain, in Splinterlands each user has certain cards which make up their collection that they use to play and face other players, being a very entertaining game due to the different strategies that can be used depending on the cards you have in your deck. |

My social network:
| About Franzu 💎 | INSTAGRAM! |
| --- | --- |
| Frank Perez, Venezuelan. He is an apprentice of digital illustration. He is currently experimenting with new ways of painting in search of creating his own style. / Frank Pérez, venezolano. Es un aprendiz de la ilustración digital. Actualmente se encuentra experimentando nuevas formas de pintar en busca de crear un estilo propio. | |
I hope you like this illustration as I do and see you in future publications!