I like to express feelings with my illustrations, this time I think this one has a touch of fun but also a bit of nostalgia, so it´s like a colorful mix of both sensations. Or at least you can say that she´s an "aesthetic" girl, hehe. And happy new year btw!!!
---
Me gusta expresar sentimientos con mis ilustraciones, esta vez creo que esta tiene un toque divertido pero también un poco de nostalgia, así que es como una mezcla colorida de ambas sensaciones. O al menos se puede decir que es una chica "aesthetic", jeje. Y feliz año nuevo por cierto!!!
---
This is one of my drawings initially made for creative drawing challenges. However, today I decided to take the original drawing (made with crayons and markers, as I usually do) and transform it digitally, taking advantage of the fact that I´m learning to use my graphic tablet.
---
Este es uno de mis dibujos inicialmente hechos para desafíos de dibujo creativo. Sin embargo, hoy decidí tomar el dibujo original (hecho con crayones y rotuladores, como suelo hacer) y transformarlo digitalmente, aprovechando que estoy aprendiendo a usar mi tableta gráfica.
---
I hope you like this experiment.
Next: I'm gonna do my first fully digital illustration, I think it's time :).
---
---
🌺🌺🌺🌺🌺🌺🌺🌺🌺🌺🌺🌺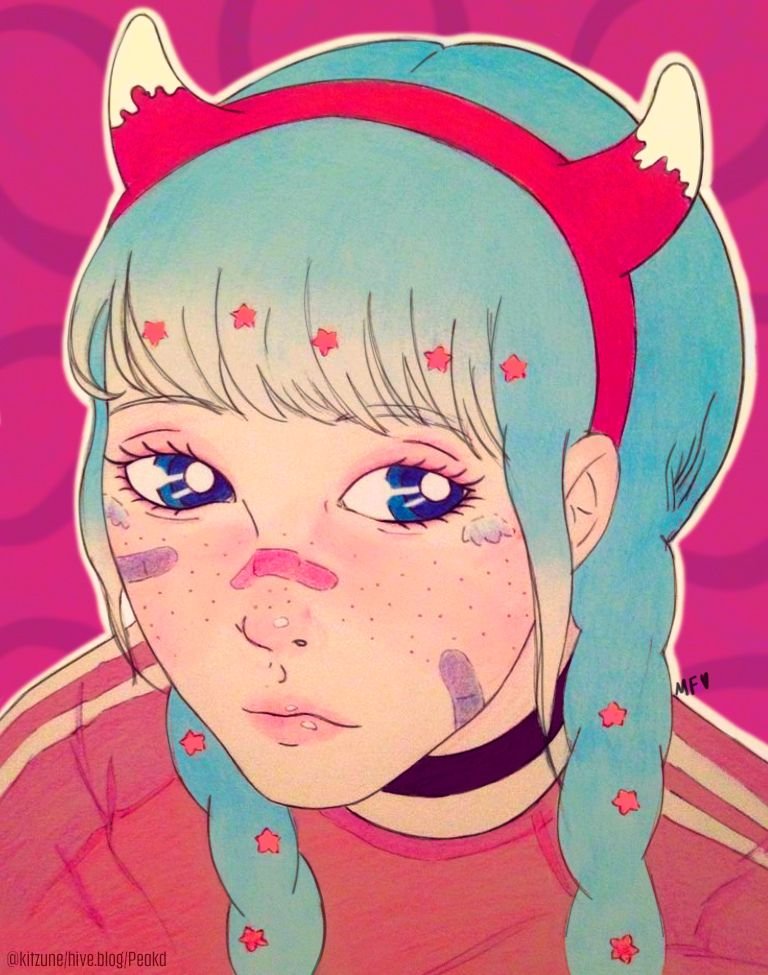 I like the kind of manga style she has, but with a little bit of realism in it. This was fun to make!
🌺🌺🌺🌺🌺🌺🌺🌺🌺🌺🌺🌺
---
By Fernanda Rojas @kitzune
Thanks for reading!
If you like my art or wanna see more of other things I've made check out my profile! ♥️
---


.
.
.
.
.
.
.
Vote, comment or reblog it ! 🌸
Thanks a lot ♥️
Follow me on:
Twitter
Instagram
---
This was the original version, that I made in 2019: