It is a wonder that these huge destructive beasts of the Burning Lands don't bring their own cave walls crashing down upon themselves each day. They don't use weapons; the Trolls' fists are stronger than any club. Trolls never emerge from the caves, they are allergic to sunlight, gradually turning to stone when exposed for extended periods of time. Link
Es una maravilla que estas enormes bestias destructoras de las Tierras Ardientes no hagan caer cada día las paredes de sus propias cuevas. No utilizan armas; los puños de los Trolls son más fuertes que cualquier garrote. Los Trolls nunca salen de las cuevas, son alérgicos a la luz del sol, convirtiéndose gradualmente en piedra cuando están expuestos durante largos periodos de tiempo. Link
---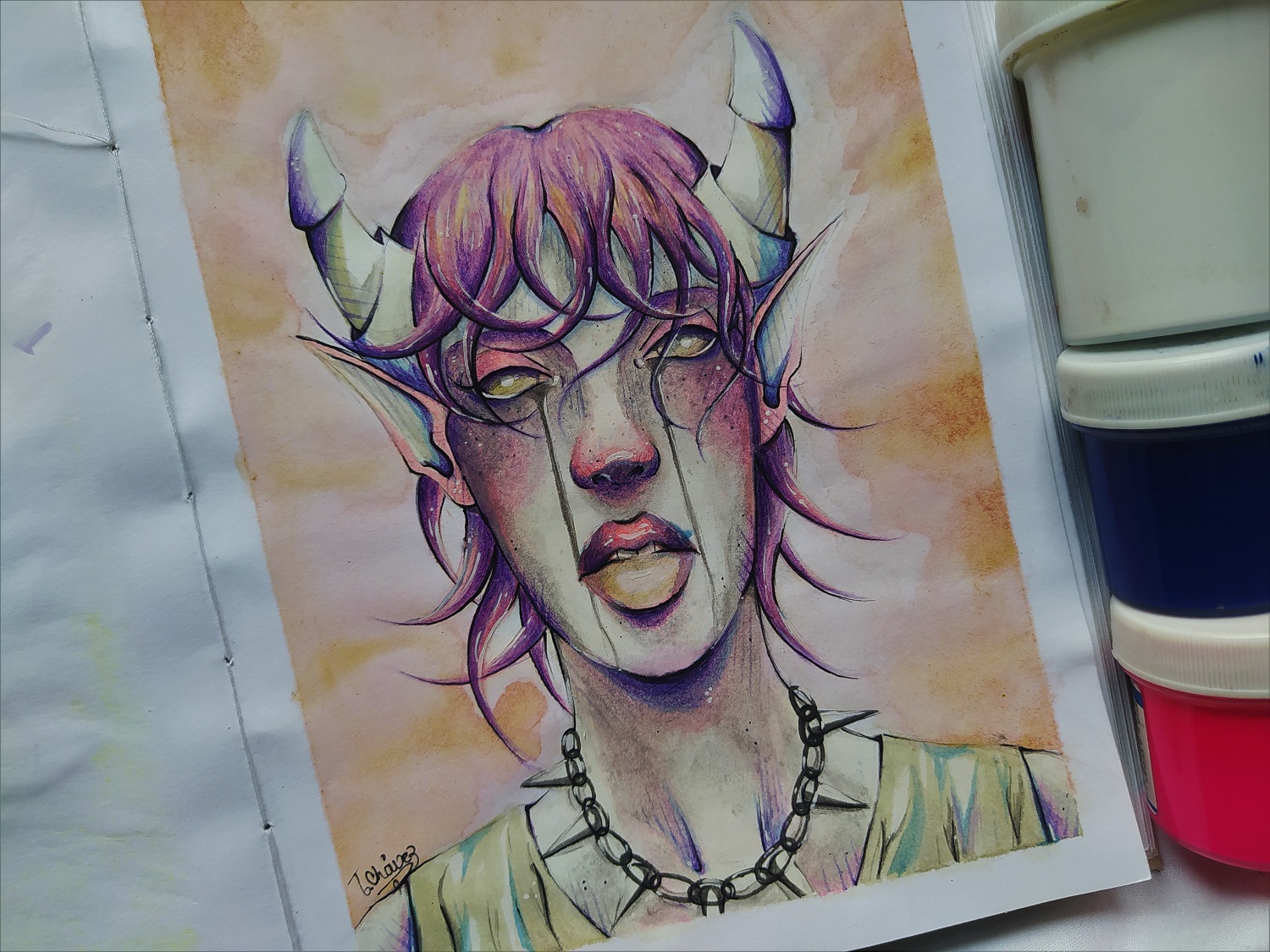 Original JesberChavez
---

Hi guys, I come back to the blog to share a #fanart of @Splinterlands, this time of the card Magma Troll and to be honest, I really liked this card, mostly because of the color palette, mostly in warm tones. Although I liked the character, I wanted to change a lot of it, in a few words I changed everything, the only thing I kept of the character, were the ears, but everything else I changed it completely.
Hola chicos, vengo nuevamente al blog para compartir un #fanart de @Splinterlands, esta vez de la carta Magma Troll y para serles sincero, esta carta me gusto mucho, mas que todo por la paleta de color, en tonos cálidos en su mayoría. A pesar de que el personaje me gusto, quise cambiar mucho del mismo, en pocas palabras lo cambie todo, lo único que conserve del personaje, fueron las orejas, pero todo lo demás lo cambie por completo.
---
⬛➖⬜➖◼➖◻➖🌵 PROCESS // PROCESO 🌵➖◻➖◼➖⬜➖⬛
---
I started with the sketch and for this I wanted to go only for the face, I've been doing half body drawings lately, almost full body, so for this one I wanted to focus on the face. I love to draw faces and for this drawing I wanted to work as subtle as I could, because sometimes I do very bloody and macabre faces, but for this drawing I wanted to make it more calm. So the final sketch was like a kind of rocker troll and I really loved it.
Comencé con el boceto y para ello quise irme solo por el rostro, he estado haciendo últimamente dibujos medio cuerpo, casi en cuerpo completo, así que para este quise enfocarme en el rostro. Yo amo dibujar rostros y para este dibujo quise trabajar lo mas sutil que pude, porque a veces hago unos rostros muy sangrientos y macabros, pero para este dibujo quise hacerlo más tranquilo. Así que el boceto final quedo como un tipo de trol roquero y la verdad me encanto.
For the color palette of the drawing, I focused on certain colors that were related to the original illustration, such as red, orange and yellow. The more I was painting the drawing, the more I realized that the color palette I had used did not convince me much, I did not feel comfortable with it, so little by little I was changing some tones in the drawing and I was creating another color palette different from the one I had taken initially.
Para la paleta de color del dibujo, me enfoque en ciertos colores que tuvieran relación con la ilustración original, como rojo, naranja y amarillo. Mientras más iba pintando el dibujo, más me daba cuenta que la paleta de color que había usado no me convencía mucho, no me sentía a gusto con la misma, así que poco a poco fui cambiando algunos tonos en el dibujo y fui creando otra paleta de color distinta a la que había tomado inicialmente.
Without a doubt, I am a fan of working with cold color palettes, in blue and purple tones, because it was the color palette that I ended up using in the end, I feel totally comfortable working with those colors, which surprises me a little, because before I used to use very warm color palettes, but I think that with time you change and so do your tastes.
Sin duda alguna, soy fanático de trabajar paletas de color frías, en tonos azules y morados, porque fue la paleta de color que termine usando al final, me siento totalmente a gusto trabajando con esos colores la verdad, lo cual me sorprende un poco, porque antes usaba mucho lo que eran paletas de color en tonos muy cálidos, pero creo que con el tiempo vas cambiando y tus gustos también.
Something I also have to say, is that the original character doesn't have horns, but you know that I love to make horns to my drawings, if I don't make them I feel that they are naked hahaha. In the end the last thing I did was to make a couple of final details to give the last touches to the drawing and that's it. Guys, I really loved this drawing, the tones and the composition of it, I just loved it, you can tell that I love making faces.
Algo que también tengo que decir, es que el personaje original no tiene cuernos, pero ustedes saben que yo amo hacerles cuernos a mis dibujos, si no se los hago siento que están desnudos jajaja. Al final lo ultimo que hice fue hacerle un par de detalles finales para darle los últimos retoques al dibujo y listo. Chicos, realmente ame demasiado este dibujo, los tonos y la composición del mismo simplemente me encantaron, es que se nota que amo hacer rostros.
I hope you like it!
¡Espero que te guste!

🌿 "Magma Troll" Jesber's Version🌿
---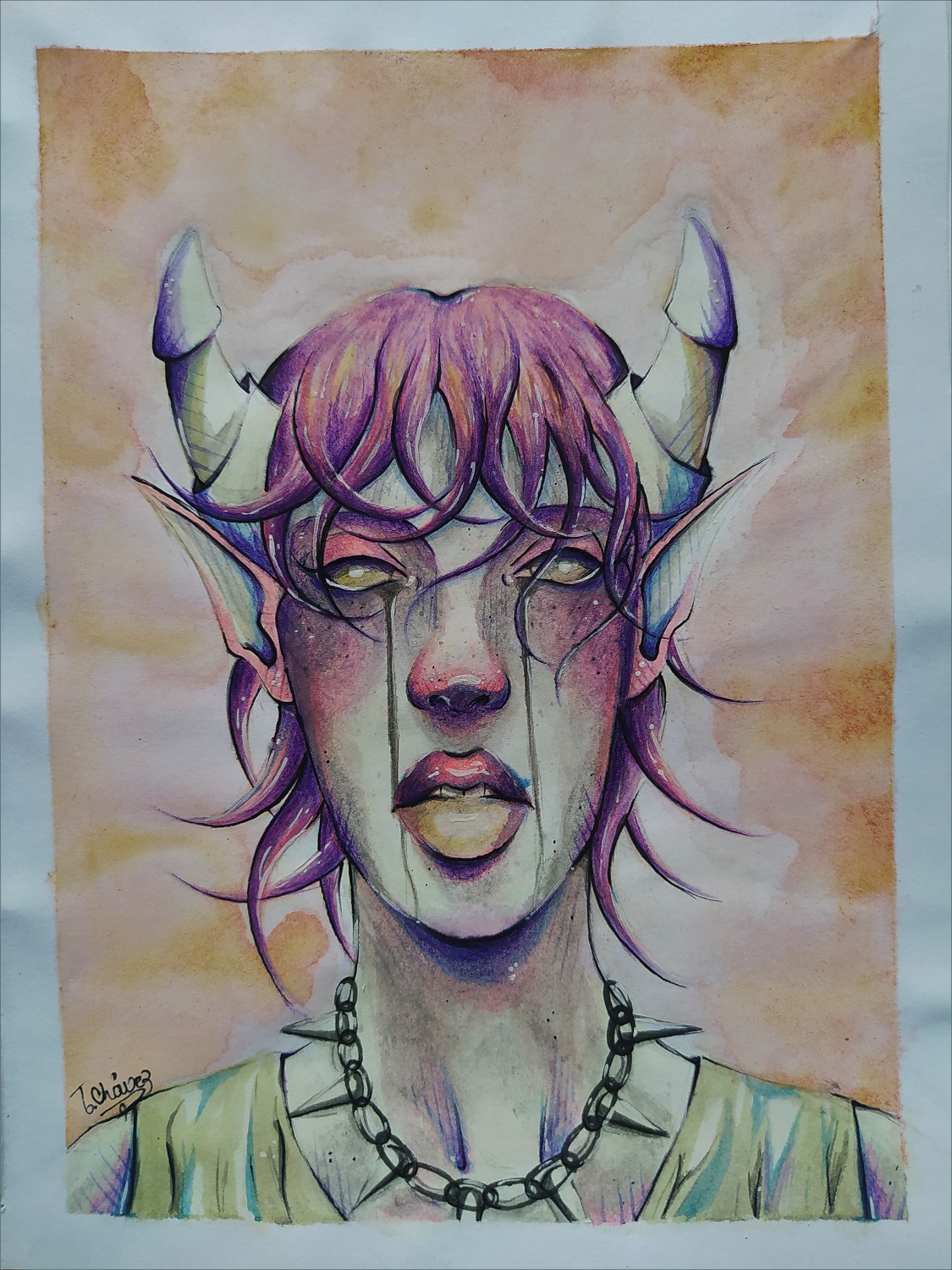 Original Jesber Chavez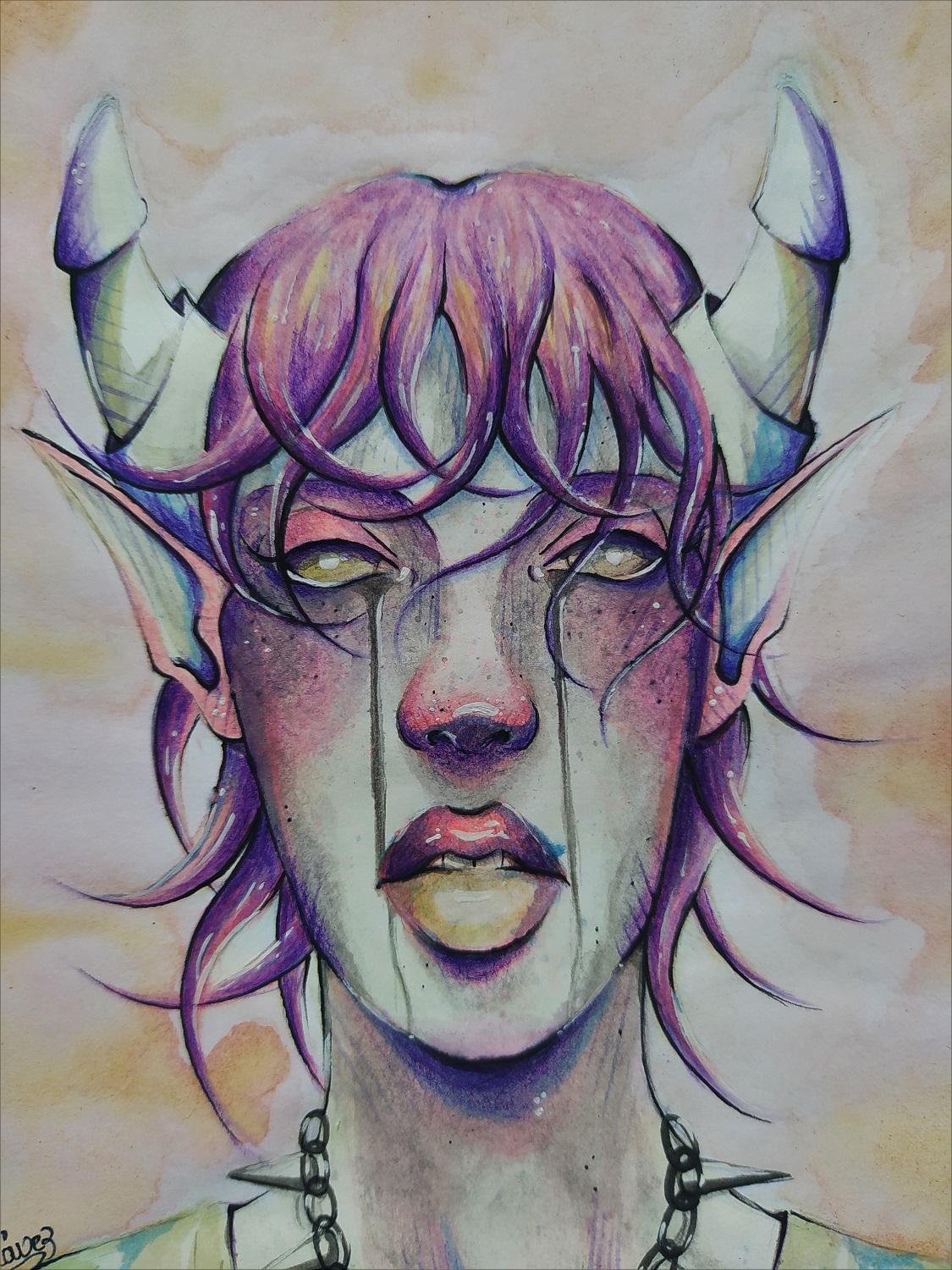 ---

🌿 Magma Troll 🌿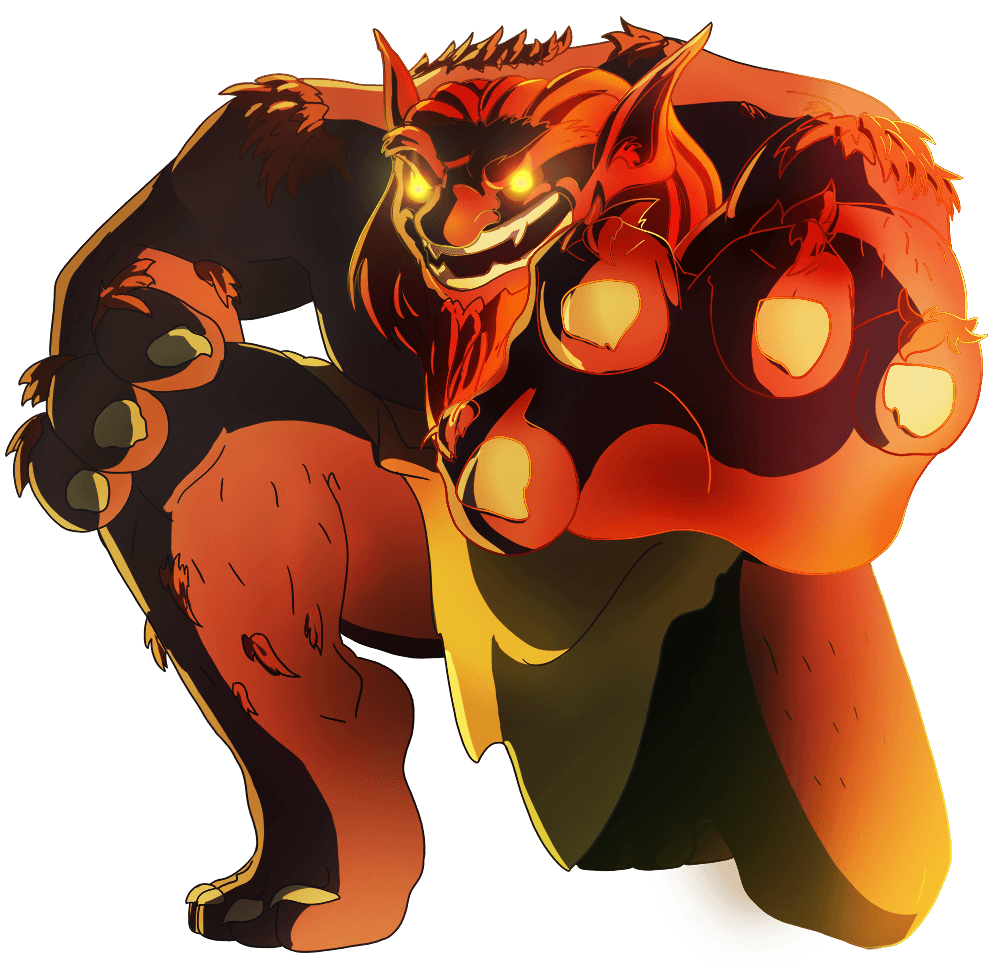 Link

---
Summary of the whole Process
Resumen de todo el Proceso
---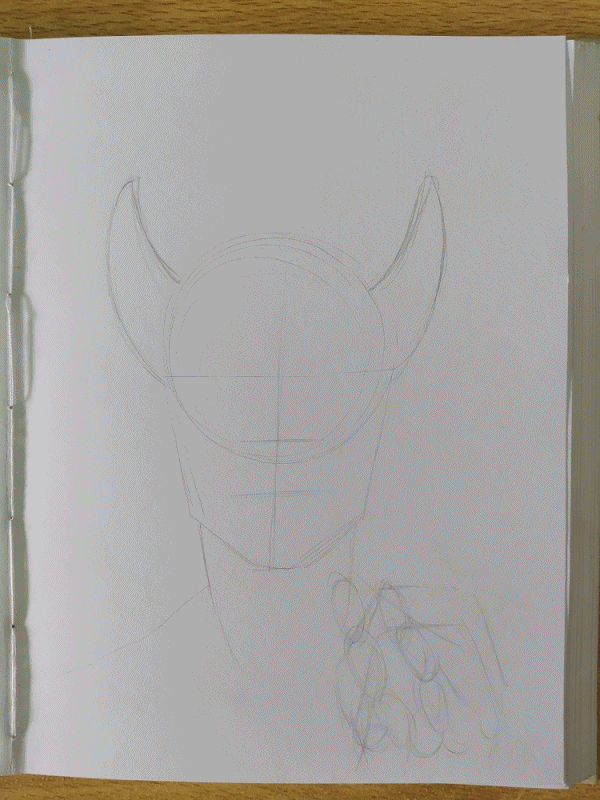 ✨Thank you for entering the publication.✨

✨Gracias por entrar a la publicación.✨
---
NFTShowroom
Rarible
GhostMarket
Instagram
---
---
Translated thanks to Deepl
Traducido gracias a Deepl
https://www.deepl.com/translator
---