On the storm-ridden realm of Veorgaror, the night ghoul carved out its existence in the lonesome darkness. It fed on small prey in the wetlands and underground, and although it looked utterly terrifying, the creature rarely killed, preferring instead to forage the rotting meat of corpses. Link
En el reino de Veorgaror, asolado por las tormentas, el necrófago nocturno se labraba su existencia en la solitaria oscuridad. Se alimentaba de pequeñas presas en los humedales y en el subsuelo, y aunque su aspecto era totalmente aterrador, la criatura rara vez mataba, prefiriendo en cambio alimentarse de la carne podrida de los cadáveres. Enlace
---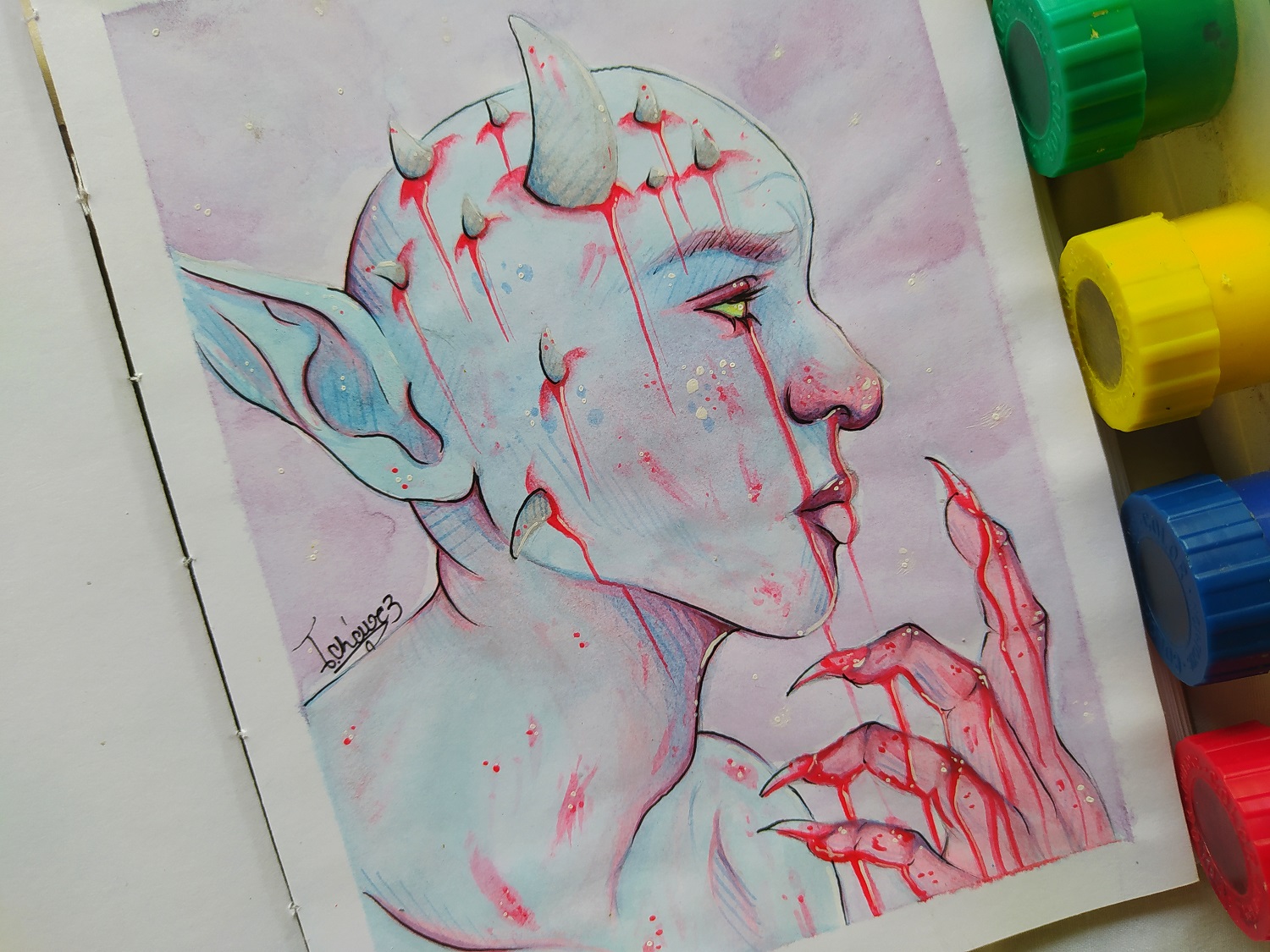 🌿✨ Night Ghoul | FAN ART✨🌿
Original JesberChavez
---

I think you already know that I'm a fan of very bloody and dark things, I love everything related to that kind of themes and when I saw this character in the cards section of @Splinterlands I just had to do my version. I'm noticing that I love to add blood to the drawings and for this one in particular, I had to integrate the blood and I think that touch made the drawing look super dark, besides bloody.
Creo que ya ustedes saben que soy fanático de cosas muy sangrientas y oscuras, me encanta todo lo relacionado a ese tipo de temas y por cuando vi a este personaje en la sección de cartas de @Splinterlands simplemente tenia que hacer mi versión. Estoy notando que me encanta agregar sangre a los dibujos y para este en concreto, debía integrar la sangre y creo que ese toque que hizo que le dibujo quedara super oscuro, ademas de sangriento.
---
⬛➖⬜➖◼➖◻➖🌵 PROCESS // PROCESO 🌵➖◻➖◼➖⬜➖⬛
---
I started making the sketch in my sketchbook, for this I looked at the original character, seeing elements and the composition of it, so I could have an idea for what would be my version of the drawing. It occurred to me to work only the face for this drawing, I love making faces, so I decided that I was going to make my version of this character only the face and profile, adding a bloody hand to the sketch and make it have more similarity to the original illustration.
Comencé haciendo el boceto en mi cuaderno de dibujos, para ello me fije en el personaje original, viendo elementos y la composición del mismo, para así tener una idea para lo que seria mi versión del dibujo. Se me ocurrió trabajar solo el rostro para este dibujo, yo amo hacer rostros, entonces decidí que iba a hacer mi versión de este personaje solo del rostro y de perfil, agregando una mano sangrienta al boceto y hacer tener mas similitud a la ilustración original.
When I had the sketch finished, I went to work on the color throughout the drawing. To work the color palette, I looked at the colors of the original illustration, which basically was a color palette in cold tones, like blue, purple, red and gray, so those were the colors I took to work my drawing. As I knew that the drawing was going to have a lot of red because of the blood, I decided not to give much color to the character in terms of skin, to make sure that the blood is the main protagonist in this illustration.
Cuando tenia el boceto terminado, me fui a trabajar el color en todo el dibujo. Para trabajar la paleta de color, me fije en los colores de la ilustración original, que básicamente era una paleta de color en tonos fríos, como azul, morado, rojo y gris, así que esos fueron los colores que tome para trabajar mi dibujo. Como sabia que el dibujo iba a tener mucho rojo por la sangre, decido no darle mucho color al personaje en cuanto a la piel, para así asegurarme de que la sangre sea la mayor protagonista en esta ilustración.
When it was time to work the blood all over the character, I had to restrain myself a little and not to fill the whole drawing with blood, I know myself and there are times when I just get carried away and saturate my drawings too much, but for this one I had to restrain myself a little. I gave some final details to finish it and that's it, that would be all.
Cuando llego la hora de trabajar la sangre en todo el personaje, tuve que contenerme un poco y así no llenar todo el dibujo de sangre, me conozco y hay que veces en las que simplemente me dejo llevar y saturo mis dibujos mucho, pero para este tuve que contenerme un poco. Le di algunos detalles finales para culminarlo y listo, eso seria todo.
I hope you like it!
¡Espero que te guste!

🌿 "Night Ghoul" Jesber's Version🌿
---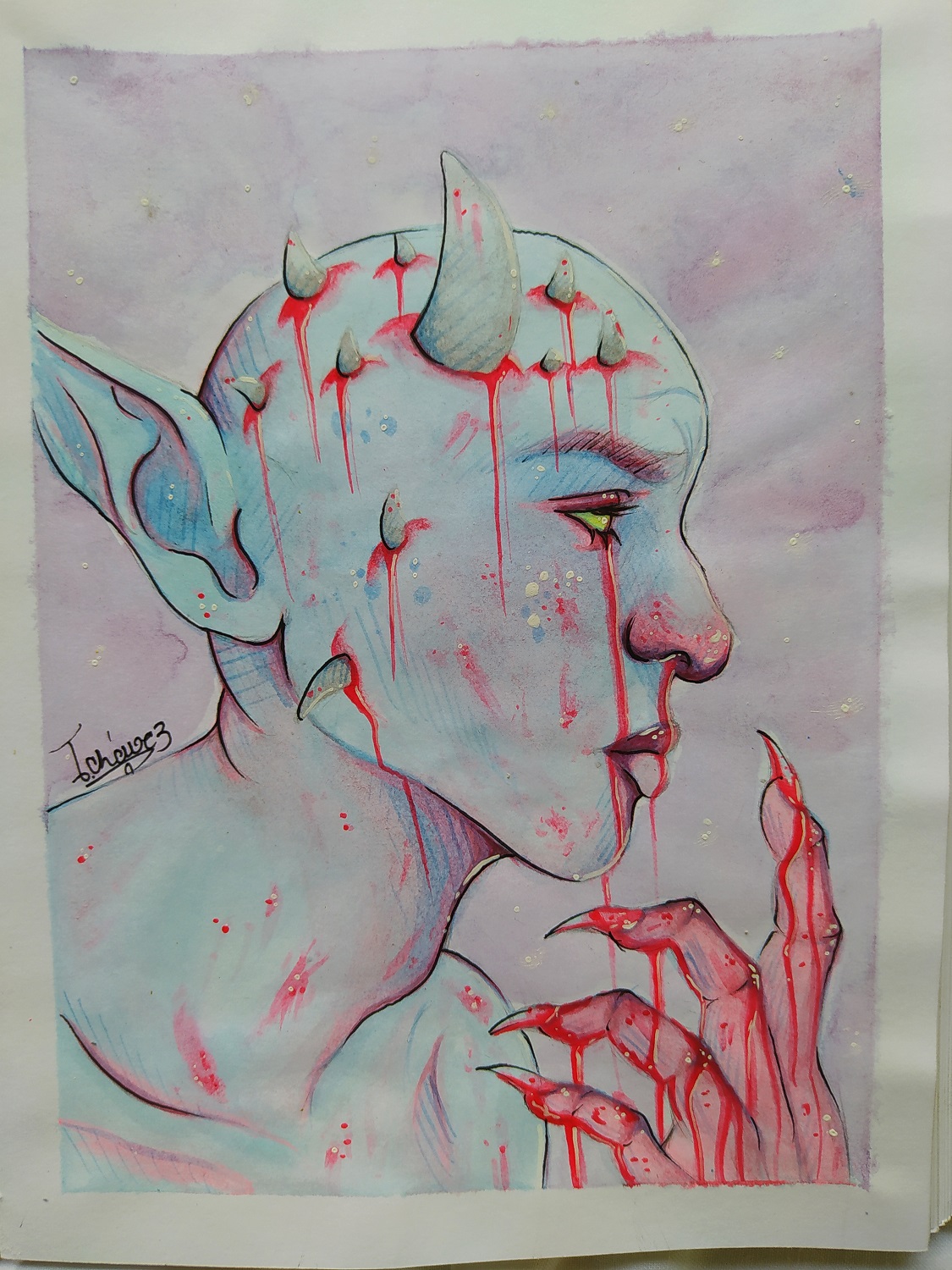 Original Jesber Chavez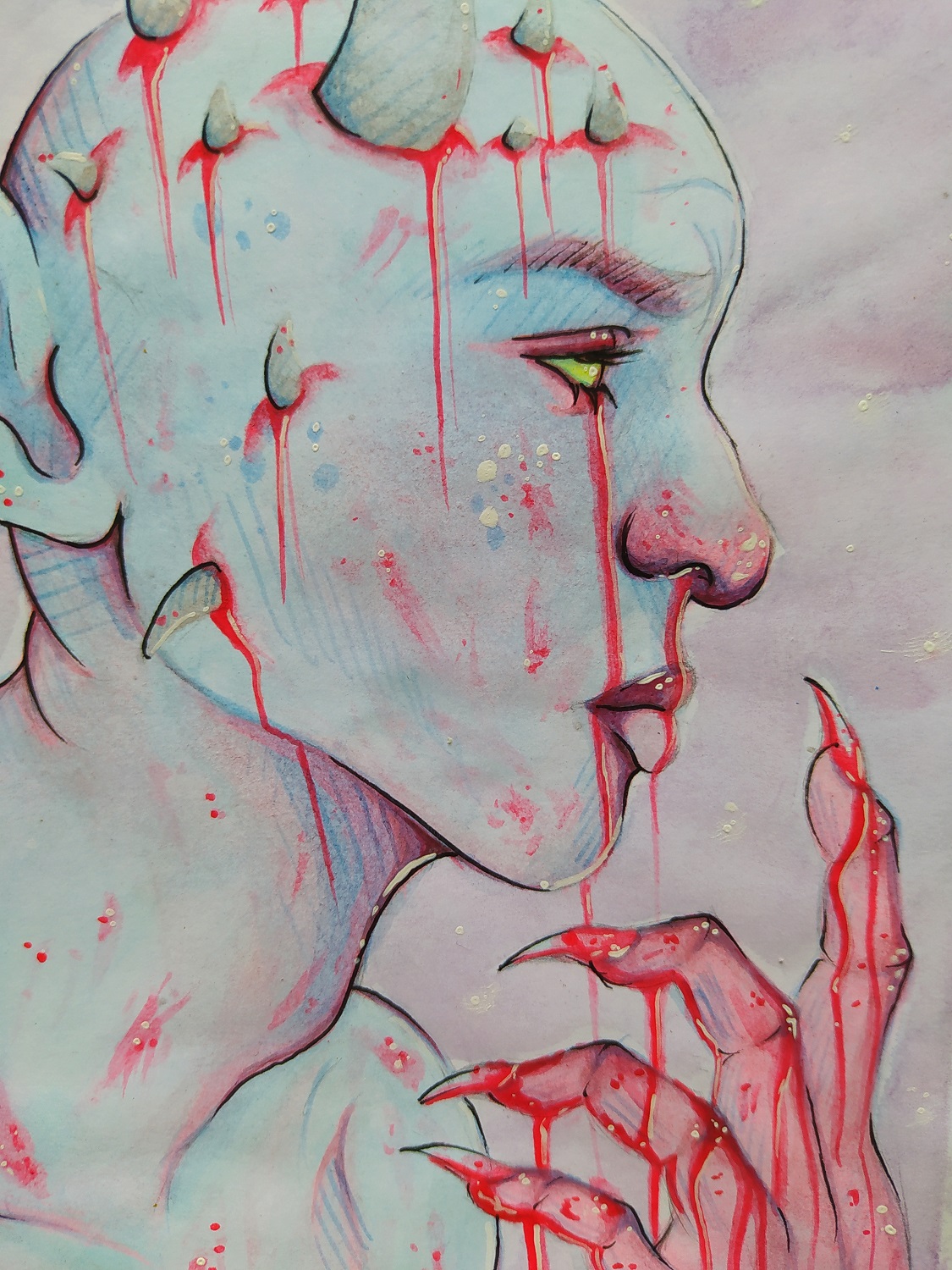 ---

🌿Night Ghoul🌿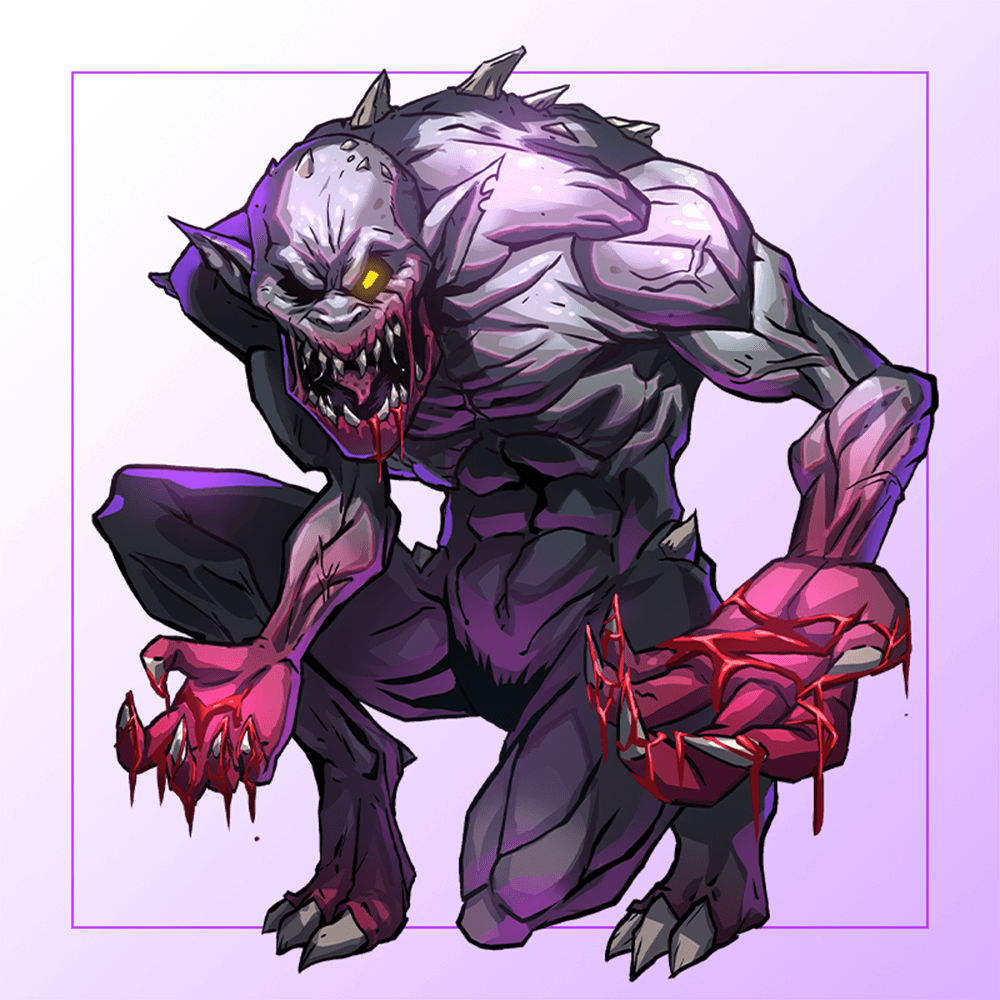 Link

---
✨ Summary of the whole Process ✨
✨ Resumen de todo el Proceso ✨
---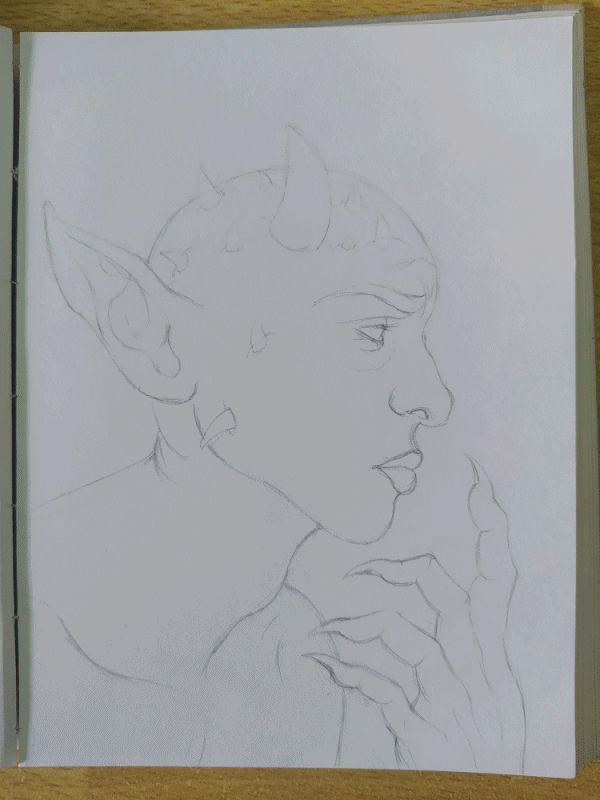 ✨Thank you for entering the publication.✨

✨Gracias por entrar a la publicación.✨
---
NFTShowroom
Rarible
GhostMarket
Instagram
---
---
Translated thanks to Deepl
Traducido gracias a Deepl
https://www.deepl.com/translator
---