Hello Hivians,
One of the oldest questions in philosophy and psychology, is whether humans have free will. Even if our choices feel free, we are not able to be sure whether they are really based on free decisions.
Of course there are many natural things in the world that influence our decisions. Hunger, danger and fear, sexual desire, sexual attraction, greed or the deeds of other life forms in our habitat and a lot more.
But since humans have developed languages, there is another influence to our decisions in the world. The word!
Humans are intelligent beings. So we've quickly learned how powerful language can be to get what we want.
The evolution of language and rhetoric took its course, technical tools were developed to spread the word even more efficiently, and of course, to ensure influence.
By now, most of us are connected to these tools. And more and more the question should arise, how much of our free will is really free.
Enough of my epochal whimpering... This topic or rather my thoughts about it was the inspiration that lead to this picture.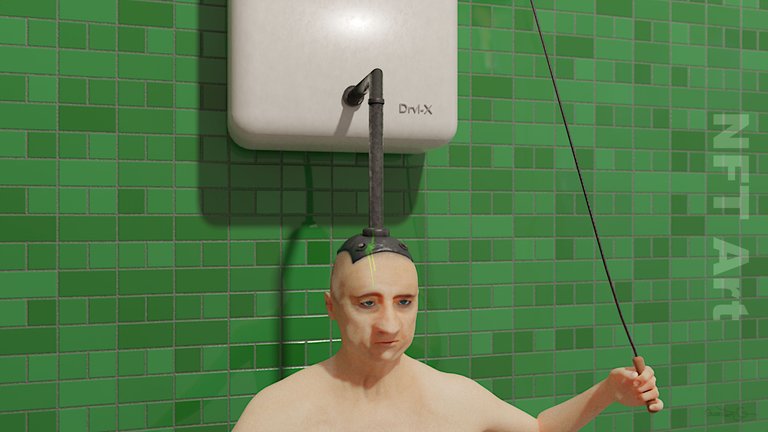 Creation of the picture
I modeled it in Blender 2.9x. The guy with the tube in his head is based on my own basic human model, onto which I sculpted his specific face.
All the texture work and the finishing was done in GIMP.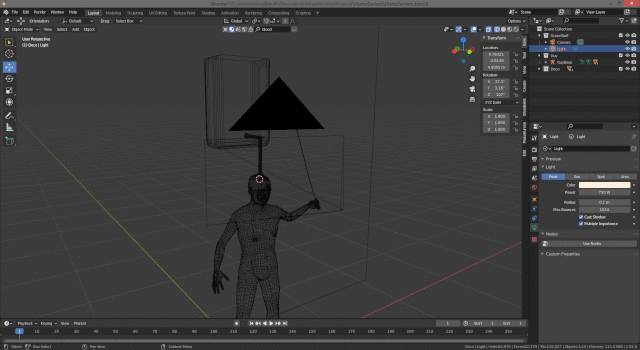 Tokenized art
I've uploaded the picture to the NFT Showroom. It is for sale there in tokenized form, in my collection "Epochal Whimpering".
Link: The original picture on NFT Showroom
You would make me very happy if you would stop by there. :-)
Dimensions of the picture on NFT Showroom
Width: 3200 Pixels
Height: 1800 Pixels
Best regards
QuantumG

╭━━⋞ ☙ My NFT artworks ≻≺ ♖ My dCity ⋟━━╮
╰━━━━⋞ ♫ My Rising Star(s) ⋟━━━━╯