Digital art: two more eyes watching
Arte digital: dos ojos más que miran

Greetings my dear friends readers and art lovers, today taking advantage of my desire to paint, I bring you a piece that came out of a very unclear idea in my mind, but that was still very well developed at the time of making the sketch. And although the background story is somewhat subjective, I still liked the feeling of belonging to the piece as a spectator.
Saludos mis queridos amigos lectores y amantes del arte, hoy aprovechando mis ánimos de pintar, les traigo una pieza que salió de una idea muy poco clara en mi mente, pero que igualmente se dejaba desarrollar muy bien a la hora de hacer el boceto. Y aunque la historia de fondo es algo subjetiva, igual la sensación de pertenecer a la pieza como espectador me agrado mucho.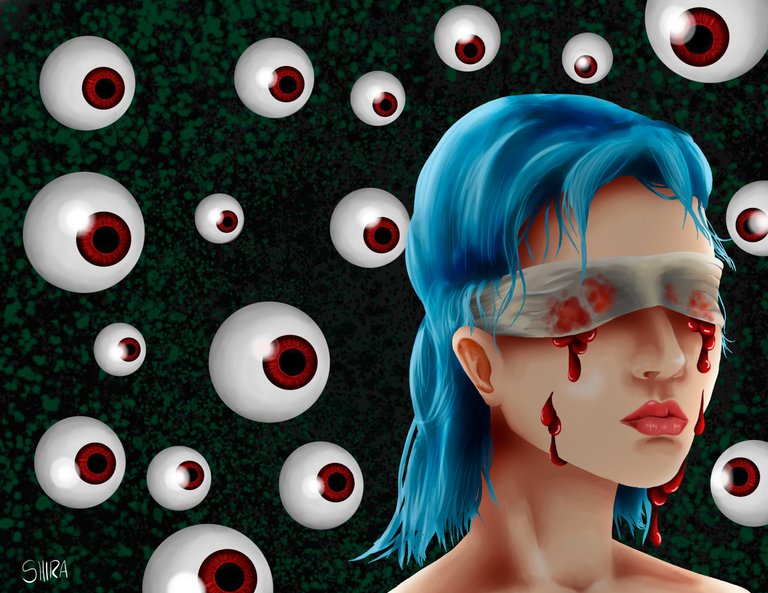 The piece is called "Two more eyes watching" and that is precisely what is interesting (for me) since each spectator will add more and more eyes that will be in charge of watching what happens to the girl... but... What happens to her? Or what happened to her? It is something that each one with their life experiences can define... although it is clear that nothing good happens when your tears are drops of blood...
La pieza tiene como nombre "Dos ojos más que miran" y es precisamente lo interesante (para mi) ya que cada espectador sumara más y más ojos que se encargaran de mirar lo que sucede a la chica… pero… ¿Qué le sucede? O ¿Qué le sucedió? Es algo que cada uno con sus experiencias de vida puede definir… aunque es claro que nada bueno pasa cuando tus lagrimas son gotas de sangre…

The process was quite fluid and while I was developing the idea in general I was constantly thinking about how to paint it... I didn't want to add line art but I also didn't want to make a too marked realism (I think that for this scene a little surreal was not the right one) so I decided to work with simple colors and shading... I think something more cartoonish but with realism although the eyes that contemplate absorbed the girl I tried to make them as realistic as I could and the background is a gradient between shape and color.
El proceso fue bastante fluido y mientras desarrollaba la idea en general pensaba constantemente en como pintarla… no quería agregar línea de arte pero tampoco hacer un realismo demasiado marcado (creo que para esta escena un poco surreal no era la indicada) así que decidí trabajar con colores y sombreados sencillos… creo que algo mas cartoon pero con realismo aunque los ojos que contemplas absortos a la chica trate de hacerlos lo más realistas que pude y el fondo es un degradado entre forma y color.

What I like about this piece is that although the girl is in a corner relegated to the dark, the whole environment leads to observe her and contemplate her reality which is perhaps what precisely gives this piece that surreal touch. As always I leave you some images with the development and processes in which you will see how I progress, from a simple sketch to the color gradient and the implementation of the background.
Lo que me gusta de esta pieza es que la chica aunque está en una esquina relegada a la oscuridad, todo el entorno lleva a observarla y contemplar su realidad que es quizás lo que precisamente de a esta pieza ese toque surreal. Como siempre les dejo algunas imágenes con el desarrollo y los procesos en los que verán como avance, desde un boceto sencillo hasta el degradado del color y la implementación del fondo.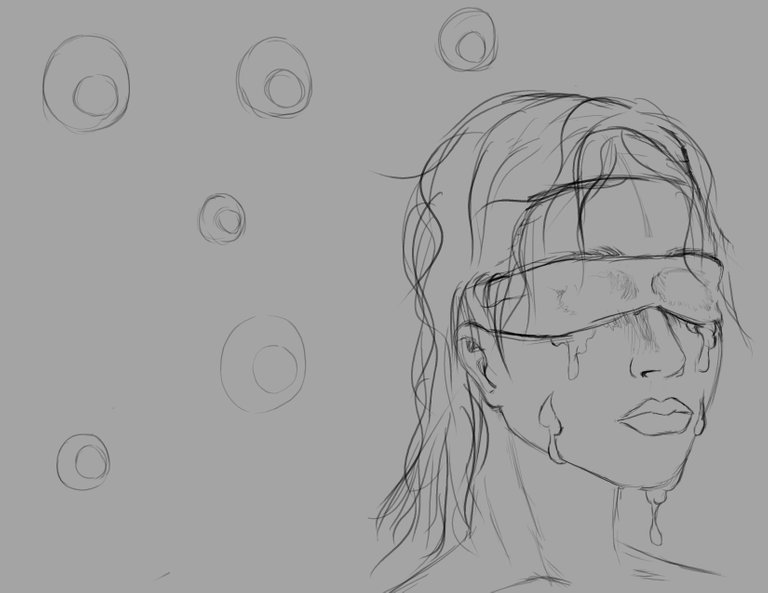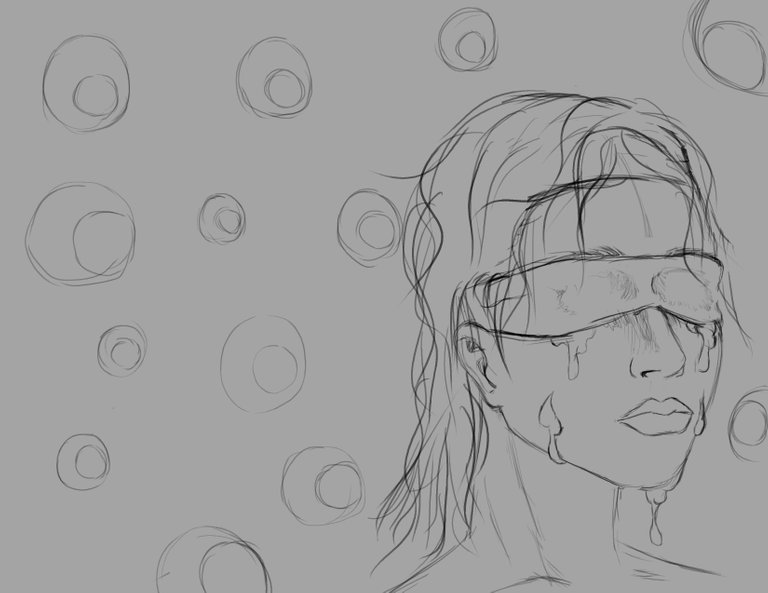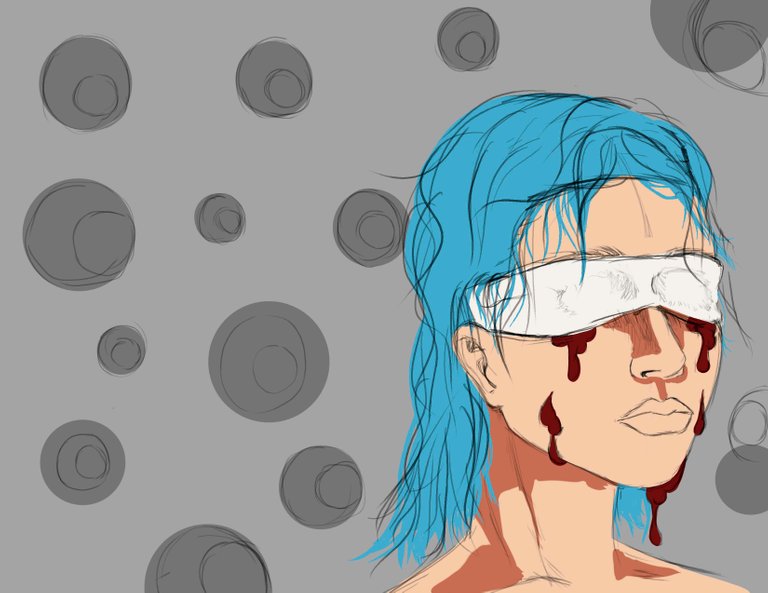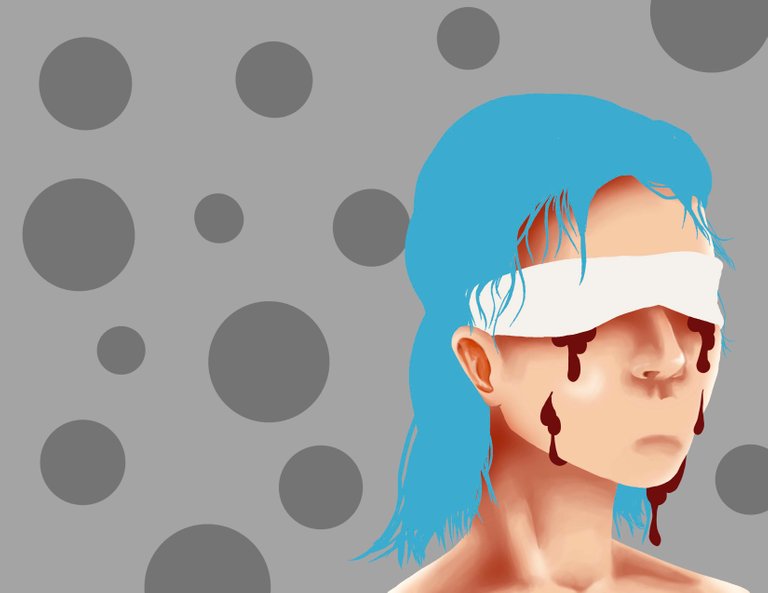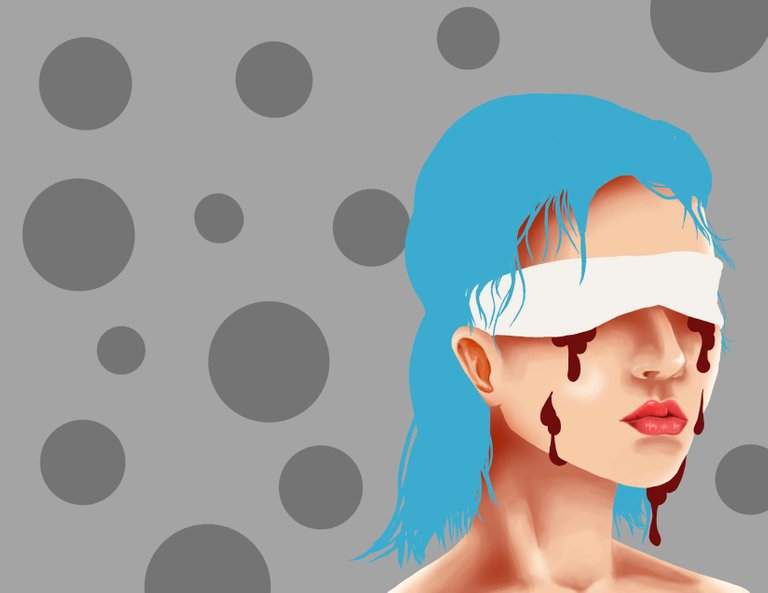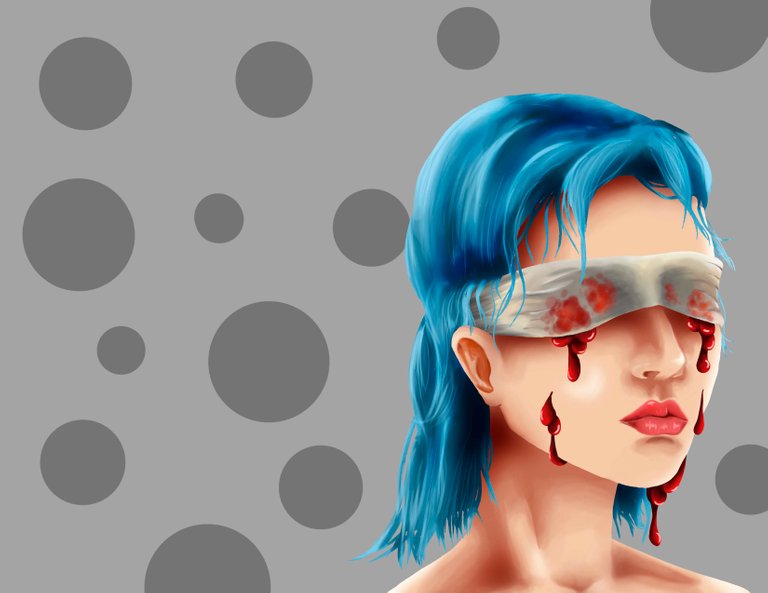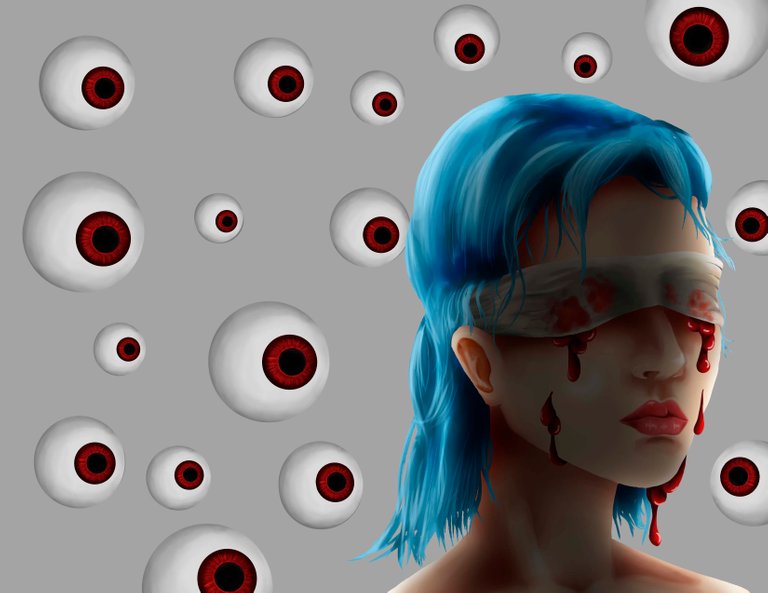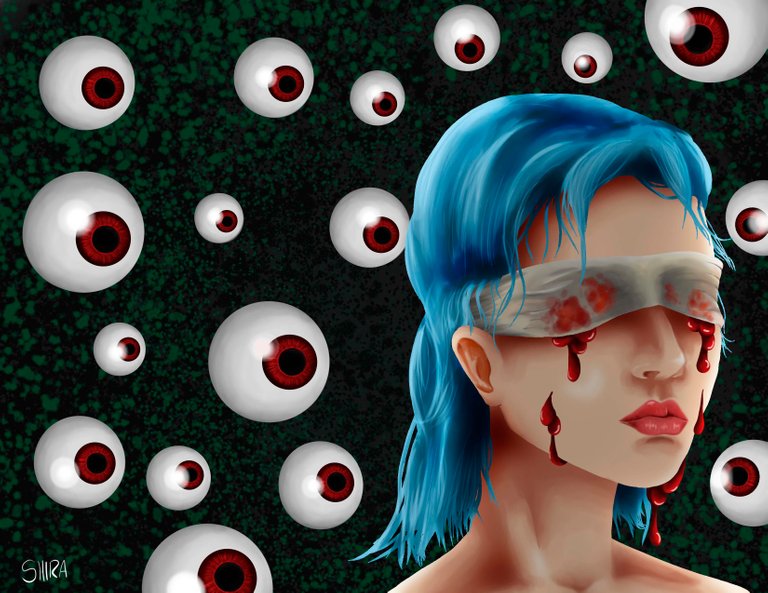 I hope you liked the piece and it conveyed some feeling to you. As always grateful to those who read me to the end and enjoy my paintings, love you @shirahoshi and hope to see you in a future post!
Espero que les gustara la pieza y les transmitiera alguna sensación. Como siempre agradecida con los que me leen hasta el final y disfrutan de mis pinturas, los quiere @shirahoshi y los espero en un próximo post!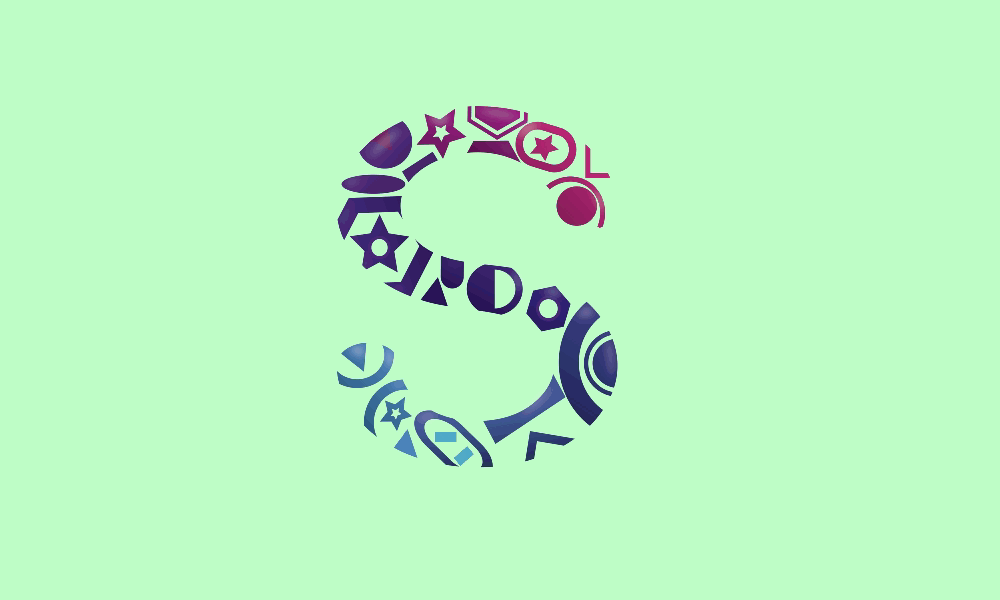 The Step by Step Gif was made by me in AdobePhotoshop CC2014.

The logo was designed by me in Adobe Illustrator CC 2015 and its animated version was made in After Effects CC 2017.

Language corrector used Deepl.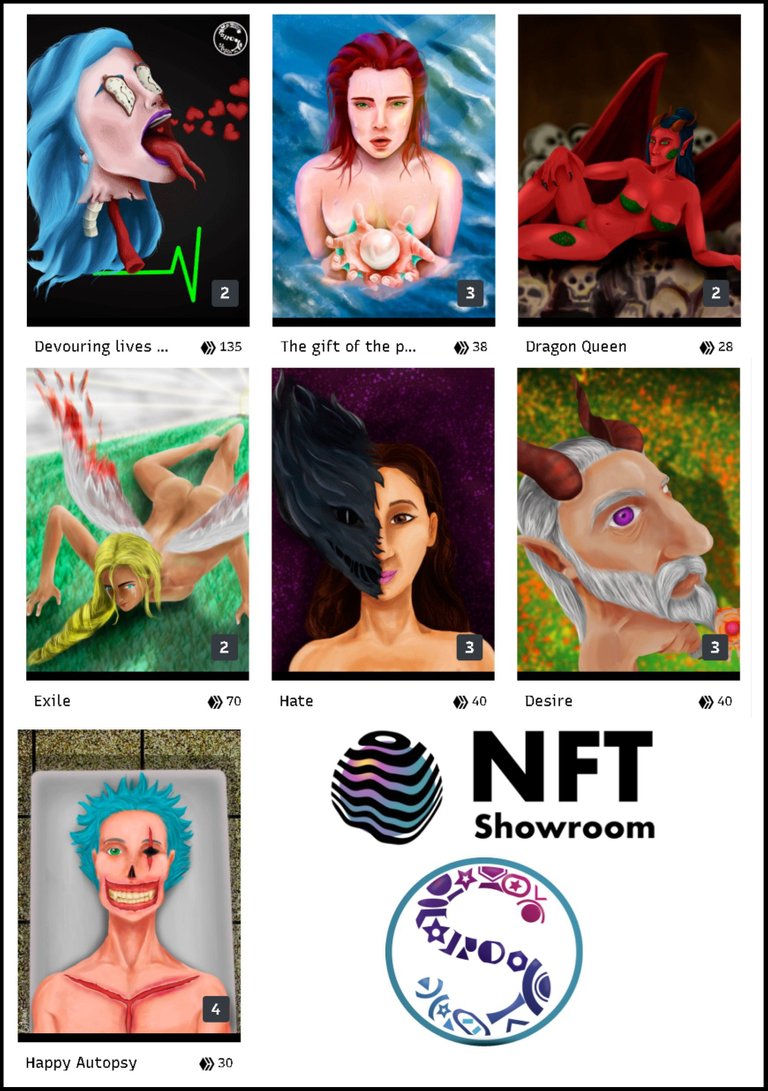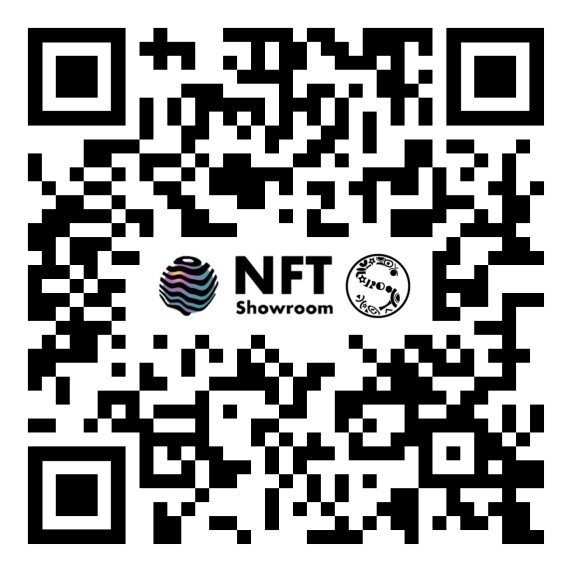 Remember that you can purchase these beautiful pieces of art made and tokenized by me at Nftshowroom at an excellent price. Link to the gallery here