Classification: Euclid.
Special containment procedures: SCP-0009-HV has to be covered by a black blanket at all times, at a temperature of 20 ° celcius and a relative humidity of 55%. Currently contained on the site ---- in a specially conditioned chamber illuminated with UV light 24 hours a day.
Looking directly at SCP-0009-HV under normal light is strictly prohibited. All the experiments that are carried out for their study have to be under UV light in the order of 100 to 200 nanometers.
Anyone viewing SCP-0009-HV under normal light by mistake must immediately take class E amnesiacs. Any photograph of SCP-0009-HV is accessible only to members level 4 or higher.
Description: SCP-0009-HV is a 40x30 cm oil painting mounted on a gilded wooden frame. Found in Texas in the city of ----- in the year 20 ---.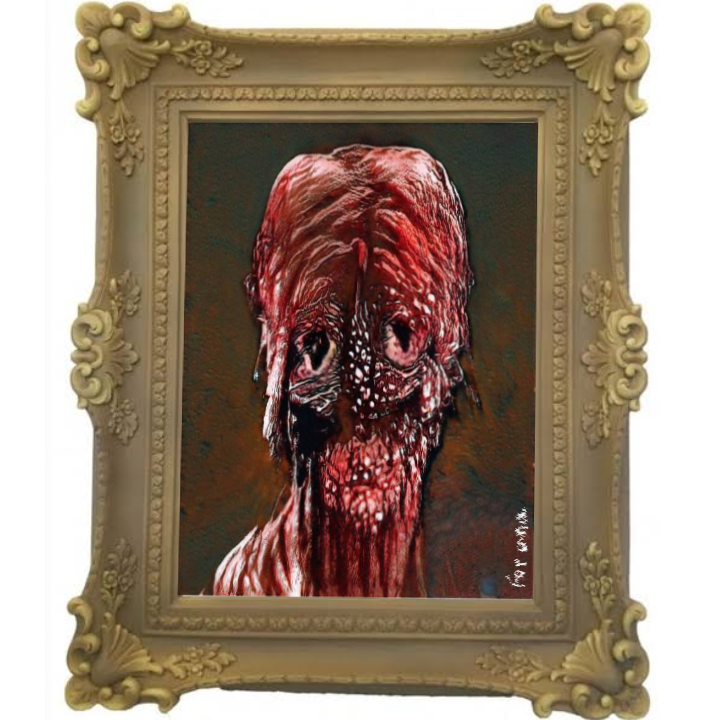 AI model partially created on artbreeder
The painting shows a skinned, blood-covered and totally disfigured humanoid figure of a deep red color that appears to outline an evil smile. The author of the work is unknown, the only signature on one side is the phrase "for ana" in white letters. SCP-0009-HV was found in a house where the owner claims never to have bought the painting that mysteriously appeared in his attic while cleaning.
SCP-0009-HV's anomalous properties appear after a couple of days of viewing the painting under normal light. At first the victim will not feel anything, but little by little they will begin to feel tired and small red dots will begin to appear on their skin.
The victim will begin to feel more and more exhausted and blood tests show anemia that does not subside under any treatment and quickly gives way to very aggressive leukemia. At this point the victims will begin to lose blood in a mysterious way leading to hypovolemia that quickly ends the life of the patient.
Autopsies do not show that the blood has been lost due to internal bleeding, it simply disappears from the body without a trace.
Once all this process is completed, the red paint becomes more intense and loses its shine as time passes until a new victim observes it and when the victim dies, the paint is again as if it were fresh.
Studies that have been conducted show that anomalous motions have an effect when looking at the painting under normal light. When viewed under far UV light the painting loses its anomalous effects and under this light the painting glows as if it were composed of blood. However, studies of the composition of the painting have shown that it is a mixture of traditional oil with a pigment that seems to come from a mineral called ---- found in -----.
The effects of SCP-0009-HV are also nullified when taking class E amnestics in the first hours after exposure, after 3 hours after exposure, no amnesic can avoid the fatal fate of SCP-0009-HV victims.
Abnormal effects can still be perceived as attenuated in normal or digital photographs but are easily avoided if the image is viewed with sunglasses or blue light filtering in the case of digital photographs.
Clasificación: Euclides.
Procedimientos de contención: SCP-0009-HV tiene que estar en todo momento cubierto por una manta negra, a una temperatura de 20° celcius y una humedad relativo del 55%. Actualmente contenido en el sitio ---- en una cámara especialmente acondicionada iluminada con luz UV las 24 horas del día
Queda estrictamente prohibido mirar directamente a SCP-0009-HV bajo luz normal. Todos los experimentos que se realicen para su estudio tienen que ser bajo luz UV en el orden de los 100 a 200 nanómetros.
Cualquier persona que mire a SCP-0009-HV bajo luz normal por error tiene que tomar de manera inmediata amnesicos de clase E. Cualquier fotografía de SCP-0009-HV es accesible únicamente para miembros nivel 4 o superior.
Descripción: SCP-0009-HV es una pintura al óleo de 40x30 cm montada en un marco de madera dorado. Encontrado en Texas en la ciudad de ----- en el año 20---.
La pintura muestra a una figura humanoide desollada, cubierta de sangre y totalmente desfigurada de color rojo intenso que parece esbozar una sonrisa maligna. Se desconoce el autor de la obra, la única firma que tiene a un costado es la frase "for ana" en letras blancas. SCP-0009-HV fue encontrada en una casa donde el dueño asegura jamás haber comprado la pintura que apareció misteriosamente en su ático mientras limpiaba.
Las propiedades anómalas de SCP-0009-HV aparecen después de un par de días de haber visto a la pintura bajo luz normal. Al principio la víctima no sentirá nada, pero poco a poco empezará a sentir cansancio y pequeños puntos rojos comenzarán a aparecer en su piel.
La víctima comenzará a sentirse cada vez más agotada y los exámenes de sangre muestran una anemia que no cede bajo ningún tratamiento y que rápidamente da paso a una leucemia muy agresiva. Llegados a este punto las víctimas comenzarán a perder sangre de manera misteriosa dando lugar a una hipovolemia que termina rápidamente con la vida del paciente.
Las autopsias no muestran que la sangre se haya perdido debido a alguna hemorragia interna, simplemente desaparece del cuerpo sin dejar rastro.
Una vez completado todo este proceso la pintura roja se vuelve más intensa y va perdiendo brillo conforme pasa el tiempo hasta que una nueva víctima la observa y cuando muere la pintura vuelve a estar como si estuviera fresca.
Los estudios que se han realizado muestran que las propuestas anómalas tienen efecto cuando se mira la pintura bajo la luz normal. Al mirarse bajo luz UV lejana la pintura pierde sus efectos anomalos y bajo esta luz la pintura brilla como si estuviera compuesta de sangre. Sin embargo los estudios de la composición de la pintura han arrojado que se trata de una mezcla de óleo tradicional con un pigmento que parece provenir de un mineral llamado ---- encontrado en -----.
Los efectos de SCP-0009-HV quedan anulados también al tomar amnésicos de clase E en las primeras horas después de su exposición, pasadas 3 horas después de la exposición ningún amnesico puede evitar el fatal destino de las víctimas de SCP-0009-HV.
Los efectos anomalos aún pueden percibirse atenuados en fotografías normales o digitales pero son fácilmente evadidos si la imagen se mira con gafas de sol o que filtren la luz azul en caso de las fotografías digitales.
Post free of plagiarism.
Thanks for reading, upvote and reblog. 🙂