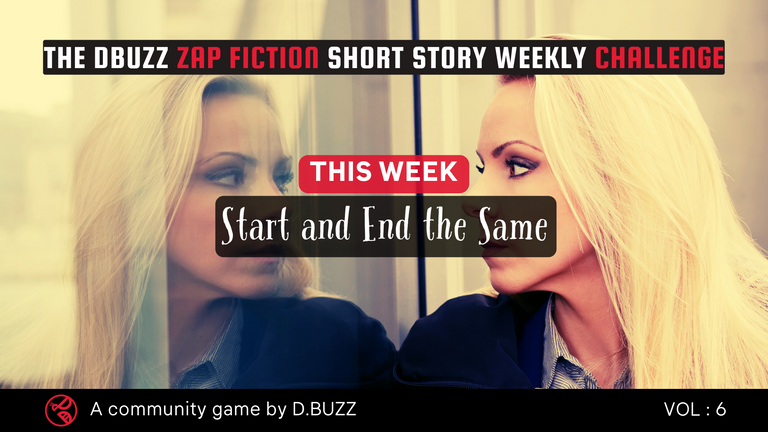 The DBuzz Zap fiction short story weekly challenge: Week 6
Greetings, fellow writing enthusiasts!
It's Friday, buzz authors!
Time to swap buzzing out for zapping as we present this week's DBuzz short-form Zap fiction challenge post! We always like to keep things fresh around here, so this week, we are trying something a bit different. The challenge this week is to use your creativity and write a story where the first and last lines are the same. The topic of the story could be anything you wish, but the first and last lines must be identical.
To get you started, think of the first and last lines as the buns of a hamburger, and fill up the middle with a short and compelling Zap fiction story.
Here's an example:
The coffee tasted good. However, Susan did not realize it was poisoned. She drank it and got sleepy. Her last thoughts were that... the coffee tasted good.
Sure, it's a bit dark, but it was only meant to be an example.
We can't wait to see all the creative Zap Fiction stories our buzzketeers come up with for this one. Get your writer's hats on and start brainstorming!
Last week, we challenged you to write about a dark secret found in a family diary, and we were engrossed by the many submissions we received. After reading them all, we're thrilled to announce that the winner is @esbat with their intriguing tale of a cloned grandparent! It was a captivating story, and we can't wait to see what other fascinating tales our community will come up with next.
Remember, you MUST use the DBuzz frontend to post. While it's true you can use any other Hive frontend to post on DBuzz, we will only accept entries that are from the DBuzz interface. If you click on your buzz, you will see where it was submitted from, so please make sure to use DBuzz to post.
| Valid entry | Invalid entry |
| --- | --- |
| | |
Thank you, everyone, for tuning in to this week's Zap fiction challenge.
We are excited to read the stories you all create and can't wait to announce the winner next week. Now it's time to get writing!
---
Last week's winner: @esbat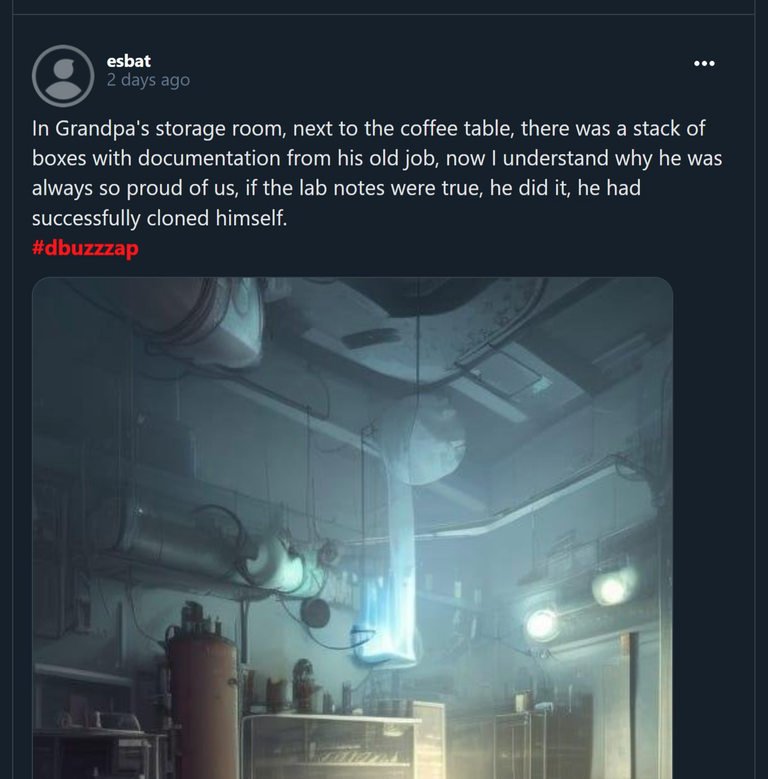 You can view their buzz here: https://d.buzz/#/@esbat/c/ccnz0bnvu0xm6tulqs0mcz
---
Objective of this game
This writing challenge will be no easy feat - the objective is to write a Zap fiction short story of something that is truly the embodiment of what's proposed. This means you'll need to go above and beyond the ordinary, and push the boundaries of creativity to craft the perfect story.
Whether it's an epic tale of the future or a gripping narrative full of twists and turns, you'll need to think beyond the usual conventions and stretch your imagination to the limits. With a little bit of patience and lots of determination, you're sure to come out with a truly impressive work of fiction representing what's being suggested. So, unleash your talents and let your creativity fly high in the Zap fiction challenge on DBuzz!
---
Rules and conditions of victory
You must publish the post on DBuzz (a Hive frontend where you can log in with your posting key or Hive Keychain). Adding a photo or image is optional.
Always do your best to make the post in the most attractive way possible, as creativity will be valued!
Tag that post with #dbuzzzap.
Leave your DBuzz link in a comment below.
Lastly, try to interact with at least two users who are also participating in this challenge. It's a great way to connect and make new friends too!
You have 6 days to upload and share your entry.
Awarding
If you are selected as the winner, you will be added to next week's contest post as a 50% beneficiary! So whatever the paid-out reward of that post, you will get half of that sent to you.
---
REMEMBER
We don't want you to miss out on the chance to win this fantastic prize, so make sure you complete all the requirements for entry into our contest! We'll double-check that all conditions have been met so that the best entry can be rewarded. Don't let all your hard work go to waste – make sure you fulfill all the criteria for your post to be accepted as a valid entry. Good luck!
And most importantly...
This challenge isn't just about having fun - it's about connecting, so gather your friends and join us to see what exciting opportunities await!
---
Good luck, and have fun!
---
A censorship-resistant short-form microblogging platform that empowers you to share your thoughts in 280 characters or fewer.
Censorship-resistant and built for the community with love.
---
We strive to have a fun and neutral stance on topics. If you have any concerns with the content, please contact the @dbuzz team.
---
DBuzz online at:
Join us on Discord at https://discord.gg/BKg5Ptg9ss