Image by WikimediaImages from Pixabay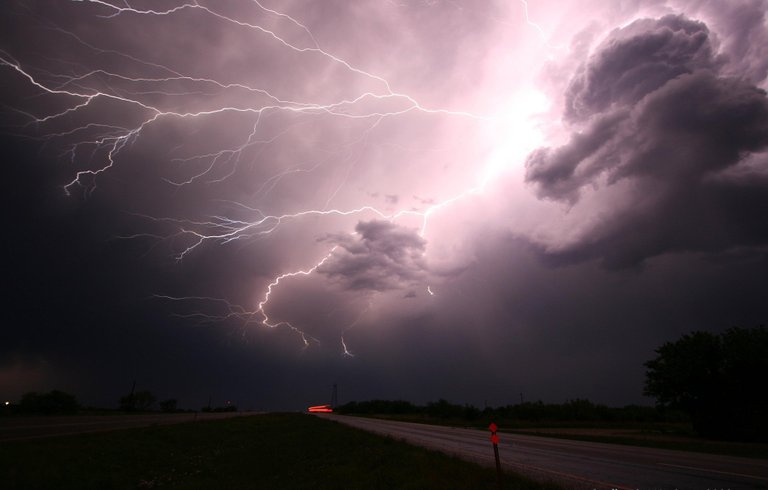 After their meeting with Sgt. Gonzalez, Capt. Ludlow and Sgt. Trent just sat outside in their outside boardroom and watched a thunderstorm slowly building as it crept up on the Blue Ridge.
"I'd say about ten minutes," Sgt. Trent said, "before we need to move all of this indoors."
"I'd say eight," Capt. Ludlow said, "although, apparently, other people have other plans."
Sgt. Trent put his head in his hands as all of his little ones and all five younger grandchildren of his business partner came out in their swim trunks and suits.
"You know, we were just thinking," nine-year-old Milton Trent said, while his 21-year-old brother Melvin looked over at their father and covered his mouth to keep from laughing out loud.
"And a really good thought it was too," George Ludlow, also nine, said.
"Since we know that eventually we have to get the color out of our hair, wouldn't it be nice to have a shower in all this warm rain?" eight-year-old Gracie Trent said.
"Put out the water slide and everything!" Milton said, "while God provides the water!"
"Efficiency," said 11-year-old Velma Trent.
"Ever wonder why people don't do that every day in the summer?" Sgt. Trent said gently.
"Just not smart enough to figure it out," his son Milton declared, and all seven of the rest nodded.
"'Pride goes before destruction, and a haughty spirit before a fall,' says the Scripture," Capt. Ludlow said. "We are not necessarily the first to think of anything, and we are not that much smarter than everyone else."
All ten considered that, and then George asked the question.
"Well, why then, Grandpa, and Sgt. Trent?"
"Lightning," Capt. Ludlow said.
"Cloud to ground and sometimes ground to cloud, so it is not even always about being the tallest thing in the field – sometimes even the ground sends lightning up."
Milton Trent looked at George Ludlow.
"Man, it's a wild world out here," he said. "Imagine taking a shower in a place that could send lightning up to the clouds!"
Andrew (10) and Eleanor Ludlow (11) the eldest of the Ludlow grandchildren, were sitting by their grandfather, and had stayed quiet until George said that.
"Only one problem," Andrew said. "That lightning going through you from below is going to be just as hot as it coming from above."
"That's going to hurt, a lot, and I don't think our medical coverage covers that," Eleanor said.
"Nobody's does," Sgt. Trent said, "so don't even ask."
"So, that means we have to go back inside, as usual," Amanda (7), said with a sigh.
"We never get to do the fun stuff!" Grayson (6) pouted.
"Oh?" Capt. Ludlow said, and then stopped for a moment to restrain his annoyance. "Go look in the mirror, Grayson with the green chalk hair – what do you mean?"
"Oh, yeah … I forgot."
Sgt. Trent got up and picked up the table he was sitting at, and Melvin picked up their chairs
"Come on, y'all," he said, and his little ones obediently fell in behind him.
"Yep, let's go," Capt. Ludlow said, picking up the table as Andrew and Eleanor picked up their chairs, and then ran back for their grandfather's chair.
Sure enough, lightning struck very near the Trent and Ludlow homes, over and over again – a shower of lightning in addition to heavy rain!
"Uh, yeah, Andrew," George said from under the bed where he was hiding. "Maybe having a shower with all that wasn't a good idea."
"Yep," Edwina said from next to him.
Bonus footage ... so you can experience the beauty of a big-time thunderstorm for yourself ...