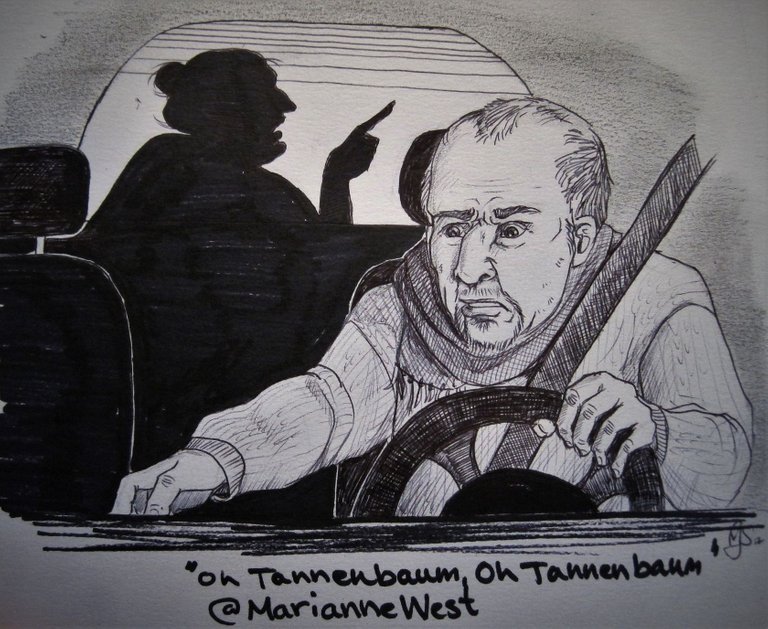 Gerardo
That night Don Gerardo was happy, he had paid the last fee for the taxi he was driving from the Maiquetia airport to the city of Caracas.
On normal days he could earn up to two hundred dollars, which in Venezuela, with the economic crisis, was a lot of money.
Gerardo was a scammer, who transferred tourists who came to visit the country and since he did not have a taximeter, to transport and when they reached their destination, he increased the rate for naive tourists, who had no choice but to pay what it demanded.
And although he had already been denounced on several occasions, he could never prove anything to him, for him it was his daily routine, so he had no qualms that afternoon when he transferred a gypsy woman, who sold all her belongings to travel to Venezuela to say goodbye to his dying mother, and the money that he stole from her would be used for some medicines, or most likely, for funeral expenses.
The tourist's name was Melalo, and she belonged to a gypsy tribe in the Czech Republic, they argued until the end when Don Gerardo practically forced the gypsy to pay for the service with a surcharge, and when she saw that she could not do anything, she suddenly smiled, But there was something strange in that smile, something that stuck in his mind, the gypsy woman paid and said an unintelligible phrase aloud, making some signs in the air, then she said goodbye with that deep and fearsome smile, which left him thinking about all the way home.
At home, Gerardo began to celebrate the payment of the last taxi fee, saying that now that the taxi was his property, what he did every day working would allow him to live comfortably and occasionally indulge in some luxuries.
That night, after drinking all the liquor he had in the house, he reluctantly went to sleep, since it had not any effect on him, and to top it off, he could not sleep all night, since every time he he closed his eyes, he only saw the gypsy's face, with increasingly terrible gestures.
On the third day, Don Gerardo, frightened, took his taxi and went to the address where he had left the gypsy, with a gift and the money that he had taken from the old woman, but when he arrived, he only got the funeral ceremony, and a neighbor informed him that the elderly mother of the gypsy woman had died due to not having the necessary treatment, and when the daughter was informed, she suffered a heart attack that killed her in a sudden way.
Gerardo felt that the floor was sinking at his feet, he did not dare to enter the house, he turned his back, got into his taxi, and went home, with a huge conscience and especially with the hope that with the death of the gypsy, the curse would have gone.
That night he hardly slept, he got up in the morning and left as usual to Maiquetia to work with his taxi, when two Korean arrived they got into the taxi and asked for a transfer to the center of Caracas, Gerardo thought how much he was going to take away from this couple of tourists when suddenly, I hit the brakes to the bottom, turned his head to see the two tourists with wild eyes, wondering what had happened.
The truth is that Gerardo looked in the rear-view mirror, and could see with absolute clarity the unmistakable gaze of the late gypsy, who was smiling at him with a reproachful look, just before stopping suddenly.
Gerardo got back on the wheel and kept driving and no longer turned to the mirror, Upon arriving in Caracas, the Korean tourists asked him how much it was, and he replied that for today it was free, that they enjoy their stay.
From there, every time he took a passenger and tried to charge him, the unmistakable look of the gypsy woman, smiling at him, appeared from the rear-view mirror.
As time passed, Gerardo ran out of money, and he tried to sell the taxi, but no one was able to make the purchase, which forced him to return to the airport.
That day, a family of gypsies got into his taxi, Gerardo saw his opportunity and began to make conversation with them until he could get to the subject of gypsies and their curses, it was perhaps his chance to find out, and he did.
The man explained that his people had an infinite wealth of cultures and traditions, and that he had to find out what the name of that gypsy woman was, and that with the name, he had to do a ritual in the cemetery, that would give the answer to all their problems.
Gerardo remembered well where he took the old woman that day, so it was a matter of asking his neighbors, and he did.
When he got to the neighborhood, he did not have to search much, this was a gypsy neighborhood and everyone knew each other, so he only asked an old woman and she answered: "Melalo", her name was "_Melalo", only when looking at this The lady, could recognize that smile that had haunted him all this time, since he came across that damned old gypsy woman.
He went straight to investigate the name:
Melalo:
Melalo Its meaning is "dirty". Melalo belongs to the tradition and myths of the Czech gypsies, he was a fearsome being, a kind of demon.
Gerardo was going to die, but he kept reading, later that book said that to get rid of a Gypsy curse, he would have to receive the same damage that he had done.
After thinking it through, Gerardo came to the conclusion that he could transmit that curse to any of the taxi's drivers, it was just a matter of contriving.
He did so, that afternoon he parked his taxi far from his workplace, disguised himself as best he could and pretended to be a Spanish tourist, asking his partner Jeremy owens, (the most thieving driver of all he knew), to take him to Caracas.
He took him to the center of Caracas, and when he asked him how much it was, he charged him a rate five times above what it cost, Gerardo paid him what he asked, saw his eyes, and smiled at him, with the same smile that he had the gypsy at the time he stole her.
He went back to the airport, got into his taxi and when he was leaving, two tourists got into the taxi, asking him to take them to Caracas, they would pay him double, they were in a hurry.
Gerardo could not stop looking at the rear-view mirror, but at no time could he see the image of the gypsy, which confirmed that he had done, had turned out wonderfully.
Upon arriving in Caracas, the tourists handed him two fifty bills, but in a gesture of gratitude, he gave them back one of the bills, saying that was more than enough, and he left, celebrating that he had managed to get rid of that one curse and that damn witch.
When he got home, he was silent, he was strange and began to call his wife, and his mother-in-law, but did not get an answer.
When he reached his wife's room, he saw her, her eyes were wild and the most horrible expression of terror he had ever seen in his life fixed on her face, she was dead.
Then he went to his mother-in-law's room, to get her, with exactly the same expression of terror on her face, she was also dead.
He sat in the middle of the room, completely paralyzed by terror, that's when he noticed the presence, he could see over his shoulder the figure of that gypsy, but this time, he had at his side, the figure of another old woman, who he supposed it must be her mother.
He fled like a soul that the devil carries, managed to get into the taxi, and start at full speed, he only managed to see in the rearview mirror the unmistakable spectral figures of the gypsies, and now his wife and mother-in-law joined him, it seemed that time stopped.
Suddenly an unmistakable pain in his chest pierced him like lightning, he resigned himself and said to himself: "It is my end", only instead of dying, he suddenly woke up, when he saw that an old woman who he knew well, was tapping on the glass of his taxi, asking him to please take him urgently to Caracas, where his mother was very ill.
Gerardo, took a deep breath, first he thought of raising the glass and telling her that he was busy, but he remembered what the gypsies were capable of, and he invited her to go up, he took her willingly to Caracas, and when she asked him how much he owed her, he only replied: "Leave what you can".
The end

What I see: A man entangled in a problem that overcomes it, but is willing to face it.
What I feel: I feel a load of fear and anguish in the driver.