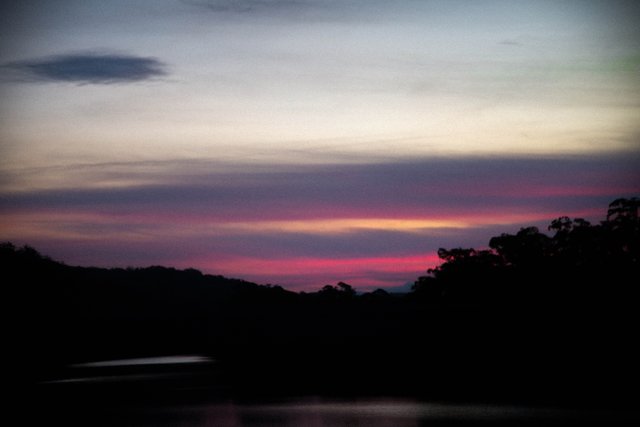 Bobby and Stefan were sitting on the Balcony, it was 6.25pm
Bobby was the first to talk,
'I know the sun is setting, could you describe it to me'
Bobby had been blinded in the lightning storm 10 years ago and every night he would sit out on this balcony and someone would always oblige to describe the sunset for him.
Bobby always said that the sunset was the thing he most missed since losing his sight
'Well Bobby' said Stefan 'Tonight the sky is a brilliant purple with hues of orange, there are some clouds in the sky but not many. The colours change every few seconds as the sun starts to fall towards the horizon. There are beams of light emanating from the sun and it highlighting the tree tops.'
'Now there are thousands of pin beams streaking towards us.'
I can feel the warmth' said Bobby.
'Yes', Stefan said, 'the glow of the sun at this time of the night is very comforting. Looking at the colours in the sky tonight it might be a very fine day tomorrow. You know the saying, Red sky at night.'
'Are there any magentas ' said Bobby, 'I can feel magenta'.
'Oh so many colours tonight, it is a truly magnificent Sunset.'
Stefan rose and went back inside, letting Bobby bask in the brilliance that this sunset was.
Virginia looked up at Stefan, 'Thank you for being so kind Stefan, Bobby really appreciates it.'
They both looked out at Bobby sitting on the Balcony and onto the blackness beyond.
'I don't mind doing it at all,' said Stefan, 'if it wasn't for our nightly sunset with Bobby I am afraid that I would most probably forget what they looked like myself, It's been 10 years Virginia.'
'*I know, I just don't have the heart to tell Bobby that there hasn't been a sunset since that storm. *'
There had been nothing but darkness

Daily 5 minute #freewrite, prompt provided by @mariannewest
Image by Author