VERSION EN ESPAÑOL

¡Infancia, adiós!
Un par de muñecos hechos pedazos quedaron como residuo de la basura recolectada a tempranas horas de la mañana. ¿Será que los recolectores los separaron para los restauradores? Lo más seguro es eso, porque el reciclaje está de moda y tal vez a los recolectores de la basura se le movieron los hilos afectivos y quisieron regalar a esos muñecos otra vida y a algún niño, la oportunidad de abrazar un muñeco o muñeca.
También a mí se me movieron los hilos afectivos y además los resortes cerebrales. Entré en una meditación que ocupó mi mente largo rato, entre recuerdos y cuestionamientos.
Recordé mis amados y disfrutados juguetes, que compartíamos entre los hermanos y hermanas. Pero no sólo jugábamos, también les hacíamos reparaciones porque los más pequeños heredaban los juguetes de los hermanos mayores. Y cuando quedaban fuera de uso para la camada (Nos convertimos en adolescentes), eran cariñoso obsequio para otros niños del entorno familiar.
Yo era de los pequeños y recibía con ilusión los juguetes de mis hermanos mayores, pues ya sabía como disfrutarlos por haberlos visto en sus manos y en algunas oportunidades, en un préstamo rápido, los había tenido en las mías.
En nuestra casa, nunca habrían terminado así los muñecos o muñecas. Esos muñecos mostraban un adiós a la infancia, con los valores rotos y tal vez, los afectos. Sentí tristeza por sus ex-dueños.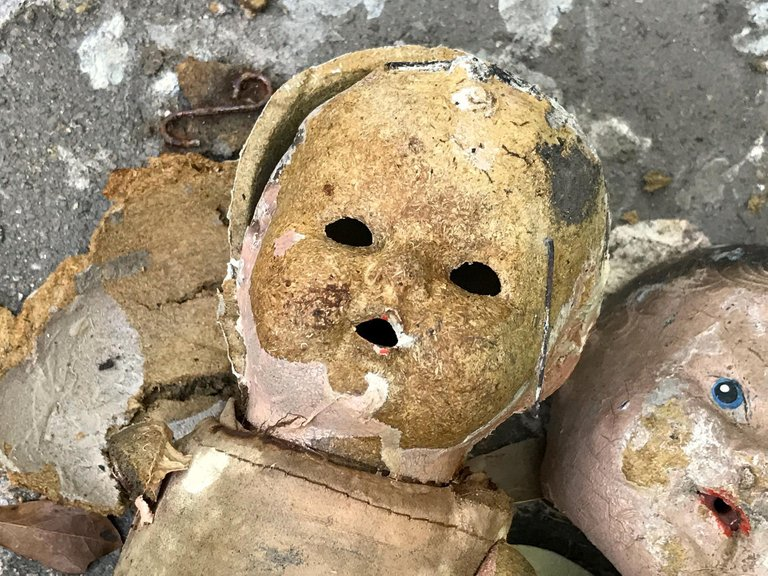 Imagen propuesta por el concurso.

ENGLISH VERSION

Childhood, goodbye!
A couple of shattered dolls were left behind as garbage collected in the early hours of the morning. Could it be that the collectors separated them for the restorers? The safest thing is that, because recycling is fashionable and perhaps the garbage collectors moved their emotional strings and wanted to give those dolls another life and a child, the opportunity to hug a doll or doll.
I also moved the emotional strings and also the brain springs. I entered into a meditation that occupied my mind for a long time, between memories and questions.
I remembered my beloved and enjoyed toys, which we shared between the brothers and sisters. But we not only played, we also made repairs because the little ones inherited the toys of the older brothers. And when they fell out of use for the litter (We became teenagers), they were loving gifts to other children in the family environment.
I was from the little ones and I received my older brothers' toys with enthusiasm, since I already knew how to enjoy them from having seen them in their hands and on some occasions, on a quick loan, I had had them in mine.
In our house, dolls would never have ended up like this. Those dolls showed a goodbye to childhood, with broken values ​​and perhaps affections. I felt sadness for its former owners.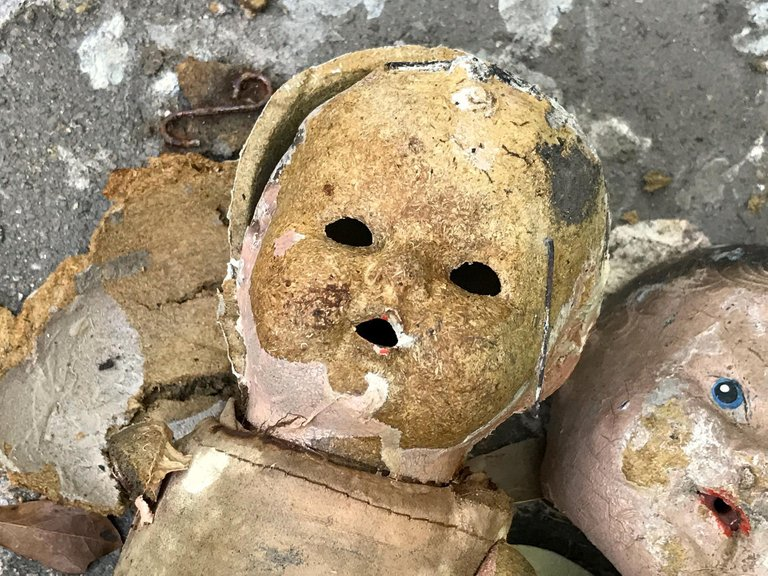 Image proposed by the contest.

○Los separadores de texto son míos. ○Utilicé el Traductor de Google ○Invito a @sacra97 y a @


THANK YOU FOR READING AND RATING THIS PUBLICATION
GRACIAS POR LEER Y VALORAR ESTA PUBLICACIÓN