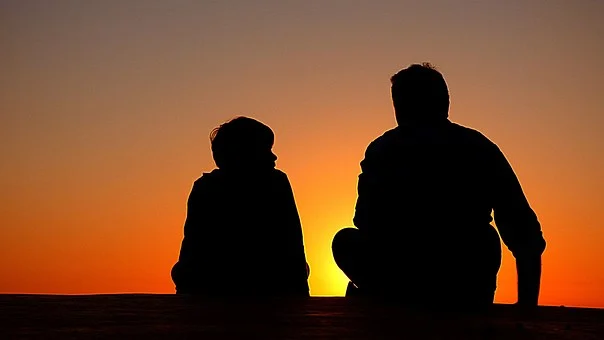 Por @latino.romano
  Una lágrima en espera carga una pena en mi corazón. Una lágrima sincera que deja expuesta toda mi emoción. Un bello sentimiento, un bello sentimiento, hace que esté contento y alivia todo mi dolor.
Es un gesto humilde que no se finge, una hermosa virtud, toda una cualidad. Una actitud de vida que no se rinde. Un rasgo único lleno de genialidad.
Ayer fui odioso y algo tirano, agité mi mano y grite furioso una barbaridad. Dije muchas cosas borracho de odio y de pensamientos malos. Rasgué la piel del corazón más noble de la humanidad.
Solo deseaba mostrarme la obra de sus manos, un lindo dibujo, un árbol con flores bajo un día de sol. Sus ojos atentos expectantes e impacientes ante mi respuesta, una sonrisa genuina que ansiaba ilusionada ver cuál sería mi reacción.
Como bolas de plomo eran para mí los problemas, muchas cosas de adultos me causaban preocupación. Me irritaba todo, hasta la brisa fresca. Pero no es excusa, no hay para mis actos justificación.
Se fue cabizbajo, desalentado y derrotado. Me di cuenta entonces de mi grave error. Quise contentarlo tomando su mano, alabando su arte, secando sus lágrimas, pidiendo perdón.
Una hermosa sonrisa llenó su cara entonces, un abrazo gigante sobre mi cuello lanzó. Con mucho entusiasmo me explicó sus trazos. Aprendí entonces de la vida una gran lección. Muchas cosas bellas regalan los hijos a sus padres, muchas cosas bellas, preciosas reliquias para recordar. Un niño, siempre que sea niño, tiene una virtud admirable. En su corazón, un niño que es amado perdona de verdad.
En su corazón, un niño que es amado... rencor nunca guardará.
Gheyzer J. Villegas (@latino.romano) es un escritor hispano de relatos y poemas, miembro del mundialmente reconocido grupo Freewrite House para quien escribe estos textos inéditos…

English version
A tear in waiting carries a sorrow in my heart. A sincere tear that exposes all my emotion. A beautiful feeling, a beautiful feeling, makes me happy and relieves all my pain.
It is a humble gesture that is not pretended, a beautiful virtue, a real quality. An attitude of life that does not give up. A unique trait full of genius.
Yesterday I was hateful and somewhat tyrannical, I waved my hand and shouted furiously an outrage. I said many things drunk with hate and bad thoughts. I tore the skin of the noblest heart of mankind.
He only wanted to show me the work of his hands, a nice drawing, a tree with flowers under a sunny day. His eyes were attentive, expectant and impatient of my response, a genuine smile that I was looking forward to seeing what my reaction would be.
As lead balls were for me the problems, many adult things caused me concern. Everything irritated me, even the cool breeze. But this is no excuse, there is no justification for my actions.
He went away crestfallen, discouraged and defeated. I realized then my grave mistake. I wanted to please him by taking his hand, praising his art, wiping away his tears, asking for forgiveness.
A beautiful smile filled his face then, a giant hug on my neck launched. With much enthusiasm, he explained his lines to me. I learned a great lesson from life. Many beautiful things children give to their parents, many beautiful things, precious relics to remember. A child, as long as it is a child, has an admirable virtue. In his heart, a child who is loved truly forgives.
In his heart, a child who is loved... will never hold a grudge.