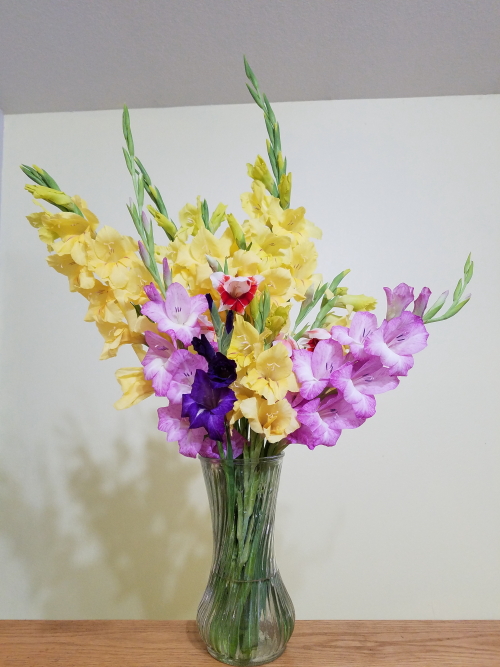 It has been a dreadfully long time since I wrote a freewrite. I've been busy this summer, what with a big garden to tend, and driving my husband to many doctor appointments, and struggling to get through the drinking binges he began in May. He hasn't been drunk for 4 weeks now, and I find myself holding my breath, wondering when it is going to happen again. He reluctantly agreed to outpatient treatment. So far, he has seen a counselor one-on-one, twice. He will likely join a group session in a couple of weeks. I hope it helps him. I know he has a lot of old emotional baggage from his early years that he needs to open up and empty out and deal with.
Meanwhile, the garden is winding down. I only had four colors of gladiolus this summer: lots of yellow, a few purple (the photo makes it look blue, but it wasn't), a couple of pink, and several red and white ones. I do like my glads, and they make such stunning bouquets! If my lilacs ever get big enough to bloom, one of them ought to be purple. I don't remember if the other one is supposed to be pink or white. The butterfly bush is blooming now, although my neighbor said hers bloomed in the spring, which makes more sense. I think mine is confused. It is a deep blue, almost purple, but not quite.
It's supposed to rain tonight, and I hope it does. We haven't had a proper rain for weeks. It would help settle the wild fires and the dust.
Photo taken on my Android phone.