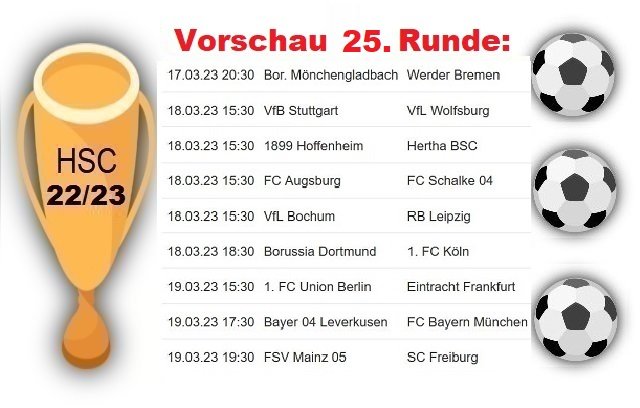 Hier schon mal die Spiele des 25.Spieltages ...
Servus und Sport Frei,
liebe Fussball Fans und Tipp-Profis!!!
---
Gleich zu beginn mal eine erfreuliche Nachricht:
Eine unserer weiblichen Mittipper hat einen Tagessieg errungen,
somit gab es bislang bereits 24 verschiedene Tagessieger
und über 35 Mittipper die den 2. Platz erreichen konnten!!
Mehr dazu dann weiter unten...
---
Diesmal möchte ich eine Frage an euch allen da drausen stellen,
die vor kurzem @sportstalksocial auf https://www.sportstalksocial.com stellte! Ich habe leider den Beitrag viel zu spät gesehen, daher will ich hier nochmals an unsere Kicktipp Tipper stellen:
Was ist euer Lieblingsverein??
Von einigen weis ich es, aber wäre echt interessant für welchen Verein brennt ihr? Es muss nicht unbedingt ein Fussball Verein sein, aber zumindest ein Sport Verein , (Schach zählt auch ;) ) Unter allen Teilnehmern verlosen wir 10 x 10 000 SPORTS bei unserem nächsten Meetup in Graz noch real Handmade und Hut!!!
Aber glaubt mir jedes Reply gewinnt SPORTS und mehr....
⭐️ Deadline: 21.3.2023 13.00uhr Berlin Time! ⭐️
---
This time I want to ask a question to all of you out there,
that @sportstalksocial recently asked on https://www.sportstalksocial.com! Unfortunately, I saw the post far too late, so I want to ask our Kicktipp tipsters again here:
What is your favourite club?
I know about some of them, but it would be really interesting for which club you are burning for? It doesn't have to be a football club, but at least a sports club (chess counts too ;) ). Among all participants we raffle 10 x 10000 SPORTS at our next Meetup in Graz still real Handmade and hat!!!!
But believe me every Reply wins SPORTS and more....
⭐️ Deadline: 21.3.2023 13.00uhr Berlin Time! ⭐️
---


---
In diesem Jahr zum Jubiläum gibt es noch mehr Preise und
vor allem noch mehr Gewinner beim Bundesliga Kicktipp!!!
Über :
⭐️ 1300 Hive ⭐️ 210 HBD ⭐️ 1000 LEO ⭐️ 550 HIQS
⭐️ 1630 BEER ⭐️ 170 HSBI Shares!!⭐️
⭐️ 255.000 SPORTS ⭐️ im Pricepool!!!
Hier die genaue Auflistung der Preise
---

Hier nun die Spieltag Ergebnisse der Bundesliga: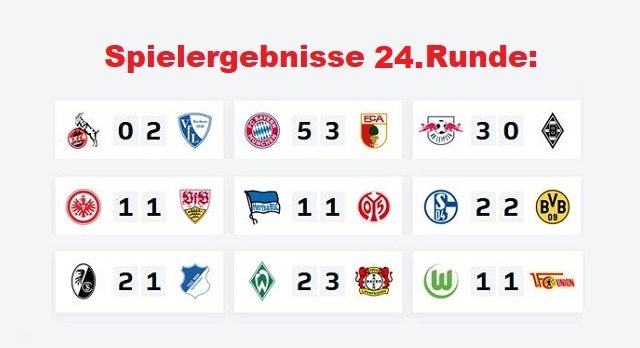 ---

---
Was hat sich nun getan beim HSC 22/23:
---
@udow unsere Führender verliert zur Zeit von Woche zu Woche wichtige Punkte, gerade mal 15 Punkte Vorsprung hat er noch! @iceblue machte ganze 22 Punkt gut in dieser 24.Runde und setzte sich damit von @ynwa.andree ganz klar ab. Da sieht man wieder, alles ist Möglich! Vor ein paar Wochen hat es noch nach einen klaren durchmarsch ausgesehen.... mal sehen was das Dreigestirn da vorne noch alles abliefert!
Jaggabites, @kaeltegott und @xels haben es sich auf ihren Plätzen 4,5,und 6 recht beqeum gemacht. @bechibenner machte sein minus in der letzten Woche wieder weg, und gewann sogar 2 Plätze auf den 7.ten!
@schoppi und @eddwood gingen Hand in Hand einen Platz runter. @gabmr bleibt der große Tor Wächter der Top Ten. @danielhuhservice könnte nächste Woche wie auch @morp, @siphon, wieder mal unter die ersten 10 gelangen. @jaki01 und @tobilayo tauschten mit @condeas und @kryptodenno Platz.
@cervisia hielt noch den 18.Platz.
---
Wer machte nun weitere Plätze gut:
@highhaschdi +1, ich selber +1, @lammbock +1, @jeanpi1908 +1, @mima2606 +2, @der-fahrlehrer +2, @elkezaksek +4,@flummi97 +3 und @ervin-lemark +1
Den Platz hielten:
@kobold-djawa, @bluerobo, @thehockeyfan-at, @uwelang, @samostically, @mario89, @louis88, @bitandi, @kheldar1982, @fredfettmeister, @yeckingo1, @lxsxl, @detleffe, @charly, @jedigeiss, @tengolotodo und @surfer
Plätze verloren haben diesmal:
@w74 -2,@sunsea -2, @pippo -2, @dragon-ti, @johnboywalton -2, @moecki -2, @meinungsbaum -2 und @solymi -1
---
Mehr infos gibts unten in der Tabelle...
---
Viel Glück bei euren Tipps in dieser Woche!!!

Auch dieses Jahr gibt es wieder die Prämierung des Tagessieger,
10 Hive & 10 HIQS & eine Kiste BEER ( 24 BEER)
& 10 000 SPORTS & 5 HSBI Shares
danke @reiseamateur & @kryptodenno
und nicht nur das, auch der 2 Platzierte Tagessieger wird belohnt!
5 HIQS & 5 000 SPORTS &eine Kiste BEER ( 24 BEER)
danke @reiseamateur & @hiq.redaktion & @detlev
Sollten mehr Gewinner sein,
wird Anteilsmäßig ausbezahlt!!
---
👉 Nun zu unseren Tagessieger: 🥁 👈
---
Unsere Tagessieger der 24.Runde sind:
mit 34 Punkten !!
---
2.Platz hinter unserer Tagessiegerin ist:
mit 33 Punkten
🍀 Wir Gratulieren!! 🍀
---

---
Hier nun die Kick-Tipp Ergebnisse dieser 24.Runde:
---

Zum vergrössern auf das Bild klicken
---

---
Danke für eure Zeit und Interesse!
Vergesst nicht eure Tipps bis Freitag abzugeben!!
🍀 Viel Glück bei euren nächsten Tipps!! 🍀
---

---
Screenshot & Bild: @reiseamateur
---

---
👉 Diese Saison der Pricepool noch Höher: 👈
---
👍 Danke an Allen Tippern✍️ , Sponsoren 🤑
und Supporter🤠 die diesen Spaß auf Hive ermöglichen!! 👍
---
@balte, @jaki01, @reiseamateur, @condeas, @cervisia,
@jedigeiss, @hiq.redaktion, @kryptodenno
@danielhuhservice, @leogrowth und @detlev
(Jeder von ihnen würde sich auch über euren Besuch
und Follower freuen! Danke)
---
@cervisia, @jedigeiss, @louis88,
@detlev ( @detlev.witness) und @hiq.witness
wären über ein Witness Vote dankbar:
das kannst du hier machen:
https://wallet.hive.blog/~witnesses
---
@jedigeiss, @cervisia und @louis88
sind auch zusätzlich HE-witnesses
hier kannst du auch unsere Supporter voten:
https://primersion.com/he-witnesses
---

---
Hier der Screenshot der Gewinn-Auszahlungen:
Da ich weis, das @elkezaksek hier nur mittippt,
um für ihr Uganda Projekt zu gewinnen und sie gerade sehr sehr viel um die Ohren hat, hab ich ihren gesamten Tages Sieger Preis bereits in Euro überwiesen!!
( 10 Hive + 10 HIQS + 5 HSBI + 10000 Sports = ca. 8 Euro aufgerundet 10Euro!)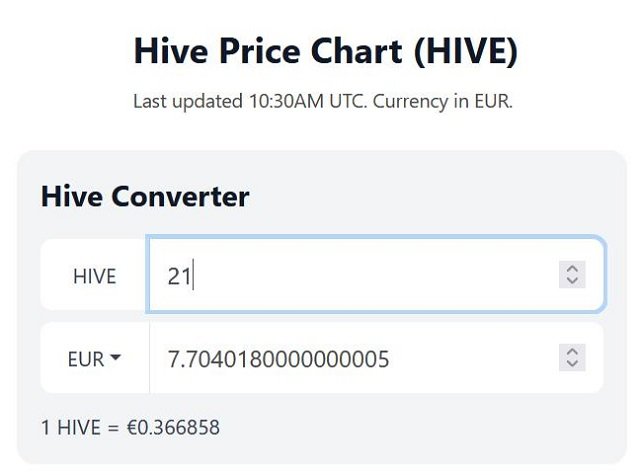 Hier die Auszahlung unseres 2.Platzierten @icblue:

---
Noch eine kleine Info am Ende:
Beginn der Fussball Saison 2023/24 wurde für 18. August 2023 festgelegt!
Info für unsere Gewinn Sponsoren:
Ende der laufendenden Saison ist: 27.5.2022!!
---

---