Let's test the new PeakD tipping feature by giving out tips to as many people as possible.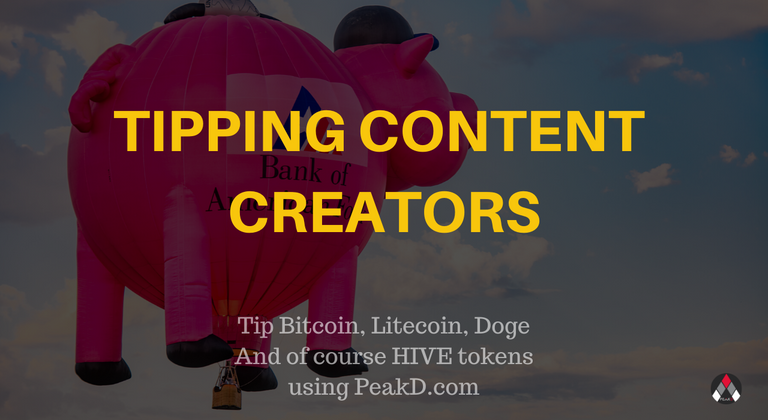 image taken by me 8 years ago... tips are kinda like airdrops from pink flying hot air piggy banks
VIDEO CONTENT
You'll see how to turn on swap.btc , swap.ltc , swap.doge tipping with one click.
You'll see how to tip a user in all 5 currencies.
You'll see how to deposit into hive-engine pegged tokens
You'll even see how to make that deposit transaction using my method of choice... bittrex.
I do all this live in just a few minutes and answer a few more questions. But if you have any more questions let me know.
---
BONUS VIDEO FOR NEWBIES
1 minute to create an account
https://hiveonboard.com/?ref=jarvie
For anyone new coming from the btc/ltc/doge community I will include a video on how to create an account fast and easy. Literally takes about a minute using this link ... and if you use that referral link I may help you out with a hive power delegation IF I know you or see you making good content or commenting.
p.s. this account will also log you into hive-engine.com where you can deposit the btc/ltc/doge so that you can do tips... like discussed in the first video.
---
COMMENT HERE FOR A TIP FROM ME
Finally lets test it... comment below using PeakD and I'll send you a tip... probably DOGE coin like in the video example.
Some things you can say in the comments:
Share your thoughts on tipping
Share your thoughts on tipping with Bitcoin/litecoin/doge
Share your thoughts on how tipping can help content creators
Let me know if you're NEW to hive
Heck you can even let me know if this the first time seeing one of my posts and that you followed me or something ... or even added to a peakd private list.
Tell me you tipped someone.
Tipping is a personal thing, I'll tip whatever I want.