A new release of peakd.com is now available. Keep reading to discover the new features and check the full list of improvements ;)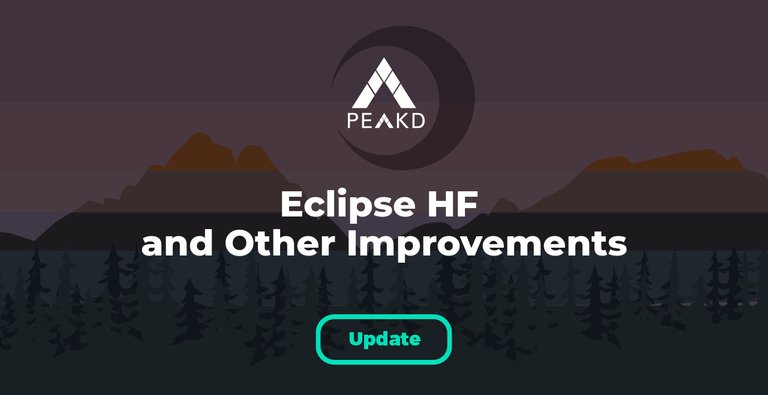 1. Support the changes introduced with HF24 - Eclipse
Almost all the updates included in this release are focused on providing better support for the changes introduces in the latest HF (Eclipse). You can read more about the hardfork here.
This HF introduced relevant changes to the way the software powering the Hive Blockchain works and how apps interact with API/RPC nodes. This means that most of the Wallets, dApps and Hive frontends are still doing improvements and also the infrastructure is being worked on to make it better, faster and more reliable.
The changes to support the new HF are too many to be listed in a single post, but the important thing is that all the features provided by PeakD and PeakLock should now be compatible with the new version 🙃
---
If you experience issues while casting transactions or some pages take some time to load it's probably better to try a different API node (you can do this in you Settings page). Please remind to change the node also in Keychain if you are using it as yours login method.
Hopefully this will get better in the coming few days ...and as always please report any issues as a reply to this post or in our Discord server.
2.Support for new API nodes
It's now possible to select hive-api.arcange.eu (by @arcange) as API node for PeakD. You can read more about the new node here.
3. Some minor improvements and bug fixes
As always some minor improvements, updates and fixes across the website. You can check the full release notes here: https://peakd.com/about/changelog.
# Improvements and Fixes
------------------------------

[new]  Show HF chain version in Witnesses page
[update]  Improve view counter and faster Top Views page loading
[update]  Allow images up to 3840px before triggering the automatic resize
[update]  Support node beta.openhive.network (only using the link https://peakd.com?node=beta.openhive.network)
[update]  Improve description for API node setting

---
Support the @peakd project
Now is probably a nice time to remind you of the ways you can support the development of @peakd.

We have a proposal on the Decentralized Hive Fund. You can review the proposal here.
If you agree to the proposal and you think the points mentioned add value to the Hive Blockchain consider supporting it using the above links or directly with this link.
---
We also run a witness server to help produce the blocks for the Hive Blockchain. You can vote for our witness so we are in a position to process more of them.
Vote on the witness page: https://peakd.com/witnesses
Using Keychain: You just have to click and approve the transaction
Using HiveSigner: You'll need access to confirm the transaction with your Active Key at least
---
The PeakD Team
About us: https://peakd.com/about
Join us on Discord: https://discord.gg/Fy3bca5