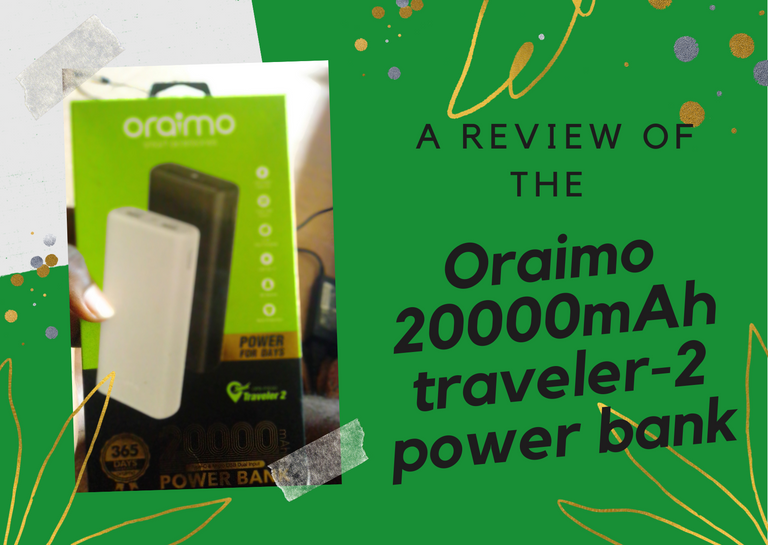 image made with canva
In this post, I'll be making a review of an Oraimo traveler-2 20000mAh power bank I recently bought.
Earlier, I published a post where I talked about how I got a multipurpose solar lantern so as to combat the constant lack of power supply in my area. And as I would later discover, it won't be enough to fully cater for my devices, most especially my mobile device.
I had to search for other viable options and my search led me to the mega capacity power bank -a beast among power banks.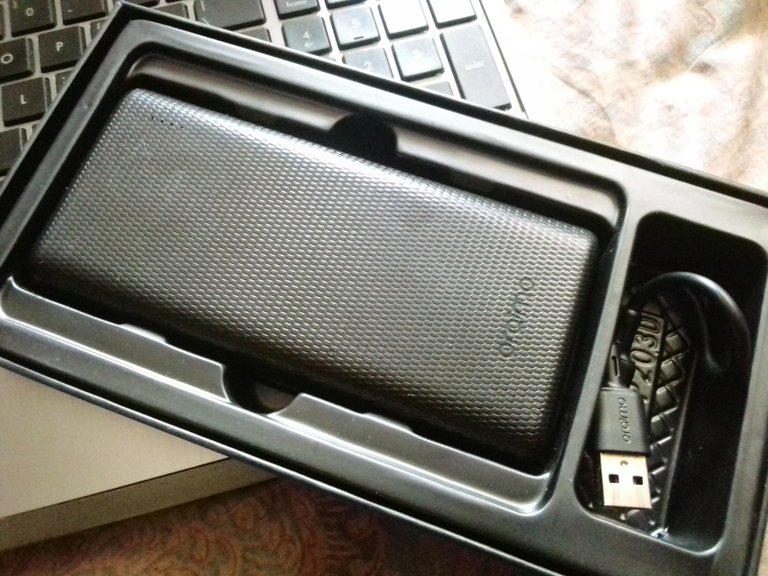 I'm sure most people from Nigeria will be familiar with the brand Oraimo – an electronics brand known for producing quality products. It's for this reason that I opted to purchase one of their products. And after few days of using it, this are what I think about it:

A POWER BANK THAT LASTS LONG

Just as I mentioned, the power bank comes with a whooping 20000mAh battery capacity – four times the size of the battery capacity of my mobile device. And even though it's four times my battery size, it can only manage to charge my phone from 0-100% twice (when it's fully charged). Not so bad if you ask me.

CHARGING

It comes with two input ports – a micro USB and a type-C charging port – both having a recommended power input of 5.0V – 2.0A.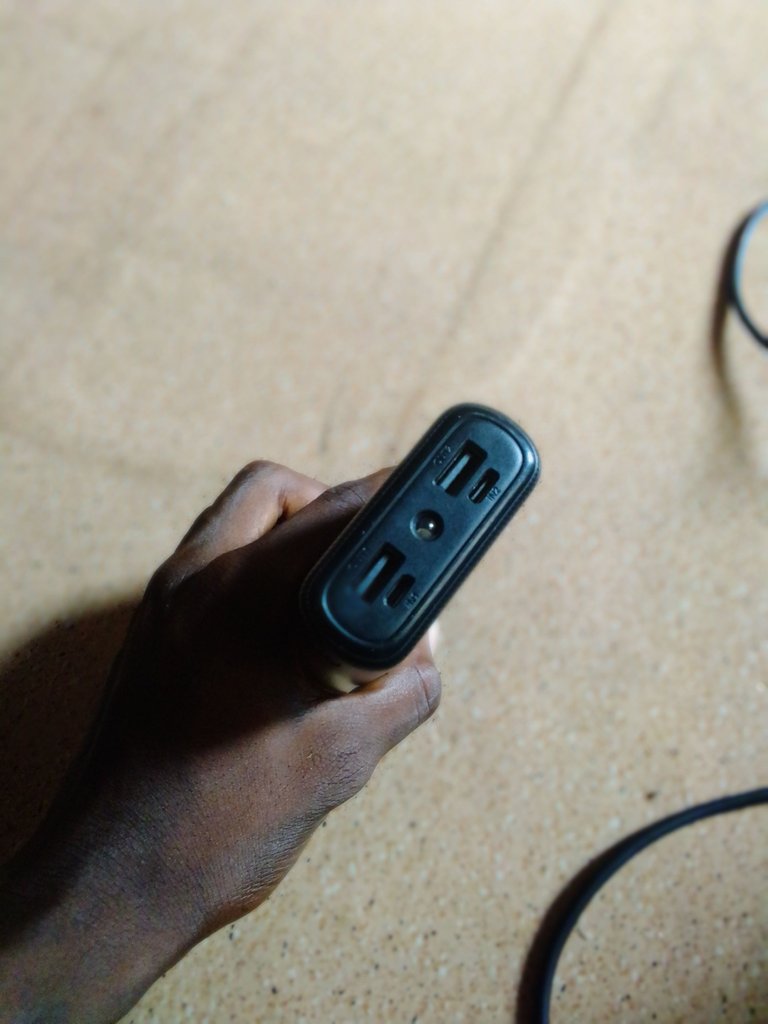 The traveler-2 came with 3 bars out of a maximum of four – which signifies that it's currently at a percentage of 75%. According to the instructions from the user's manual, it is advisable to charge to full capacity (100%) before use.
It took almost 8 hours before the battery became full. This is due to the fact that I used a 5watts charger instead of the recommended 10watts. I'm planning on getting one soon so as to speed up the charging rate.
It also comes with two USB outputs that are equipped with fast charge. This means that charging from the two ports will not cause a decrease in charging speed at all.

LED TORCH


Another useful spec is the built-in LED torch that comes with it. Even when the power bank runs out of power, the LED still comes on. I believe that some power has been reserved to keep the LED going when the power bank itself is out of battery.

PRICE

I purchased it at an Oraimo store for 9000 Naira. In other retail outlets, it might be higher.

DESIGN

The power bank is portable and has been designed to prevent scratch, smudges and fingerprints.

LIMITATIONS

Once the power level drops below 75%, the power bank decreases at a faster rate than when it's at higher levels.
The USB is a bit too short compared to what I'm normally used to and that's one of things I don't like about it.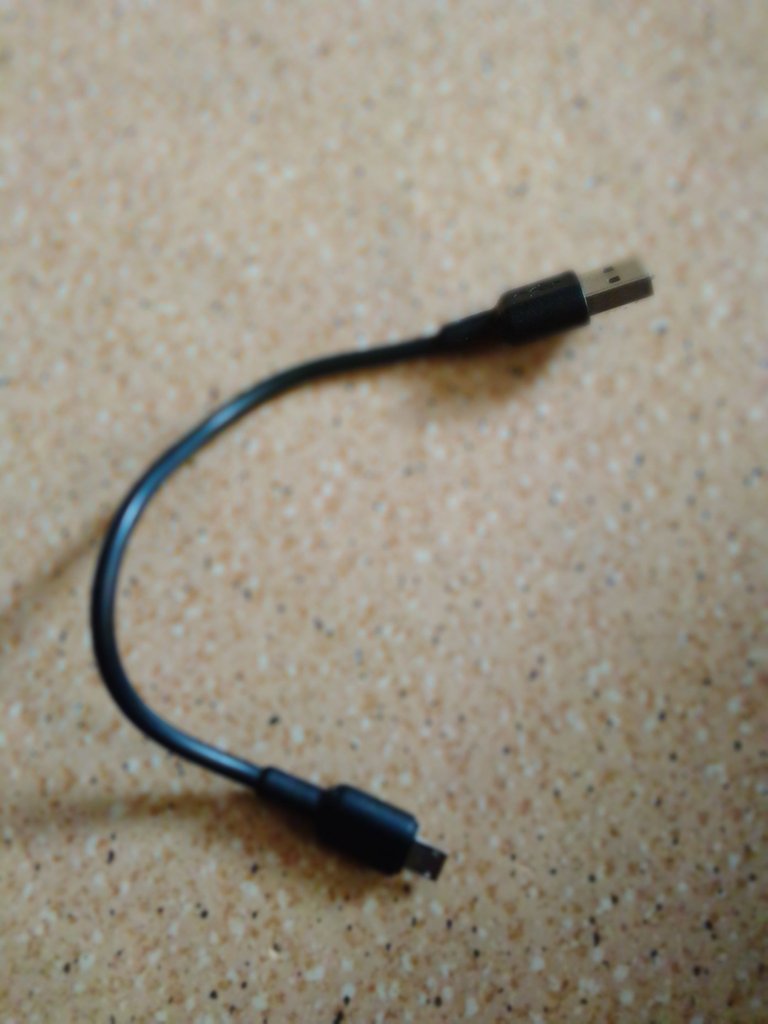 The short usb cord
Other than these two observations, I find all the other features of the traveler-2 desirable.
Thanks for going through this post. Do have a nice day!