Back in early July, I was lucky enough to have a rain-free Sunday when I could enjoy my day at WayMok Village Beach. Summer just wouldn't be summer without a trip to the beach. Waymok Village is located in Dangjin County which is just across the inlet from Pyeongtaek about 70km from downtown Seoul in Korea.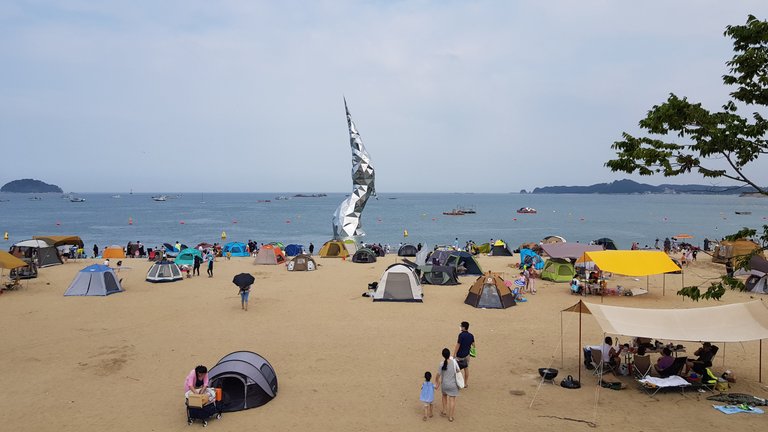 As you can see, the beach here is quite crowded and there are a lot of small islands not too far off the coast. Actually, those are channel island and we are just looking across the Pyeongtaek Inlet which is around 15km wide near here before we get out to the open sea.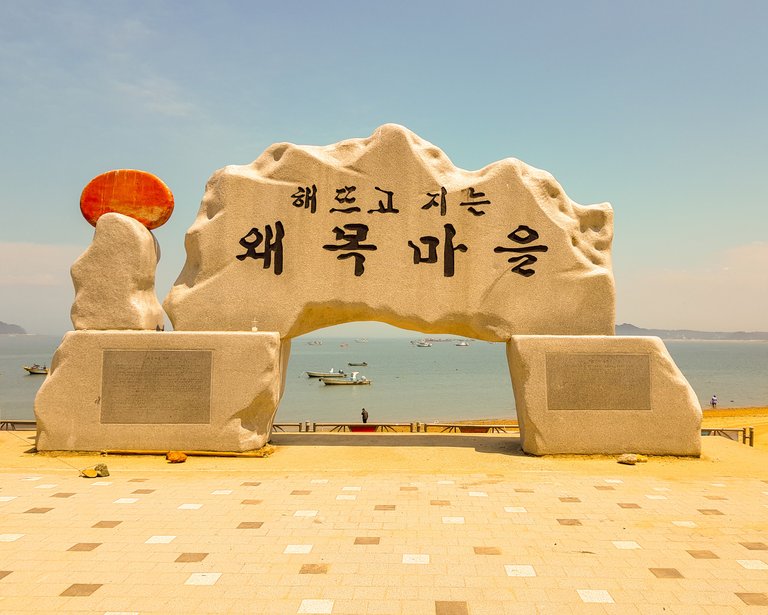 WayMok Village Beach is a nice place for a day trip, especially if you live in the Southern Suburbs of Seoul. From my house, it's only about a 75-minute drive if the traffic isn't too bad. Unfortunately, that also means the beach is quite crowded, especially because there are a lot of outer suburbs and small cities and towns in between. Everyone comes on the weekend and parking can be a mess.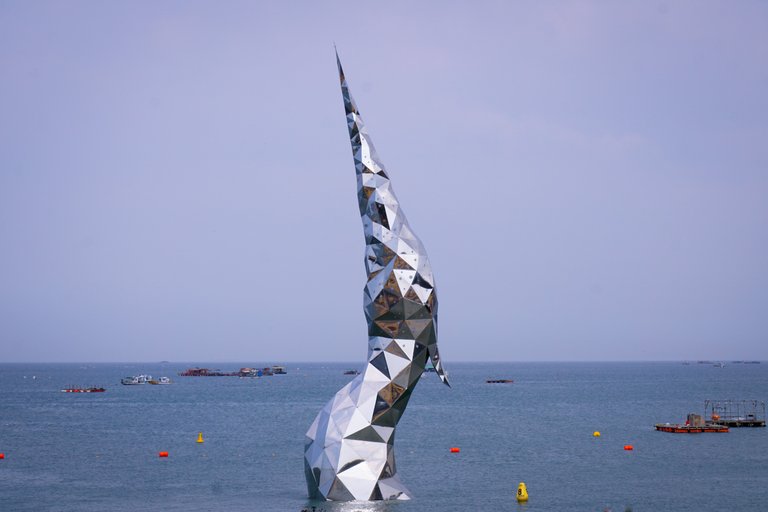 The most striking thing about the beach is the weird design in the water. I'm not quite sure what it is, but It looks to mee a little like the head of a heron or some other bird looking from the water as if it was diving out of the water into the air. It could also be a poorly design dolphin or a finger. Who knows? It caught my attention and on foggy days, it's probably all you can see.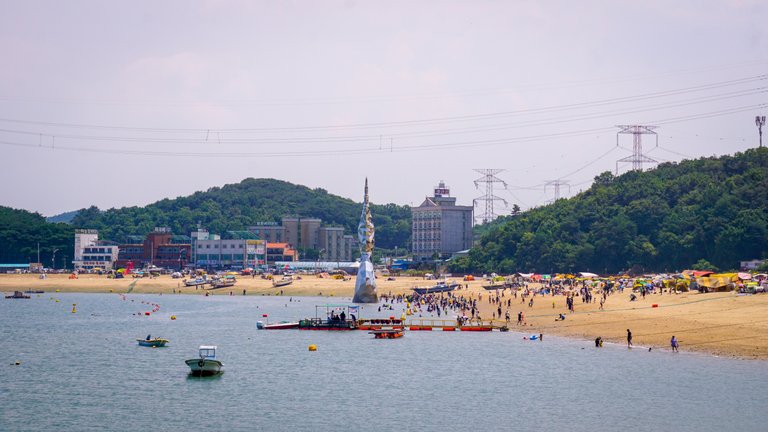 This beach like many is flanked by two piers. Usually, before I settle down I like to walk to one end of the beach to look for a good place. I don't care to swim where the lifeguards are or hang out where it's crowded. Fortunately, everyone else seems to hang out right in front of the statue. I'll leave the dirtiest part of the beach where you are most likely to catch some disease or virus to them and go elsewhere.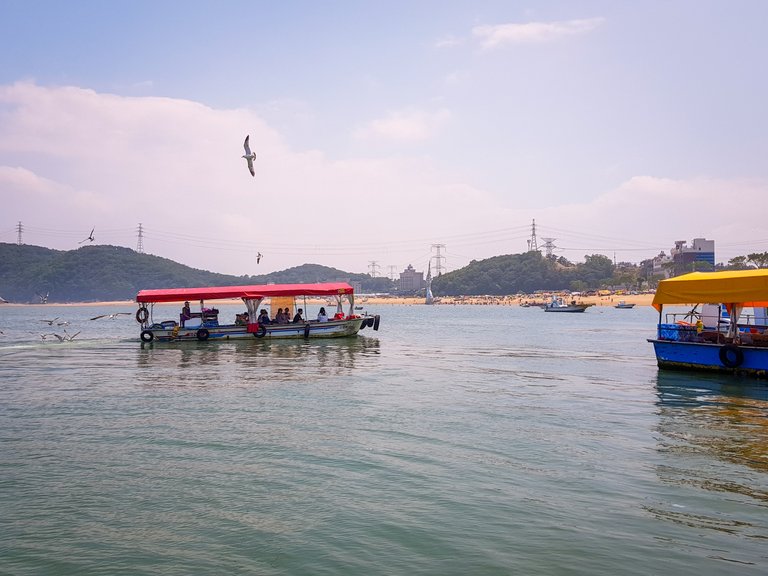 Asides from swimming and having a picnic there are other activities. Of course, there are restaurants, shops and cafes along the strip, but there are also boats that serve fresh seafood and take you out for a little cruise. I think it would be a nice thing to try, but I had other plans.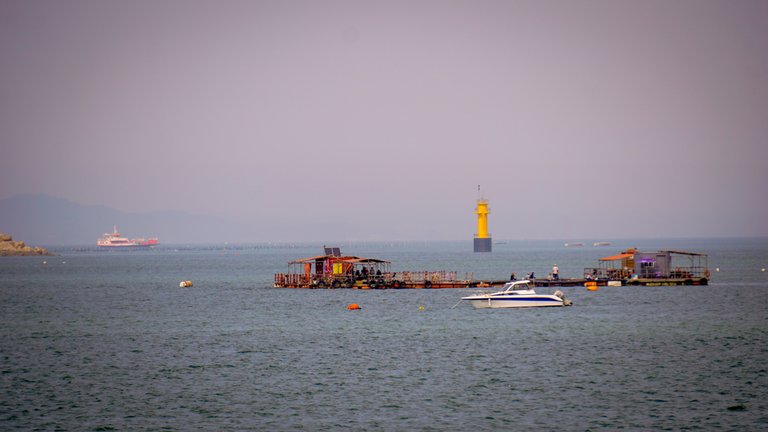 The boats don't go really far, they go to this ghetto-looking pontoon island about 1km offshore. It looks like there are a couple of shops and small washrooms. The only question is do those toilets collect the waste or not? Also, how do you leave when you get bored? The boats weren't going back and forth very often.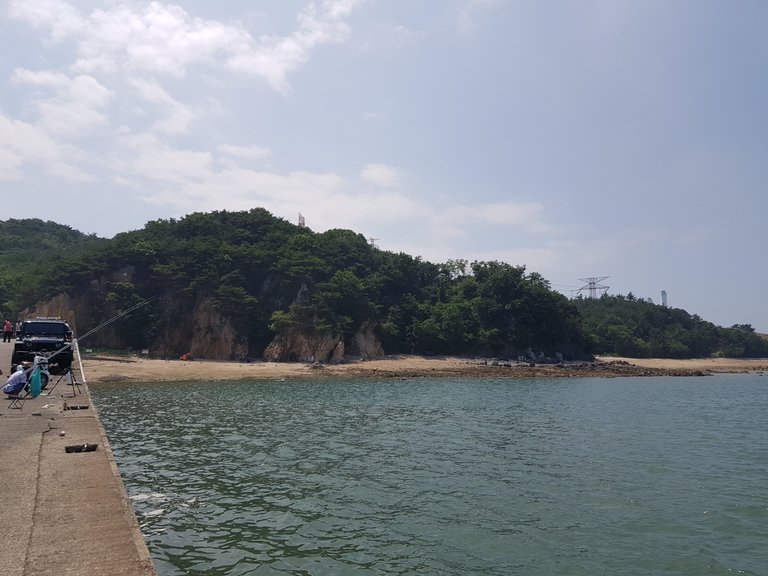 The other side of the pier looks quite nice. As you can see there are some nice trees and rocks. There are also people fishing off the pier and picnicking on it. Actually, the pier was even more crowded than the beach.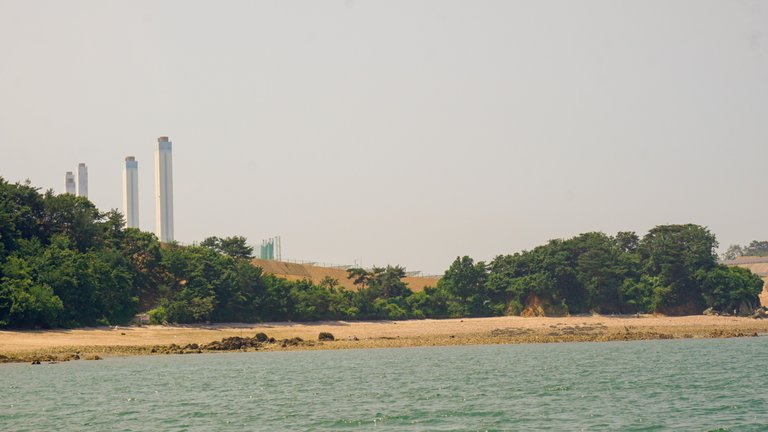 One hidden secret about this village is the close proximity of the Dangjin Thermal Power Station. It's a massive 6040 MW power plant burning beautiful clean coal. It is the 2nd largest coal power plant in Korea. Actually, the largest coal powerplant in Korea is on Yeongheungdo-do, which isn't too far away ~ 20km across the straight. I wrote about that one before, here.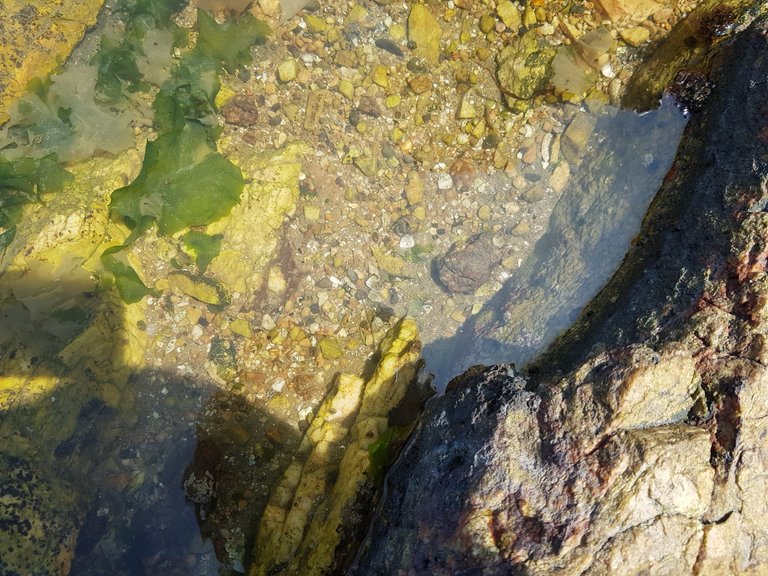 I don't feel so weird swimming near the power station because the stacks are so high it will spread the mess all over. Also, the scrubbers clean out the worst of the stuff quite well. The smoke is usually just grey. Actually, I've seen this plant before all the way from across the straight at Gungpyeong Harbor (You can actually see it in one of the photos.
Along the empty beach in front of the power station, there were a lot of tidal pools. I like tidal pools because it is a great place to find creepy critters and maybe even a snack or two. There was a lot of kelp and slime. It is said by some that life may have begun in the tidal pools and perhaps this makes sense. They do have the right balance of good stuff. Watch your step, though.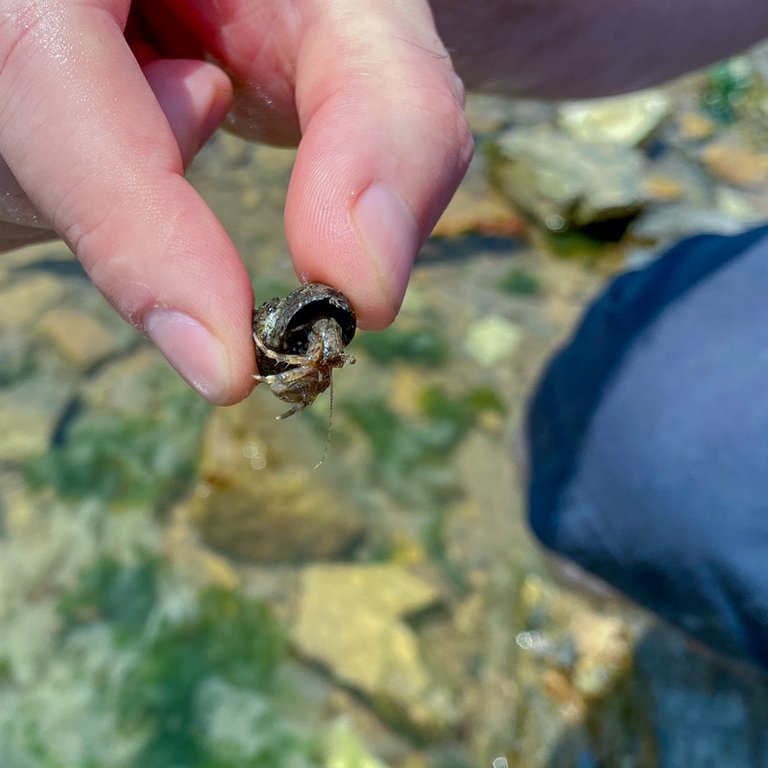 I noticed some of the shells were moving and when I picked up one, to my delight I found a hermit crab. I tried finding a few more, but I couldn't find any large guys. However, I did see a few children with some large ones. I guess they scanned all the pools for the big guys first. In any case, according to my wife crabs stay at the beach or go in the soup pot, so I decided to put him back in the pool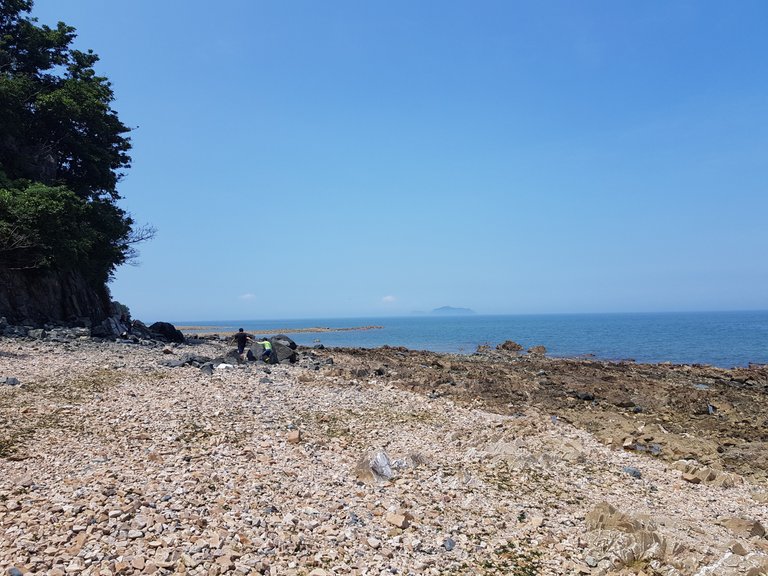 This end of the beach was rocky. Actually, I don't really like sitting in the sand or walking on it, so I am more of a rocky beach person. However, it's a bad idea to swim here because we are on the wrong side of the pier. If you have ever swam in an ocean, you probably know better than to swim on the wrong side of the breakwater. Besides, there are better rocky beaches elsewhere.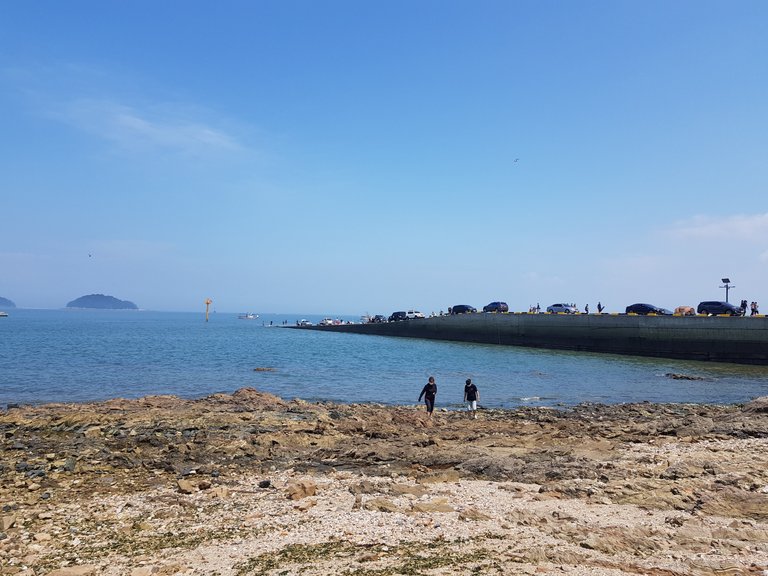 Looking back out too the pier, I noticed that the tide was coming in. It was pretty funny to watch because the people who drove down past the high tide line were scrambling to move their cars up but the people who were parked or chilling in more sensible spots weren't really in a hurry to move. I don't blame them, there are markers that say do not drive past here which you should adhere to unless your car can float.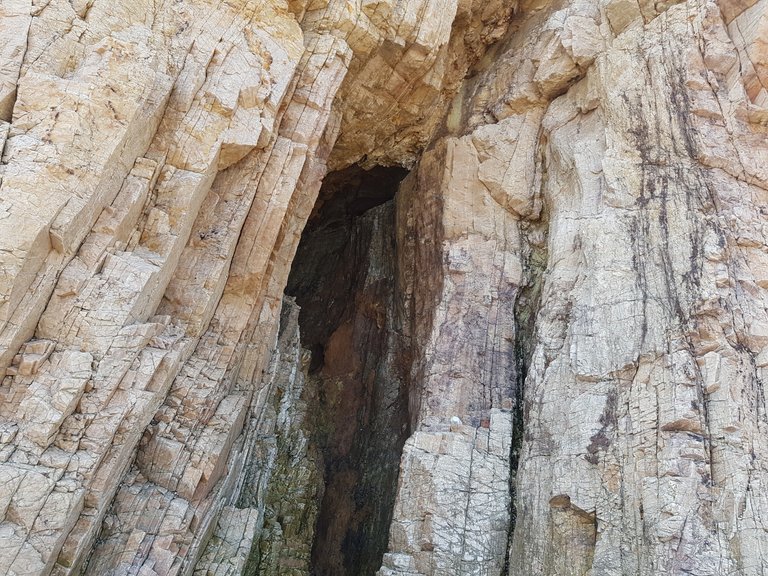 One thing I like about the beach here is the lovely rocks. These rocks have many layers. I've seen this before in a few places nearby. Most recently along the seaside trail at Jebudo.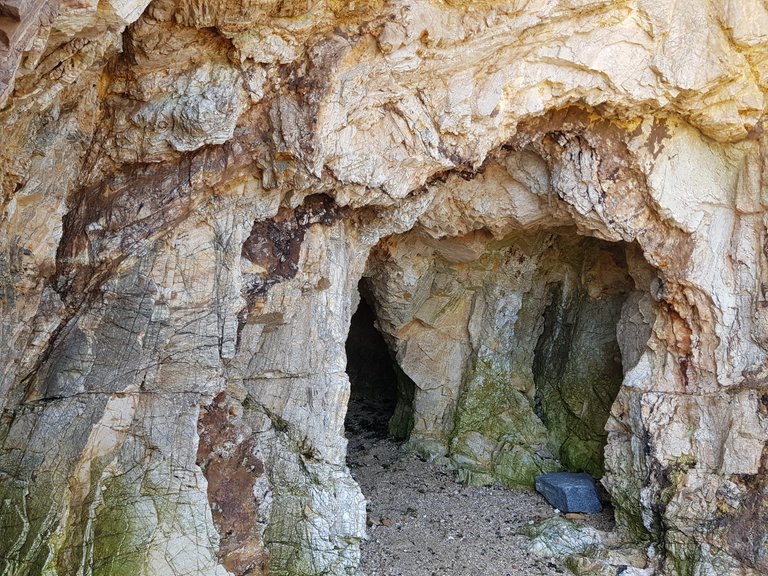 Some of the rocks had little holes and caves. As much as I was up for exploring, they only went in around a meter or so. So, there wasn't very much to explore. It still looked pretty. It would be nice to sit here on a particularly sunny day to hide from the sun and cool off (or you could just jump in the water).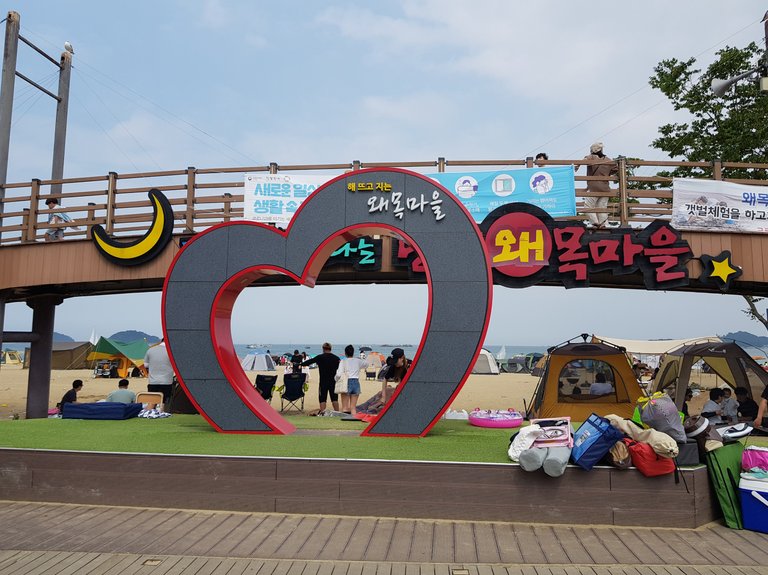 Anyway, it was back to the crowded area. As you can see in the middle of the beach, it is extremely crowded. Everyone brings their tent. Unlike some of the beaches in the city, there are no umbrella spots for sale here. I'm not sure if they were banned because of corona or if it is always like this. However, I do like the DIY attitude compared to the neat rows of umbrellas Korean beaches are famous for. Some tent setups were annoyingly large though. I do which they would restrict it within reason.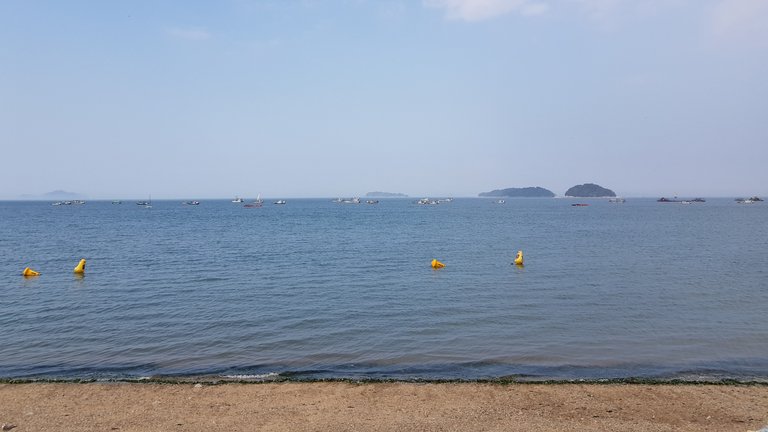 It was time to find my swimming spot. I decided to head to the other end of the beach. As you can see there are no lifeguards or barriers here. Those buoys are just to keep boats away. Also, fortunately, it was high tide so I couldn't see the scummy bottom. The west sea in Korea is famous for its high tides and tidal flats and when the tide is out, it's pretty muddy as you can see here.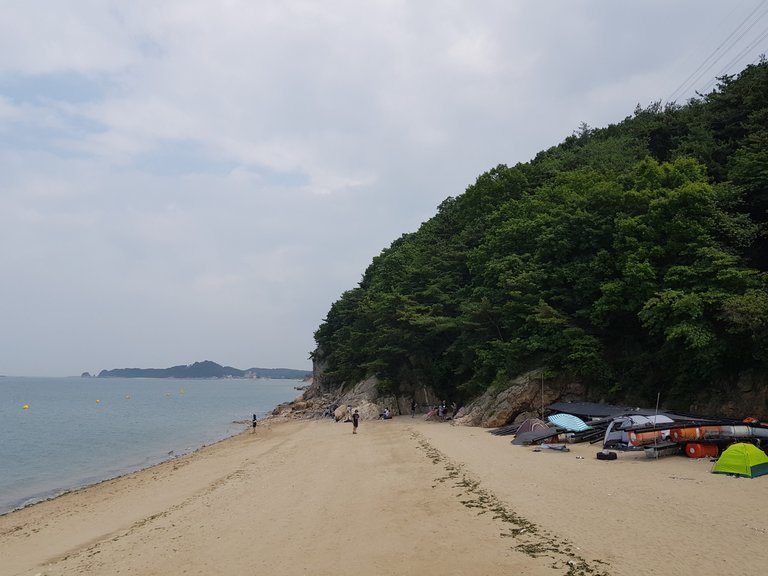 There were a few people here, but actually, the only people crazy enough to swim where there aren't lifeguards in the water every 5 meters are foreigners. I think they were from the large nearby US army or airbase - Osan AB or Camp Humphrey's.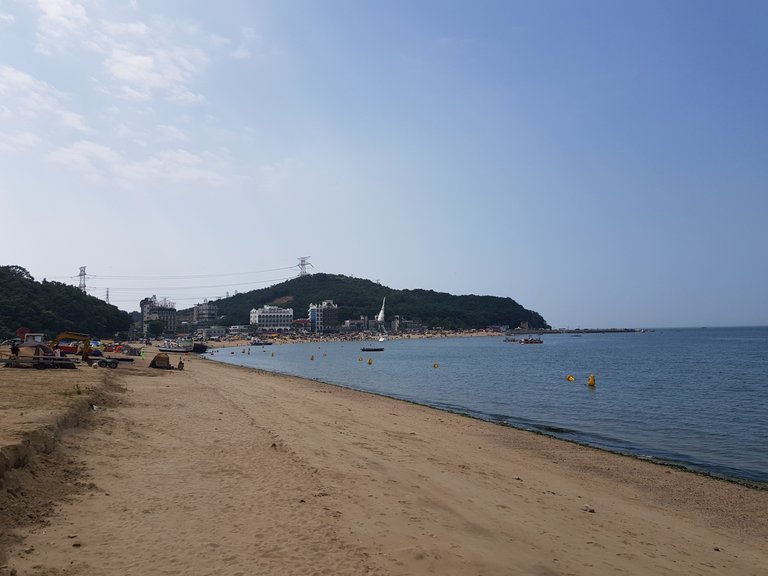 Finding the only empty spot where I had a few meters of space on both sides, I decided it was finally safe to take a dip. No one would bother me here. No children splashing or people taking jump selfies. Not that I mind those people but my style of sea bathing involves a deep relaxation that doesn't involve large waves or people annoying me.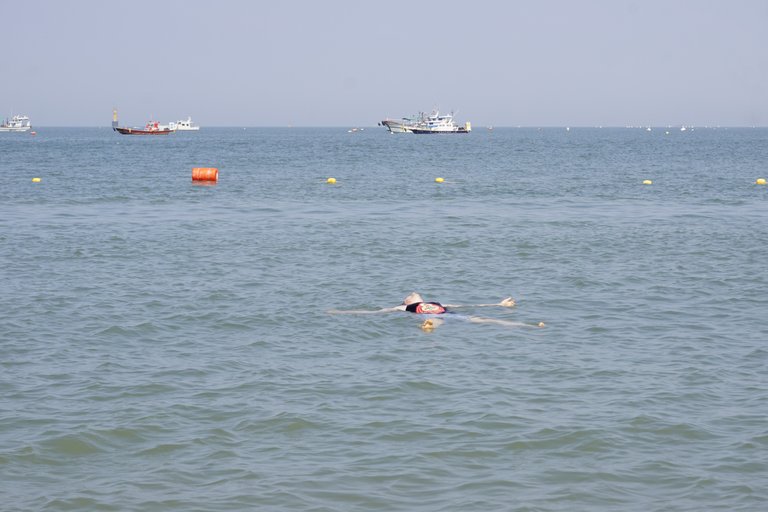 There we go, it's time for a float. That's what I do, I float. Actually, I'm a good swimmer, but why swim when you can float? And why use a floatation device when you are in the salty sea and don't need one? I was wearing a shirt to avoid a sunburn, but if I could get away with it I would be naked. My motto is fully covered or not covered at all. Usually, I wear a rash guard when swimming because I hate sunscreen cream/oil and it's bad for the marine environment anyway.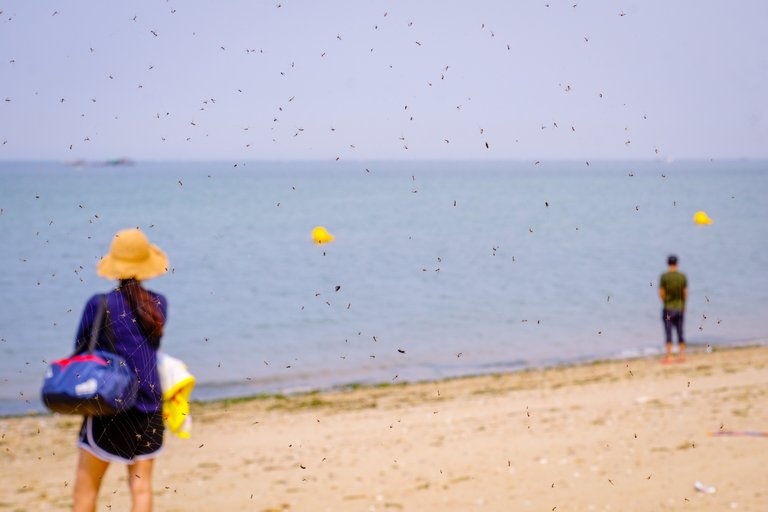 There was a smaller pier at this end, I decided to take a look under it and found some pretty large spider webs. No one would follow me under here. I felt comfortable and happy as I looked out at the sea. The camera decided to focus on the web.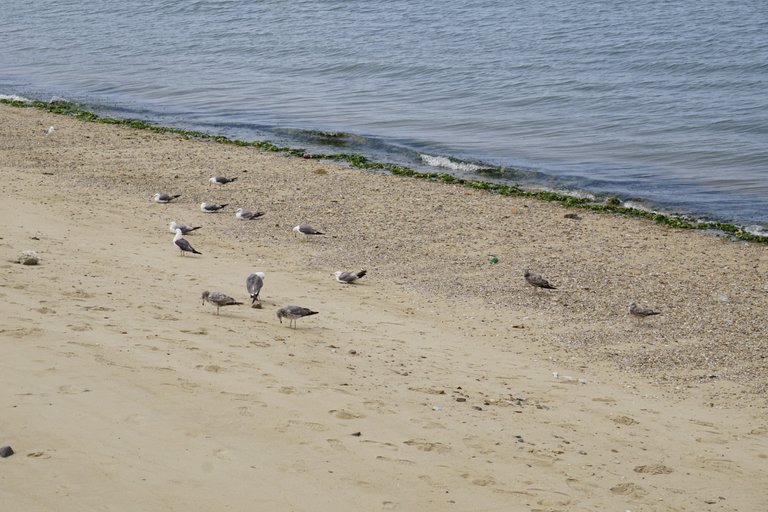 Actually, I lied, I did have neighbours close by, but they were seagulls. Even though they are probably noisier than people, I don't mind them because I didn't bring food with me. Also, their sounds are natural and fit in well with the seashore.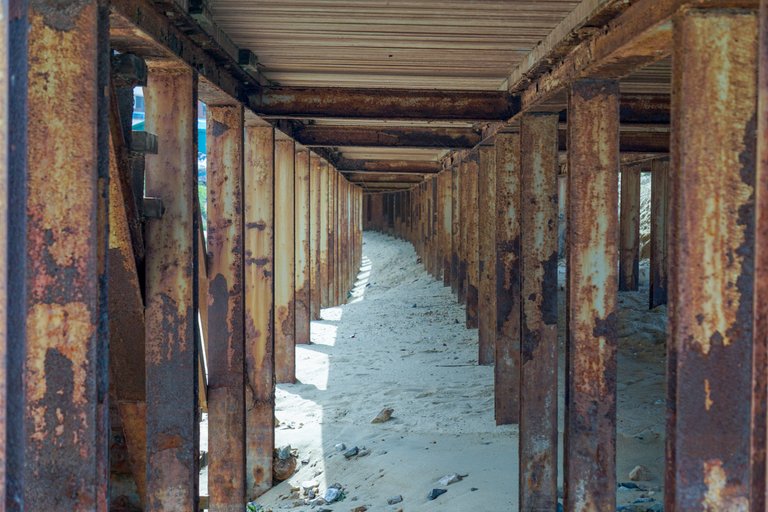 Here is a view of what it looks like under the pier. It's a rusty death trap where all the garbage collects. Not the nicest place on the beach, but I thought it looked neat.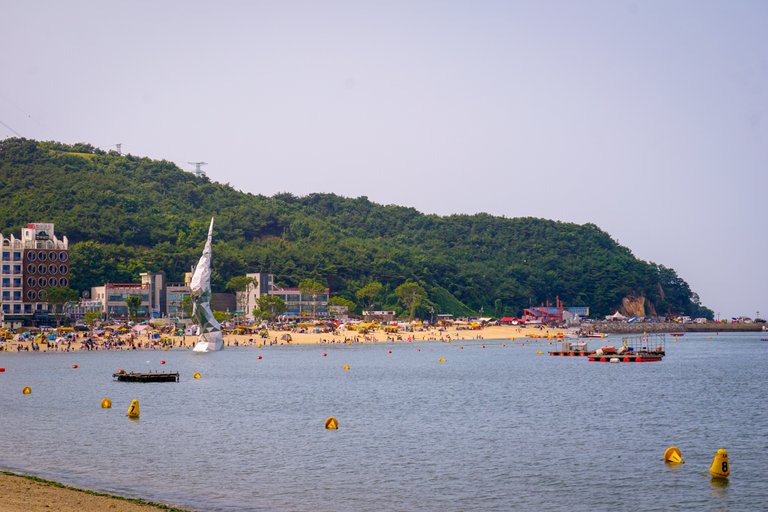 I think I floated for about 30 minutes, then I came out and had some sandwiches I brought with me. Then I went home to beat the traffic rush. What a lovely day at the beach!